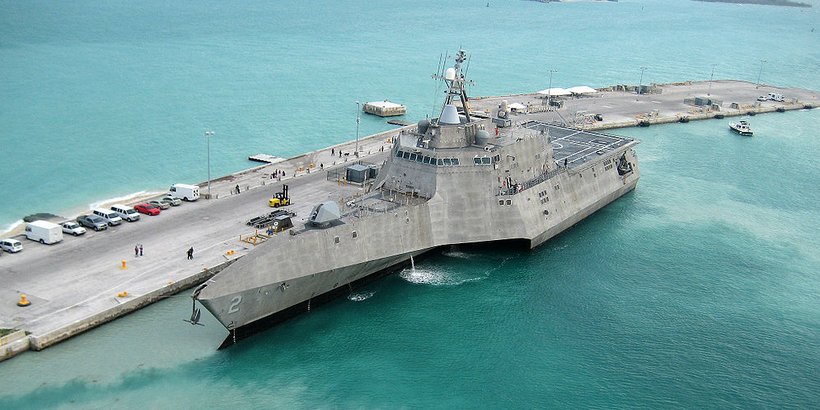 WASHINGTON — A brawl has broken out inside the Pentagon between Secretary of Defense Ash Carter and the heads of the Army and Navy over the Obama administration's military spending priorities, and the Alabama-built Littoral Combat Ship is at the center of it all.
The Obama administration is pushing for a significant reduction in ship and troop levels for the two branches and, according to a Politico report, pushing for the military to invest instead in "next-generation fighters and submarines, and high-demand skills such as cyber warfare."
The internal sparring has spilled over into the public in an unusual way and resulted in what defense budget expert Mackenzie Eaglen describes as "a semi-open war" between SecDef Carter and Secretary of the Navy Ray Mabus.
Politico explains:
Mabus and other Navy leaders used an annual military symposium this month to offer a forceful defense of the littoral combat ship, the same warship that Carter wants to pare back to allow more spending on destroyers, munitions, submarine upgrades, and the F-35 and F-18 fighter jets.

Mabus was also unabashed about his emphasis on building up the overall number of ships — in sharp contrast to Carter, who has admonished the Navy secretary for making "quantity" a higher priority than "lethality."

The Navy's director of surface warfare, Rear Adm. Peter Fanta, even employed a mocking tone toward the littoral combat ship's critics, while pleading for an audience full of industry executives to help him defend the program.

"Yes, there are still naysayers," Fanta said at the symposium. "You know what a lot of those naysayers' problems are? 'You didn't write the stack of reports that was required to build this ship.' Aww."
The Littoral Combat Ship (LCS) is a class of vessels used in operations close to shore (the littoral zone). They have been compared to corvettes, built to swiftly move in fights with other vessels, as well as to hunt and destroy enemy submarines and mines.
Many of them are being built by 4,000 Alabamians at Austal USA in Mobile.
Alabama's U.S. senators have frequently defended the ship-building program from attempts by Senate Armed Services Committee Chairman John McCain to scale it back.
RELATED: John McCain really hates Alabama, but his attempts to screw the state keep failing
Senator McCain has decried the LCS program as "shameful" on the Senate floor and has constantly fought for the Pentagon to cut it, in spite of Navy leadership insisting they need it.
McCain was pleased late last year when the Obama administration's efforts to shrink the military hit the LCS program. Secretary Carter directed the Navy to slash its previous order of ships by twelve and reduce its annual orders by tho-thirds.
The Navy's stated goal for years has been to build up its capacity to 308 ships. There are currently 272 ships in the fleet, and Navy advocates on Capitol Hill and in the Pentagon argue that cutting the LCS procurement will make the Navy's capacity goal impossible to achieve.
Alabama senators have repeatedly fought off McCain's attempts to cut the LCS before, and they're vowing to do it again this year.
They have an ally in the Secretary of the Navy, but a foe in the Pentagon's top job. The LCS's saving grace may be that Obama — and by default, Secretary Carter — is term limited and will be leaving office early next year.
"It will be very easy for the [military] services and Congress to just push these things off for a year and wait for a new team to be in place," Todd Harrison from the Center for Strategic and International Studies told Politico.