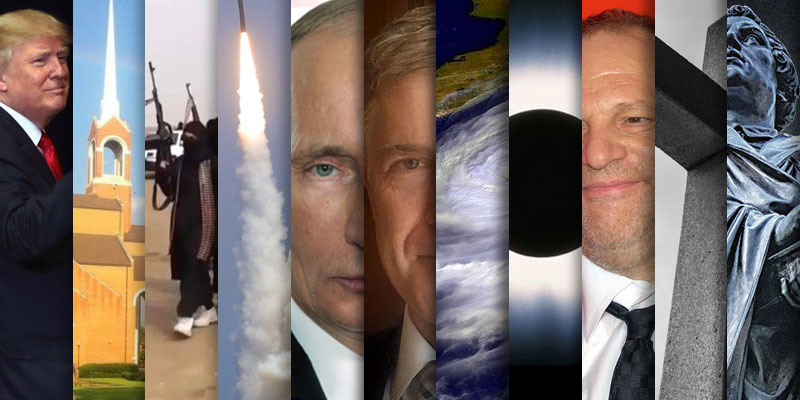 Listen to the 10 min audio
Read the transcript:
TOM LAMPRECHT:  Harry, today is our last In Perspective of 2017. We look down through the years and it is history, or "His Story." Today, I'd like to talk a look of "His Story" through 2017: I'm going to go through a series of headlines and get you to react. It's going to be rapid fire.

First off, January 20th, Donald Trump is inaugurated.
1. TRUMP'S INAUGURATION
DR. REEDER: A populist presidency riding a populist wave and appeal. General Eisenhower was somewhat of a populist movement out of his military fame and then General Grant out of the Civil War, but most applicable would be Andrew Jackson that defies conservative and liberal definitions. It's more or less a movement of the people and for the people by profession and promoted policies.
2. TERRORISM IN SCHOOLS AND CHURCHES
TOM LAMPRECHT: Harry, another headline from this year is terrorism and how it came to schools and churches.
DR. REEDER: You not only have the ISIS terrorist threats, but you've also had the various terrorist activities against churches and schools and massacres. That, of course, is something that's promoted by the tenor of the culture and what was considered, at one time, sacred places now become a killing field. However, God's people must not be deterred. We will assemble to worship, and we will give praise to our God and we will confess our Savior to this world.
3. ISIS ON THE RUN
TOM LAMPRECHT:  If ISIS has not been defeated, they're certainly on the run.
DR. REEDER: Clearly, what's being done is much more effective than what's been done in the past. All of their territory has been removed from them. They still have a means of communication and "lone-wolf,"  "strikes" – which really aren't lone-wolf as they're nurtured and developed through social media – but the "ISIS armies" have been pretty well destroyed and all the land has been retaken and that is both a strategic and tactical victory that civilization ought to applaud.
4. NORTH KOREA'S MISSILE LAUNCHES
TOM LAMPRECHT: The rogue regime in North Korea and their launching of missiles.
DR. REEDER: Yeah, this is a headache that has faced many presidents ever since the Korean Conflict that established North Korea and it has been a proxy state for communism, in general, but now is a rogue state on its own through the cult-like leadership of Kim Jung-Un. Tom, it remains to be seen whether this will lead to armed conflict or can the president's initiatives with Russia and China be successful in choking off North Korea economically and relationally.
5. TRUMP-RUSSIA COLLUSION DEBUNKED
TOM LAMPRECHT: Perhaps the biggest story of the year: the accusations of Trump and Russian collusion leading to Clinton corruption, leading to the firing of Jim Comey.
DR. REEDER: My dad used to say, "The worm has turned a little bit," in that most of the discussion now is the uncovering of Clinton collusion with governmental activity and Clinton collusion with Russia and other states that were giving to the "Clinton Foundation" and finding their way into the Clinton campaign. And, individuals in the Trump campaign, there were charges against them, but it was pretty much outside of campaign activity.
What's been most enlightening is the uncovering of FBI politically motivated investigations and pronouncements that affected Andrew McCabe, who has led the FBI, and then, of course, the previous leader, Comey, who was fired and that move to fire him seems to be affirmed by the present discoveries, as well. However, what is really being seen here, Tom, is another big story for the year and that is the loss of confidence in government structures.
6. NEIL GORSUCH SWORN INTO SUPREME COURT
TOM LAMPRECHT:  Neil Gorsuch is sworn in as a Supreme Court Justice to replace Antonin Scalia.
DR. REEDER: Many people, of course, who had great difficulty in who they were going to vote for ended up voting for President Trump because of his stated list of nominees for Supreme Court justice and that was pretty much their only reason. Well, they were repaid this year as Neil Gorsuch replaced the empty seat of Justice Scalia and has proven to be an insightful originalist or strict constructionist as a justice.
7. NATURAL DISASTERS
TOM LAMPRECHT: California wildfires and three major hurricanes.
DR. REEDER: And famines and earthquakes – multiple disasters. Of course, we are reminded of what the Bible says that one of the things that we are to be aware of is that the birth pains of, "natural disasters" or, "acts of God" will continue alerting us to the final end of all things in the Judgement seat.
And we continue to both hear of these increasing climactic dynamics that are going on from weather, and earthquakes, and the famines, and the hurricanes and all of those situations that have brought tremendous challenges to nations, in general, and our own nation, in particular. We need to continue to pray for the people of Puerto Rico, whose infrastructure and its fragile nature was fully exposed in these disasters.
8. SOLAR ECLIPSE
TOM LAMPRECHT: Speaking of natural occurrences, the solar eclipse.
DR. REEDER: Where we were, it was 97 percent a solar eclipse and quite the experience for everyone, reminding ourselves of the intricacies of God's creation and how there is no way that this that we enjoy and see can possibly have come into existence by chance, but the laws that govern us are so intricate throughout God's creation in the heavens and the earth that, in fact, there must be a Lawgiver and that Lawgiver, praise the Lord, has revealed Himself in His Word and, praise the Lord, has made a way for us to be saved through His Son, Jesus Christ. Through Him, all things were created and, in Him, we can be redeemed.
9. SEXUAL HARASSMENT AND #METOO
TOM LAMPRECHT: One of the biggest stories of the year, sexual harassment, hashtag #metoo.
DR. REEDER: The very industries, such as the media, and such as news and such as politics and the government – that have promoted the sexual revolution – which is, in fact, sexual anarchy and it's sexual devolution – are now having the result of it come back upon them with these power plays in the workplace, and in the media, and in the entertainment field and in the government and now women who have been harassed are speaking up and there are certain consequences. Of course, I'm reminded of what my mother used to tell us all the time: "Your sins are going to find you out." I'm sure that's in the Bible somewhere – if it's not directly, of course, the Bible says, "What a man sows, he reaps."
We have sown sexual anarchy and we are reaping its destructive effects in the lives of people, most notably, these women that have come out with the hashtag, #metoo, "I also was harassed." You cannot have sexual deportment that is appropriate without sexual ethics that put sex within the boundaries of marriage between one man and one woman. And, by God's grace, may the Gospel so move our hearts that we will embrace God's great gift of sex in its proper place, which would lead to proper deportment, at least the restraint of sinful sexual advances would be again restored instead of the encouragement of it by our government, by our media and by our news agencies.
10. RELIGIOUS FREEDOM PROTECTIONS
TOM LAMPRECHT: Harry, we did see some positive movement when it came to religious freedom.
DR. REEDER: Yes. We're very grateful for the protection of hospitals, of church ministries and also of various rulings that protected the First Amendment and the first affirmation of the First Amendment, which is the free practice of religion, even the repeal of the Obamacare mandate of participation and provision of abortifacients by this president.
11. 500TH ANNIVERSARY OF REFORMATION
TOM LAMPRECHT: Harry, I started out this program by saying "History is His Story." That was seen in our final subject that I want to cover for today's broadcast, the 500th anniversary of the Reformation.
DR. REEDER: And, this year, we remember that glorious moment when Martin Luther nailed the 95 theses that erupted into the Reformation, which not only impacted the church, but became the basic underlying force to give us what today is known as western civilization with all of its inadequacies and its imperfections.
The advancement of the work of the Gospel, whereby men and women were saved, the Reformation of the church, the revival of the church, and the resulting Great Awakenings – Gospel Awakenings – and how many of us do labor and pray that God would circle back around and give us another Reformation and another Great Awakening in our own country today because, ultimately, that is our great need. As you go through all these stories, Tom, we actually had over 100 significant events. We've pared it down to a few of these to make comment upon and to remind our listeners of, but there is much more to be seen as well.
Dr. Harry L. Reeder III is the Senior Pastor of Briarwood Presbyterian Church in Birmingham.
This podcast was transcribed by Jessica Havin. Jessica is editorial assistant for Yellowhammer News. Jessica has transcribed some of the top podcasts in the country and her work has been featured in a New York Times Bestseller.
Podcast: Play in new window | Download
Subscribe: Google Podcasts | RSS
Don't miss out!  Subscribe today to have Alabama's leading headlines delivered to your inbox.