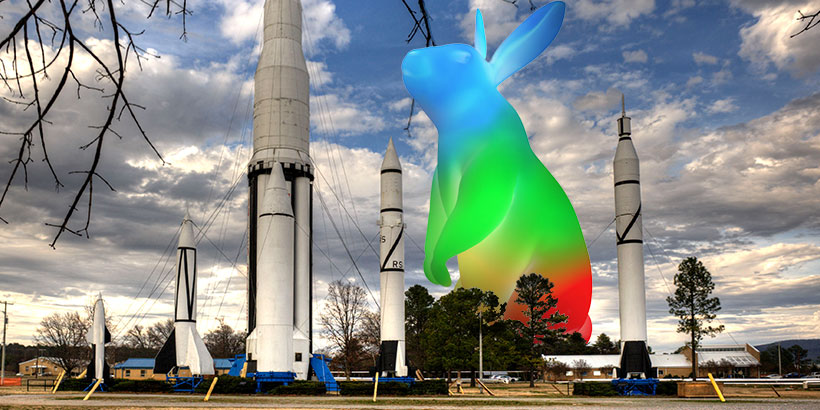 HUNTSVILLE, Ala. — The results are in…and they are overwhelmingly positive. Thanks to a viral image, Huntsville residents can now see just how fast their internet will soon be.
The image below comes from an Ookla, a company specializing in broadband speed testing. Ookla Speedtest puts the most sophisticated broadband testing and analysis tools into the hands of anyone interested in finding out just how connected they actually are. This free service from Ookla opens hundreds of testing locations around the world to anyone curious about the performance of their Internet connection.
Speed testing was run on the new Google Fiber technology, which will soon be available in the Huntsville area. The connection received a rare A+ rating and certified speeds faster than 99 percent of the entire country. A screenshot of the test with the words "This is what heaven looks like" has gone viral on Facebook, thanks to Google Fiber users and soon-to-be users taunting the rest of us, who can do very little but look on with jealousy.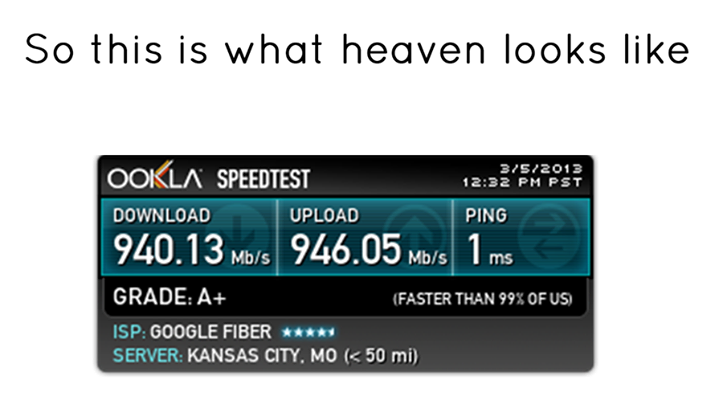 Earlier this month, Mayor Tommy Battle joined Huntsville Utilities CEO Jay Stowe in announcing construction of a new fiber network that will meet the area's rapidly growing data and communication needs.
The Mayor also announced that Huntsville is officially becoming a "Gig City." Google Fiber, a high-speed TV and Internet service, will be bringing its service to Huntsville residents and small businesses.
"Google's entrance into our market bolsters our high-tech legacy, energizes our entrepreneurs, tinkers and engineers, and supports the high quality of life Huntsville is known for delivering," said Mayor Battle. "Fiber to the home is the Internet infrastructure for the 21st century. It is as vital to our quality of life as roads, water, sewer and electricity. It will become the benchmark for cities vying for talent."
The City embarked on a quest to entice broadband providers to Huntsville with a request for information last year. Since that time, Southern Light began building fiber to the business in Cummings Research Park, and Comcast and AT&T announced plans to offer gigabit service to customers.
These developments have helped to bring more competition and choice to residents and businesses. And now, in order to prepare municipal Information Technology services, local electric grid technology and more for the future, Huntsville Utilities is going to invest in new fiber infrastructure.
"Abundant high-speed Internet can help communities grow stronger, laying a foundation for innovation and economic growth," said Jill Szuchmacher, Director of Expansion for Google Fiber. "Huntsville's leaders have taken a big step by bringing a new fiber network to their residents and businesses. We look forward to working with Huntsville Utilities and the City to bring Google Fiber to more people."
Mayor Battle emphasized the City's vision for broadband service is in alignment with Google Fiber's. "Our citizens need and deserve competitive opportunities for connectivity with the highest possible speeds at the lowest possible cost. Google Fiber is committed to the same goal."
Beyond the Mayor's office, Huntsville's Gig City initiative involved a host of local CEOs, Chamber and Cyber Huntsville representatives, national consultants The Broadband Group and CTC, and owners of area start-up companies. Their input was invaluable in creating this new municipal model for gigabit service.
"We already know Huntsville is a place where people do cool things, smart things, things that change the world," said Mayor Battle. "A rocket city deserves rocket speed, and that means a network that connects to the Internet at 1 gigabit per second. Your Internet will be 50 to 100 times faster than it is today."