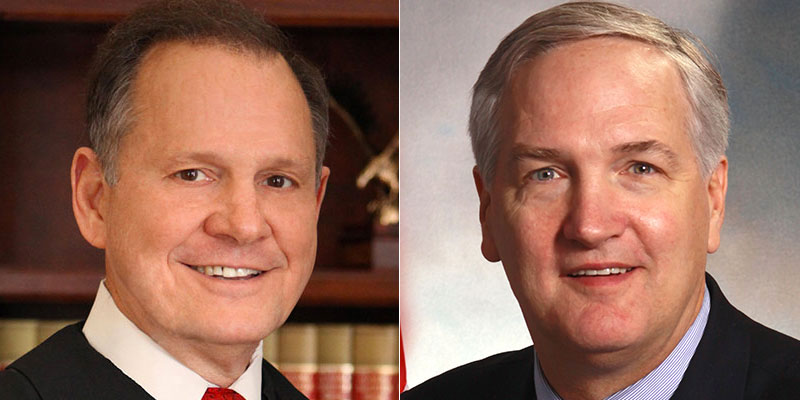 Two weeks into the run-off campaign to determine who will be the Republican candidate for Jeff Sessions' old U.S. Senate seat, currently held by Luther Strange, the picture isn't much clearer than it was the night after the primary vote on August 15th.
This uncertainly aside, there's no shortage of speculation surrounding the race, and disputes between the two heavy weights are evident in everything from polls to endorsements.
The first poll following the August 15th primary was released a little over a week ago by JMC Analytics. Given the way the poll's questions were framed, and the fact that Breitbart (who strongly supports Moore) had its exclusive release, the poll was likely commissioned by entities supporting Roy Moore.
That statewide survey polled 515 registered Alabama voters, 70% of whom said they were definitely going to vote in the September 26th run off. Of those respondents, 51% said they're voting for Moore, and 32% chose Strange, while 17% said they were undecided.
Other notable factors in this first poll were:
• 60% either voted for Moore or Strange in the primary, but the poll didn't ask which
• 68% self-identified as evangelical Christians, and 72% were over the age of 55
• The poll also asked if President Trump's endorsement helped Luther Strange in the August 15th primary; 51% said it made no difference, while only 25% said it made them more likely to vote for Strange
• 45% said the fact that McConnell helped Strange made them less likely to support Strange, while 46% said it didn't matter
Alabama Senate Republican Executive Summary Runoff Poll 1 by Yellowhammer News on Scribd
The second poll, released today by Harper Polling shows a much closer race. In its ballot test, 47% chose Moore, and 45% chose Strange, with only 8% undecided. This poll was comprised of 600 likely Republican primary runoff election voters in Alabama and, based on the way its questions were framed, it was likely commissioned by entities supportive of Luther Strange.
Other notable factors in this second poll were:
• 30% of these undecided voters lean towards Strange and 6% lean towards Moore
• Respondents ranked support for President Trump, "conservative values," and the "ability to get things done for Alabama" as the three most important factors in selecting a candidate
• 87% view the President favorably and 69% hold of "very favorable view" of President Trump
17 08 Al Senate Runoff Key Findings by Yellowhammer News on Scribd
Aside from the obvious difference in the two polls—one showing Moore leading by 19% and one show him only leading by 2% (virtually a dead heat)—the percentage of undecided voters is another noteworthy disparity. The first poll shows 17% undecided and the second only shows 8% undecided. The persuadable middle is often the deciding factor in elections like these, assuming they turnout in high percentages, which they did not in round one. However, if the second poll is accurate indicating that 30% of these undecided voters lean towards Strange and only 6% lean towards Moore, that clearly gives Strange a strong advantage with this group.
Washington influence is another topic in which the two polls seemed to tell a different story. In the one likely commissioned by Moore supporters, only 25% said Trump's endorsement helped Strange. In the one likely commissioned by Strange supporters, 38% said the candidate's support of Trump's agenda is the most important factor in the race, and 60% of those said Strange is the more supportive of Trump than Moore—indicating the relationship between Strange and President Trump does matter.
While the second poll didn't raise the McConnell question, the first poll made it clear that the association between Strange and McConnell, which Moore will continue to highlight, clearly plays in Moore's favor.
A similar issue in this election is the "Washington insider" perception. Again, Moore has sought to frame Strange in this light. On this topic, however, the second poll asked respondents if "willingness to fight the Republican establishment in Washington" is the most important "candidate characteristic" and only 11% said yes, suggesting that Strange being perceived as a Washington insider may not be as important to voters as many assume.
Another ongoing issue, the importance of which also remains to be seen, is endorsements. Before the election, Moore was endorsed by famous conservative evangelicals like James Dobson, Chuck Norris, and Duck Dynasty's Phil Robertson, while Strange had the backing of iconic conservative organizations like the NRA, the National Right to Life, and ultimately gained the endorsement of President Trump. Closer to home, Strange has the endorsement of Bubba Bussey of the Rick & Bubba Show fame, while Moore picked up the support of his former opponent Trip Pittman.
In the two weeks since, Steve Bannon is out at the White House and just endorsed Roy Moore, no doubt reinforcing Breitbart's strong support of the former Alabama judge. At the same time, the Washington Post and others have speculated (citing unnamed sources) that Trump may be distancing himself from Strange, although the White House has not confirmed these rumors.
If the first poll is more accurate, the President's role doesn't matter that much, but if the second poll is more accurate, it will matter, and if Trump does indeed refrain from working hard for Strange, that plays to Moore's advantage. What we don't yet know is how a polarizing national figure like Steve Bannon entering the fray on behalf of Roy Moore will be perceived by Alabama voters.
In the final analysis, with a little less than a month before the election, undecided voters, voter turnout, and endorsements will most likely continue to be factors in determining whether voters choose Luther Strange or Roy Moore to represent the Republican party in the election to the U.S. Senate.
Don't miss out!  Subscribe today to have Alabama's leading headlines delivered to your inbox.