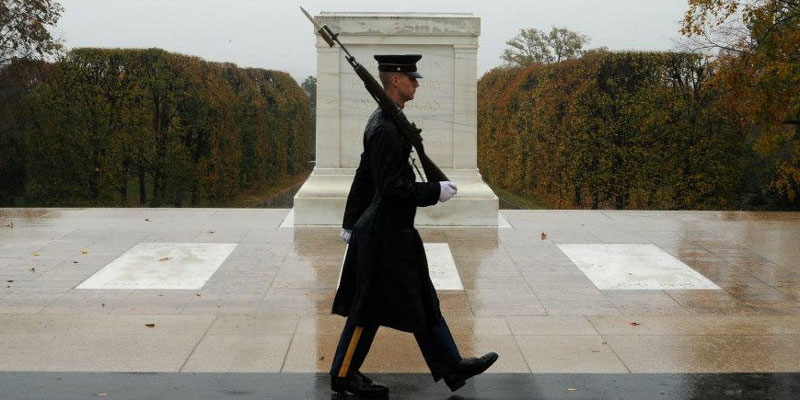 For those who've gazed the rolling hills of Arlington National Cemetery, experienced the Changing of the Guard at the Tomb of the Unknown Soldier, or felt the damp breezes on the beaches of Normandy, there's a reverence in these places that lends sobering context to our lives.
This context goes beyond platitudes about service and sacrifice, because in these places, we realize it's not just ideals to which we pay tribute, but people—sons and daughters, husbands and wives, brothers and sisters, fathers and mothers. Those who fell in war were our neighbors. They lived in real homes on streets with names, just like ours. They wanted to come home, yet they willfully went on a patrol, climbed in a cockpit, or boarded a ship—soberly knowing they may never have the chance to do so. But they went anyway to make sure you I may carry on. These Alabamians realized in an awful, war-torn moment that their lives were ending in violence, though we pray that in those moments they also knew peace.
Related: Alabama remembered: the can't miss veterans' stories for Memorial Day weekend
These soldiers, sailors, airmen, and Marines were much like us, with dreams for the future and treasures of the present no different than our own. They wanted to come back to the windy country roads that led to their Alabama farms, and the city streets of towns like Birmingham and Mobile that led to the neighborhoods where they were known. They wanted to laugh with their friends, thank their dads, and hug their moms. They wanted to hold their wives' hand on a peaceful stroll after supper, sing to their daughters at bedtime, and take their sons fishing on spring days like today. They wanted to do all of these things a thousand more times, and I suspect that in their final moments in those distant, cold lands, they thought of such things and realized their sacrifice was not at all in vain.
It's those men and women whose lives we'll honor this weekend, especially on Monday. So as you gather with your family, unplug from your devices, pack your cars, and grill your steaks this Memorial Day, please bow your head and thank God for all those brave Alabamians who set aside their own security to provide ours. And should you know any of their families, please take the time to honor them too.
Link: A roll of Alabamians who have died in wars starting with World War I
Don't miss out!  Subscribe today to have Alabama's leading headlines delivered to your inbox.