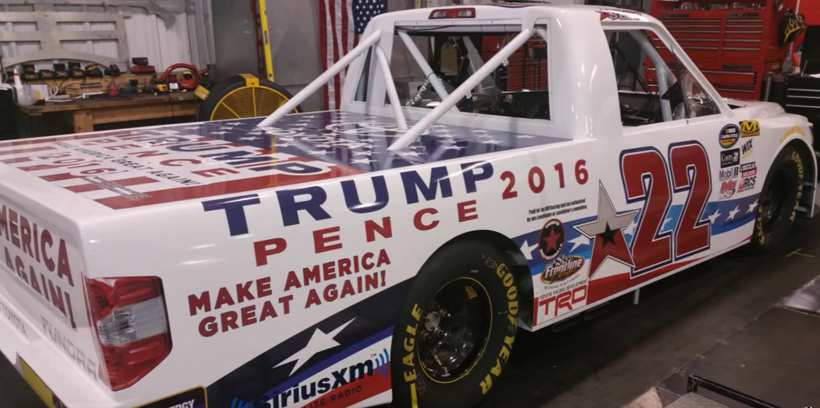 TALLADEGA, Ala. — Alabama NASCAR fans will get a healthy dose of "Make America Great Again" on Oct. 22 when driver driver Austin Wayne Self streaks around Talledega Superspeedway in his Donald-Trump themed racetruck. Self, who will be participating in the Fred's 250, is excited to represent the Republican Presidential nominee with his custom-designed Trump Truck.
"This will be the first presidential election I've been old enough to take part in. Politics has never really been that important to me until now – but now more than ever we need change," Self wrote on his website. "Trump and his values are in line with my beliefs. I'm a big supporter of his business background and believe his experience is what this country has been waiting for. I'm really excited to show my support."
Not only will Self's car bear the Trump/Pence insignia, but his autograph card will promote the GOP candidates as well.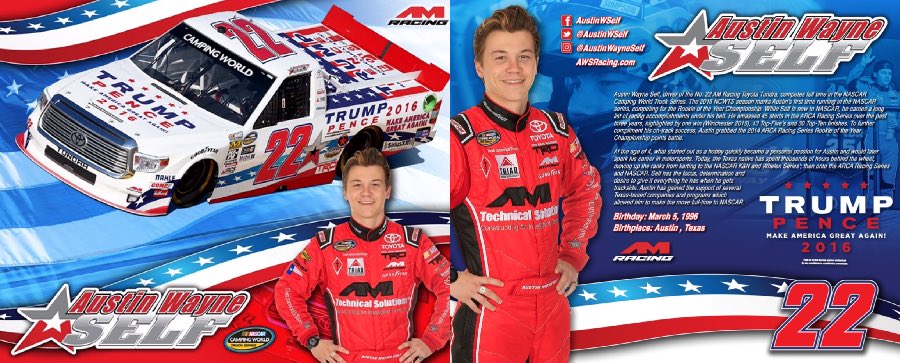 The 20 year-old driver is in the middle of his rookie season, and he has already finished as high as 15th in the Camping World Truck Series last December. He drives for AM Racing which is owned by his father, Tim Self.
Tim explained that the reason he and his son support Trump is that they believe that America needs to return to focusing on god.
"We have to get God back into our lives and rebuild our Country on a foundation of Godly values," Tim told Breitbart News. "Trump's actions indicate that he will push public policy in that direction. Jerry Falwell Jr, Franklin Graham and our good friend Dr. James Dobson have faith in Trump. He is our guy. Hopefully, the Trump Pence Truck will make a small difference. It represents our family and friends doing our part."
You can watch Self's team decorate the truck in the video below.
Don't miss out!  Subscribe today to have Alabama's leading headlines delivered to your inbox.