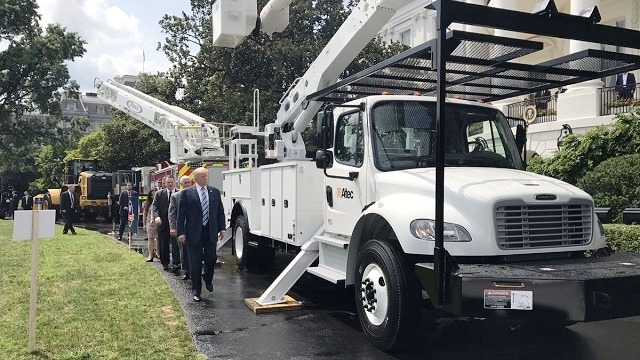 On Monday, President Trump signed a proclamation declaring this week "Made in America" week. Products from each of the 50 states were showcased as part of the ceremonies of "Made in America" day that took place at the White House. One of these products was a bucket truck assembled by Altec Industries, a manufacturing company based out of Birmingham. After the ceremony, Trump was able to get a close-up look at the Alabama-made truck.
Since 1929, Altec has been a leading provider of utility and telecommunications equipment. The truck showcased at the White House ceremony was one of many it manufactures for companies such as Alabama Power. Altec CEO Lee Styslinger III also serves as an advisor to President Trump on a commission on American manufacturing.
President Trump has vowed to "Make America Great Again" by bringing jobs back to the American people and economy. In his speech, Trump said:
"My administration is committed to putting the hardworking men and women of this country- like the ones represented in the showcase- first again so that we can unleash the true potential of the American economy."
Despite the ever-growing popularity of outsourcing jobs to foreign countries, manufacturing still remains the number one employment sector in Alabama, employing more than 260,000 workers. The state's 2015 manufacturing output equaled about $35.1 billion, or around 17 percent of Alabama's Gross Domestic Product. As more state leaders advocate for more manufacturing jobs to come to the state, Alabama will continue to solidify itself as one of the top manufacturing states in the country.
Don't miss out!  Subscribe today to have Alabama's leading headlines delivered to your inbox.