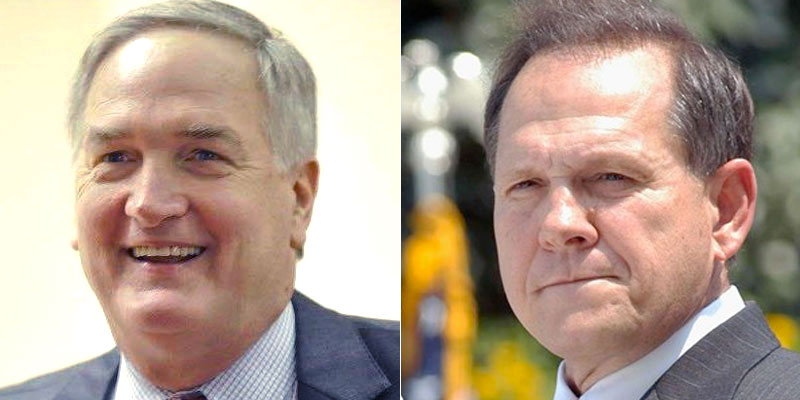 (News Analysis)
One observation from yesterday's Senate election is that less than 18% of registered voters went to the polls. With school starting back and summer ending, four out of five of Alabama's registered voters spent their time elsewhere.
According to the Secretary of State's website this afternoon, 417,996 votes were cast in the Republican primary, while only 159,481 ballots were cast in the Democratic primary, out of Alabama's 3,281,781 registered voters. Needless to say, whatever inferences are drawn from yesterday's vote, they could be heavily altered or even thrown out if turnout significantly increases for the Sept 26th runoff.
Turnout notwithstanding, Roy Moore captured 38.87% of those Republican voters yesterday and Luther Strange garnered 32.83%. That 6% margin represents 164,524 ballots cast for Moore and 138,971 for Strange, a difference of 25,553 votes.
Given this margin, the greatest question going into the run-off campaign is which candidate will be able to convert the largest percentage of the 111,00 votes that went to Mo Brooks (82,363) and Trip Pittman (28,846). Assuming turnout stays the same for round two, Moore has to capture about 40% of those voters to win, and Strange has to capture about 60% to win. However it's sliced, those 110,000 voters will likely decide the run-off unless voter turnout in September is drastically greater than August.
In the discussion of capturing those 110,000 votes, the home turfs of Pittman and Brooks are at the forefront. The candidate that converts the largest percentage of Trip Pittman's 9,6467 votes in Baldwin and Mobile Counties will carry the coastal region and the winner of Brooks' 28,163 voters in Madison, Limestone, and Morgan Counties will carry the greater Huntsville area.
With Strange taking Birmingham (Jefferson and Shelby Counties), and Moore beating Strange by 542 votes in Tuscaloosa County and 389 votes in Montgomery, the larger metro areas will also affect the outcome.
Looking at an overall map, Judge Moore won an impressive 60 out of Alabama's 67 counties yesterday. While his margin over Strange was not tremendous in a number of those counties, a glance at the map showing a 90% geographical victory makes a tremendous statement. Moreover, in more rural counties, his margins were much larger. In fact, he garnered over 50% of the vote in approximately 24 counties, and in the southeastern and northwestern parts of the state, Moore was dominant.
As noted above, the race in the coastal counties was a barn burner. Moore beat Strange by 1,061 votes in Mobile County and Strange edged Moore by 423 votes in Baldwin. This begs the question, will Pittman endorse either candidate and if he does, will his support carry the day along the beach?
Same goes for Brooks in north Alabama. Strange beat Moore by 3,040 votes in Madison County, while Moore beat Strange by 432 votes in Limestone County and 360 in Morgan County. Brooks stopped shy of endorsing either candidate last night, but he did say that Moore ran an honorable campaign—a not so subtle hint at his disposition towards Strange. Will Brooks ultimately endorse Roy Moore, and how much will that matter around Huntsville?
Another question to watch in this race is what will President Donald Trump do to help Luther Strange in the run-off? The President dominated Alabama last November and his defense of Confederate monuments is likely to strengthen his position over the next few weeks with many voters, as he recovers some clout by leaving Jeff Sessions alone. At the end of the day, he's still popular in the Yellowhammer State, so will he make a trip here to campaign for Strange or will he stick to Tweets and phone calls to voice his endorsement, as he did in round one? When it's said and done, how much will the President's actions influence the race in the end? Along the same lines, another question is how effective will Moore's campaign be in associating Strange with Mitch McConnell? Many Alabamians have little use for McConnell, so will voters associate Strange more with him or with Trump? Again, the role Trump personally plays will likely answer that question.
With messaging overall, it will also be interesting to see how negative the campaigns become in the runoff. Strange has more money, so now that Brooks is out of the race, will he will he use it like a velvet hammer or like a razor-sharp sword against Moore? Will Moore go after Strange over the Bentley appointment and for being part of the swamp? Many seem to have had their fill of negative ads and will this make each camp go more after the issues than the man?
At the end of the day, Roy Moore and Luther Strange probably agree on many of the issues and would vote those convictions in the U.S. Senate, so how will each man distinguish himself in this runoff? Strange can make a strong case that he has more influence in Washington, bolstering his ability to get things done for Alabama, but that's a two-edged sword because as soon as he plays that card, the swamp/McConnell stigma is likely to arise. In the same way, Moore can say he's in no way a Washington insider, but does that raise doubt as to how effective he would be as a U.S. Senator who must build relationships on Capitol Hill to help Alabama?
Debates could also heavily influence the relatively large group of undecided voters as well as those who didn't show yesterday. On a stage, Strange will likely have a greater grasp on the issues and be the more articulate of the two. Moore, on the other hand, is beloved by many for his stand on the Ten Commandments and the sanctity of marriage and is therefore viewed as a man of deep conviction, as well as just an ordinary guy. The latter perception was no doubt strengthened by the brilliant move to ride to the polls on horseback yesterday, solidifying his "man of the people" persona.
However it all turns out, look for an intense climb to the late September run-off to determine which man will face Democrat Doug Jones in December's general election. Given yesterday's measly turnout by Democrats, whichever Republican wins in September is likely to walk into the U.S. Senate in 2018, and in six short weeks, Alabama voters will decide if that's Roy Moore or Luther Strange.
Don't miss out!  Subscribe today to have Alabama's leading headlines delivered to your inbox.