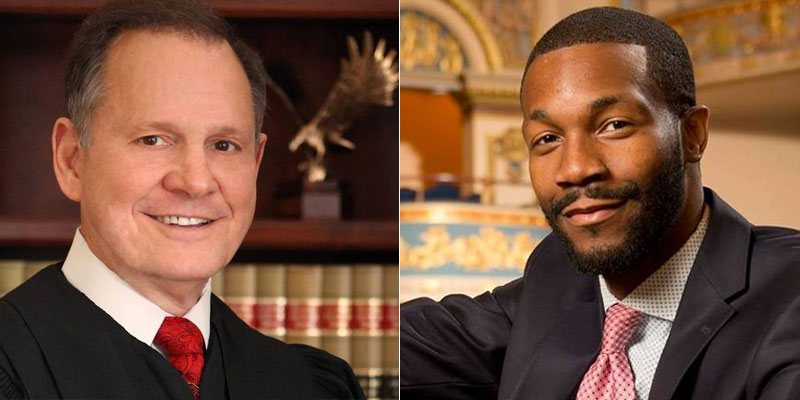 In late September, Republicans made it clear that they were having no part of the establishment when Roy Moore's base turned out in force after his opponent, Luther Strange, became inextricably bound to Mitch McConnell, who many widely perceived to be the ultimate Washington insider.
As we've previously reported, this was largely a populist movement, albeit a socially conservative one dominated by those who cling to traditional Republican platforms like the sanctity of life. Related: The Movement Roy Moore Rode To Victory
Last night, populist Democrats of the socially liberal variety made it clear that they likewise reject any establishment candidate, as Randall Woodfin demolished incumbent William Bell in the Birmingham mayor's race.
As the Intercept describes Woodfin, he's a "36-year-old former board of education president backed by the Bernie Sanders-backed campaign group Our Revolution…"
The Huffington Post also pointed to Woodfin's anti-establishment credentials in a July 31 article, which stated, "Using the slogan 'we deserve better'…Woodfin accused Bell of wasting money on unnecessary mayoral staff and pricey development projects that could be used to buttress school funding, finance more pressing infrastructure needs and start new social programs."
That article also said "Woodfin sees himself as part of a new generation of liberal leaders sweeping to power in Southern cities. In May, 34-year-old progressive attorney and activist Chokwe Antar Lumumba pulled off a surprise win in the Democratic mayoral primary in Jackson, Mississippi, cruising to victory in the general election the following month."
"In these urban areas of the Southeast ― this is where the revolution starts," the article quoted Woodfin as saying, adding his comment that these southern cities are "the frontline resistance to Trump policies."
However, the Intercept says:
Woodfin's platform is by itself far from radical in post-2016 Democratic politics. He seeks to make community college free for students who graduate from Birmingham's high schools. He wants to expand pre-K, invest in public transit and job training. Woodfin backed Democrat Hillary Clinton in the 2016 primary, making the Our Revolution backing something of a wound-healing exercise.

He is also looking to boost the city's police force; Birmingham has the seventh highest homicide rate of cities of over 100,000 people. He had his own personal connection to the city's sky-high crime: his nephew was shot and killed during the course of the campaign. The boy's father, Woodfin's older brother, was killed in a shooting five years before that.
 One thing is clear, Alabama voters across the spectrum are fed up with establishment politics, and as the new mayor of Birmingham has once again proved, populists at both ends of the spectrum have made the Yellowhammer State ground zero in the zero-tolerance policy of political insiders.
Don't miss out!  Subscribe today to have Alabama's leading headlines delivered to your inbox.