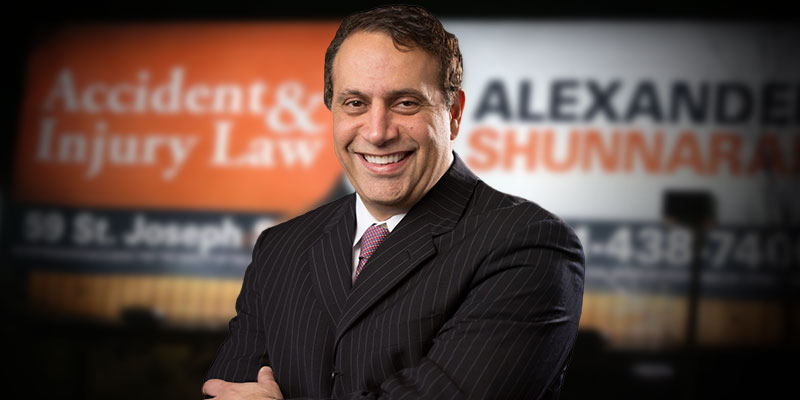 Alexander Shunnarah, President and CEO of Alexander Shunnarah Personal Injury Attorneys, P.C., has been selected as a Legend of the Trial Bar to speak and share his legal and marketing expertise at the 6th Annual Trial Lawyers Summit. The conference will take place in Miami from February 4-7, 2018. During the four-day summit, Shunnarah and fellow Legends of the Trial Bar will share their legal expertise as they participate in an interactive conversation surrounding criminal defense and civil trial.
Speaking on Monday, February 4 with a panel entitled "Disrupting the Market Place: 2018 Version," Shunnarah will speak on the innovative marketing tactics his firm used to become an influential name in personal injury law and households across the Southeast.  Joined by Attorneys Michael DeMayo and Glen Lerner, the panel will also share their predictions on marketing trends for 2018.
"It is quite the honor to be recognized as a Legend nationwide," stated Shunnarah. "I am excited to represent our attorneys and staff at Alexander Shunnarah Personal Injury Attorneys, P.C., as well as the state of Alabama at this summit." 
Starting in 2012, the Trial Lawyers Summit was created by The National Trial Lawyers to bring the most outstanding civil plaintiff and criminal defense attorneys in the United States together to share ideas and improve their courtroom and management skills. Each day will feature different opportunities to learn from the most accomplished and respected attorneys in the nation, including Alexander Shunnarah. 
ABOUT ALEXANDER SHUNNARAH PERSONAL INJURY ATTORNEYS, P.C.
As one of Alabama's premier personal injury law firms, Alexander Shunnarah Personal Injury Attorneys, P.C. provides outstanding legal advice and excellent representation for their clients. The firm consistently recovers substantial settlements in lawsuits involving personal injury auto accidents, truck accidents, motorcycle accidents, wrongful death, social security disability, pharmaceutical litigation, drug recalls, medical devices, and mass torts throughout the state. The firm's prowess in the legal arena comes from our combined years of trial and complex litigation experience. The practice was founded on the belief that the civil jury system is the best means to provide compensation to injured parties and deter wrongdoers from injuring others in the future.
Alexander Shunnarah Personal Injury Attorneys, P.C. are committed to protecting the legal right to be compensated for injuries suffered. With 80 attorneys on staff, the firm has a vast knowledge and experience in handling all types of claims for clients who have been injured.
Don't miss out!  Subscribe today to have Alabama's leading headlines delivered to your inbox.