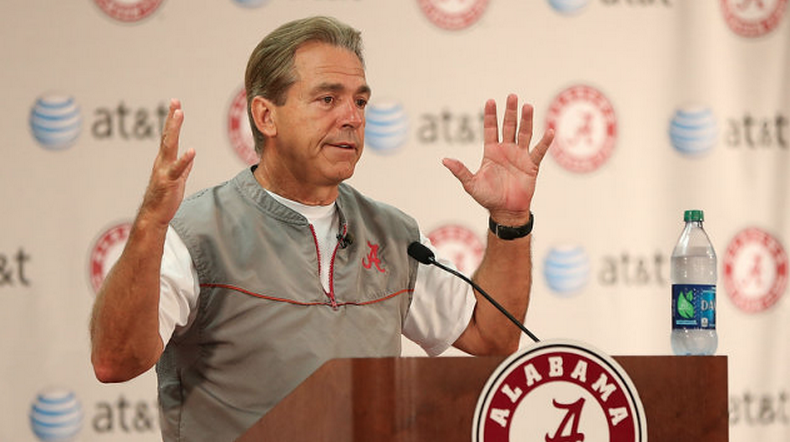 TUSCALOOSA, Ala. — A study by 24/7 Wall Street revealed this week that University of Alabama football coach Nick Saban is the highest paid public employee in the United States.
Saban makes $7.09 million per year, just edging out University of Michigan football coach Jim Harbaugh.
"In the vast majority of states, college football and basketball coaches are the highest paid public employees," 24/7 Wall Street explains. "When a millionaire coach is not the state's top earner, high ranking medical officials or deans at state University-run hospitals and college presidents are usually next in line."
Here's a list of the country's top 10 highest paid government employees: (h/t SECCountry)
1. Saban/Alabama football coach/$7.09 million
2. Harbaugh/Michigan football coach/$7 million
3. John Calipari/Kentucky men's basketball coach/$6.88 million
4. Urban Meyer/Ohio State football coach/$5.86 million
5. Bob Stoops/Oklahoma football coach/$5.86 million
6. Charlie Strong/Texas football coach/$5.16 million
7. Jimbo Fisher/Florida State football coach/$5.15 million
8. Sean Miller/Arizona men's basketball coach/$4.95 million
9. Bill Self/Kansas men's basketball coach/$4.94 million
10. James Franklin/Penn State football coach/$4.4 million
But while Saban's eye-popping salary will once again garner headlines all over the country this week, here's something that probably won't get mentioned very much: He's an absolute steal at $7.09 million per year.
In 2013, Saban allowed CBS's 60 Minutes to go behind the scenes inside his program. As part of their research, CBS spoke to University of Alabama System Chancellor Dr. Robert Witt, who was the one who approved Saban's giant contract.
"Nick Saban is the best financial investment this university's ever made," Witt said confidently.
When 60 Minutes ran the numbers, they found plenty of data to back up that claim. At that point, Saban had already overseen a 112 percent increase in revenue for the school's athletic department, roughly $4 million of which is returned to the university in the form of academic scholarships annually.
Flash forward to this year and the impact the football program's ubiquitous national presence and unrivaled reputation for excellence is having on enrollment and academics is undeniable.
According to a recent analysis performed by education experts at The Washington Post, the University of Alabama is the nation's fastest growing flagship school, with a gargantuan growth rate of 92 percent. Now, more than half of UA's students are from out of state, a big change from most of the institution's history.
In all, UA enrolled 37,665 students this fall, up from 37,100 in fall 2015.  And the school is not only attracting more students, it's attracting better students.
This year's freshman class is the most academically talented in the school's 185-year history. More than 40 percent of UA's 7,559-member freshman class scored 30 or higher on the ACT, up from last year's record 36 percent. More than 31 percent of the freshman class had a high school Grade Point Average of 4.0 or higher, up from 29.5 percent last year. The class's average ACT score is 27.1, the highest ever for UA, and up from last year's 26.6 average.
The credit for the University of Alabama's growth as an academic institution should be shared by a wide variety of individuals and groups, including the administration, faculty, staff and students. But make no mistake, Nick Saban deserves as much credit as anyone — yes, even more than $7 million a year's worth.
RELATED:
1. The Philosophy of Nick Saban
2. Bama has grown into an economic powerhouse as its new president charts a path forward
Don't miss out!  Subscribe today to have Alabama's leading headlines delivered to your inbox.