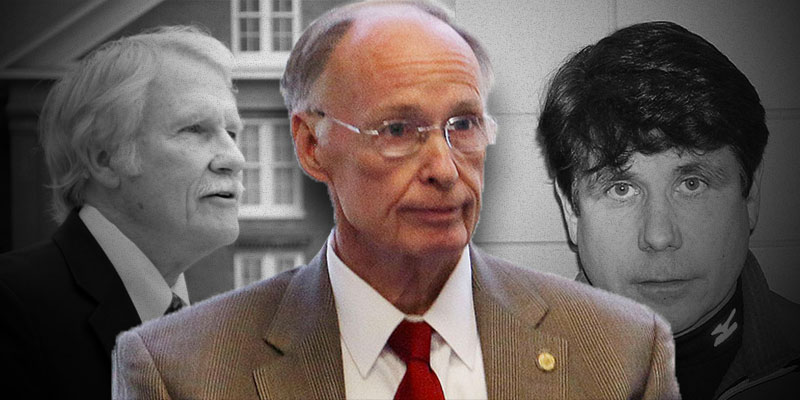 With the resignation of Alabama Gov. Robert Bentley now official, we decided to take a look at some other recent United States governors who were forced to resign amid scandals and the last governor to be impeached.
The last governor to resign amidst a scandal was Oregon Gov. John Kitzhaber. He remains the longest-serving governor in the history of the state. He resigned in February of 2015 after controversy continued to build over his fiancé's work for the state. After pressure built from state lawmakers and one of the leading newspapers in the state, Kitzhaber stepped down.
Related: Get to know Lt. Gov. Kay Ivey, the next Governor of Alabama
The last state governor to be impeached was Illinois' Rod Blagojevich. He was removed from office in January of 2009 and declared ineligible to hold public office in that state. In August of 2010, he was convicted on one of 24 federal charges against him. The charge that brought him down was lying to the FBI.
While Bentley is a Republican, Blagojevich and Kitzhaber are both Democrats.
There are other recent examples of governors having to leave office early due to scandals. Former New York Gov. Eliot Spitzer (D) resigned in 2008 after he was caught setting up a meeting with a prostitute, and former New Jersey Gov. Jim McGreevy (D) had to resign due to sexual harassment claims against him.
As this Governing.com article points out, while scandals involving governors were all over the place in the 2000s (roughly from 2002 to 2010), the current decade has seen a drop off in gubernatorial scandals. Now we have Robert Bentley to add to the list of disgraced governors ousted from office.
Don't miss out!  Subscribe today to have Alabama's leading headlines delivered to your inbox.