Alabamians will lead Friday's annual March For Life in Washington, D.C.
Thirty-five students from Montgomery Catholic Preparatory School and two representatives from three other groups from the Archdiocese of Mobile are carrying the head-of-the-line banner as Marchers For Life trek across the National Mall to the Supreme Court steps.
ALABAMA ON MISSION
Marchers from all across Alabama are caravanning up to D.C. over the next few days to take part in the annual March For Life.
Justin Castanza, principal of Montgomery Catholic Preparatory School and the Youth Leader at Holy Spirit parish, is leading 165 people from four different area parishes to the nation's capital, 100 of them students from Montgomery Catholic.
Montgomery is part of the Archdiocese of Mobile, which has more than 600 young people and adults going to the march with 11 different parishes and four different Catholic schools represented. Many of the young people going along with the group are from public schools, homeschool, or non-Catholic private schools.
"We're very proud of this large participation, especially since we are driving close to 20 hours to get to our nation's capital," Adam Ganucheau, director of Youth & Young Adult Ministry for Mobile's archdiocese, told Yellowhammer News.
The Diocese of Birmingham also has five buses of marchers, with groups coming from all over North Alabama.
Christina Semmens has gone to the March four of the past seven years. She is leading a group of six folks from Our Lady of the Valley in Fort Payne.
"It's an absolutely, phenomenally beautiful witness of the vibrancy and life of the church in the United States," Semmens said of the march and many other activities.
MORE THAN MARCHERS
Castanza refers to those heading up to D.C. as more than marchers.
"Our entire journey is a pilgrimage," Castanza said in an interview with Yellowhammer News.
The trip itinerary reflects that, beginning and ending with masses, to express the solemnity and gravity of abortion.
Castanza said he and his group are there because of the tens of millions of babies who have been aborted since Roe vs. Wade was decided in January of 1973.
"We are marching on this weekend specifically because of the Roe v. Wade decision and the 60 million unborn babies who have been aborted in the United States alone since that decision," Castanza said.
THE RIGHT TO PROTEST
They are also there to honor our fallen service members. Their first stop will be Arlington National Cemetery.
"A lot of people have fought to give us the right to protest. A lot of people have fought to give us the right to say what we want," Castanza said.
Even so, Castanza gives the numbers. "There's about 400,000 folks buried in Arlington National Cemetery and when we drive in and our kids see rows upon rows of perfectly situated white headstones, that represents less than one-one hundredth the number of babies that have been aborted since Roe."
As for the day of the march itself, young people from across the country will wake up early Friday for a Youth Rally & Mass for Life, held in the Capitol One Arena.
"There will be about 25,000 Catholics celebrating Mass together," Castanza said, "and if you're from Montgomery, Alabama, where it's two percent Catholic, that's pretty amazing to see tens of thousands of your high school-aged peers there celebrating. It's our faith coming to life in a way that kids from Montgomery, Alabama, just don't get to see."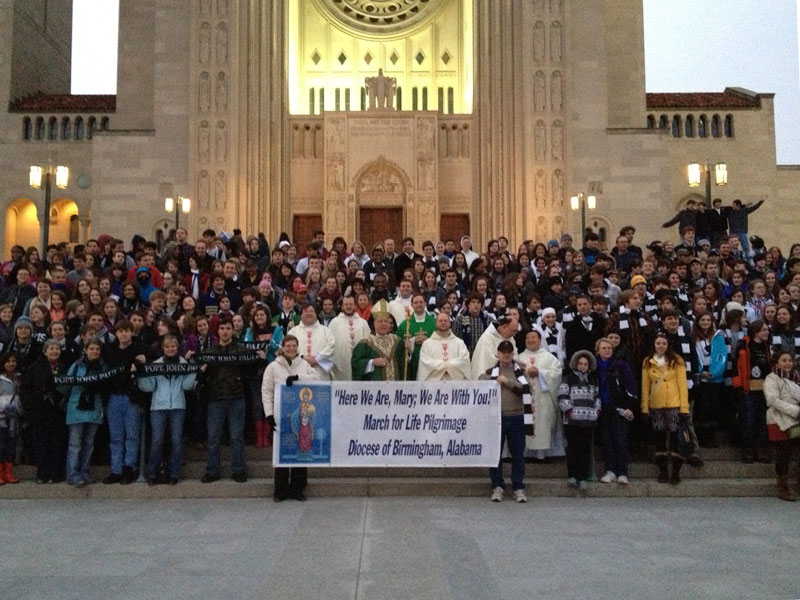 ALABAMA RECENT GRAD TO SPEAK AT RALLY
Montgomery Catholic is contributing in another big way as 2016 graduate Agnes Armstrong speaks at the pre-march rally.
Before the march begins, everyone will meet on the National Mall and hear from a number of speakers, including Speaker Paul Ryan and Matt Birk, former NFL player, and his wife Adrianna Birk. Armstrong will be among them.
"She's been asked to share the perspective of a young female college student that can empower people to get involved," Castanza said.
"Her words are pretty special. She's going to share about how she comes from a place where, in the last 60 years, Rosa Parks [led] the bus boycott, and Martin Luther King gave the 'I Have a Dream' speech from the National Mall where she'll be speaking and called our nation to respect the civil rights and liberties of others. She is carrying on that legacy and has so much to say and so much to do."