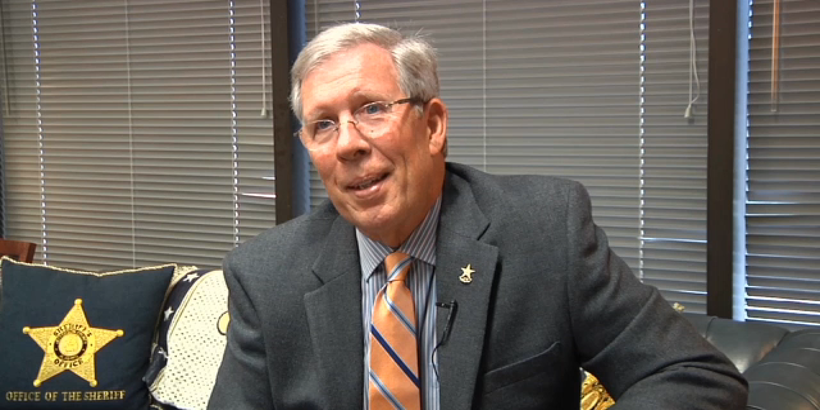 Jefferson County's long-time sheriff Mike Hale is currently battling prostate cancer, but he isn't letting it slow him down.
"I'm kind of tired. I come back to the office, eat an early lunch, have a nap. I don't think citizens will begrudge me that," Hale told WBRC last week.
The JeffCo sheriff found out he had prostate cancer about three months ago during a routine physical with Dr. Mike Chandler, the Chief Medical Officer for the JeffCo Sheriff's Office. During the exam, Dr. Chandler performed a Prostate-Specific Antigen (PSA) Test and noticed a spike in the sheriff's PSA levels. While high PSA levels alone don't necessarily mean cancer, it was enough to schedule more tests.
After being referred to a local hospital for a few biopsies, Hale had an MRI that confirmed his prostate cancer. Luckily the cancer had not spread to the bones or anywhere else in his body. Hale is currently undergoing an eight-week radiation treatment.
While cancer can be a scary diagnosis for anyone, Hale has a strong inspiration by his side. His wife, Dianna, battled breast cancer and has been cancer-free for seven years. Hale stood by her side during her dark days, and how she is standing by him.
"I'm blessed to have D on my side. She is battle tested and battled scarred," he said.
One thing he learned from watching his wife battle breast cancer was the community and mentoring relationships that exist between women with breast cancer. So Hale reached out to former Jefferson County Deputy Chief Carl Johnson, who also had prostate cancer, as a resource for questions and support.
Hale wants his story to be a reminder to others to get regular check ups. Throughout the process he has remained positive and looks forward to finishing radiation treatments and beating his cancer.
Sheriff Hale has been in law enforcement in Alabama for 42 years. He started his career at the Homewood Police Department in 1973 before transferring to the Sheriff's Office in 1976. Hale was first elected sheriff of Jefferson County in 1998 and has been reelected four times since.
During his tenure as sheriff, Hale has strengthened and grown the Sheriff's Office. He fought to change Alabama's convicted sex offender law and make it the strongest of its kind in the country. He also pioneered the first Identity Theft Unit and Computer Forensics Unit in the region. In 1999 he created the Sheriff's Office School Resource Division for County Schools to fight Domestic Terrorism, a division that has since been named a National Model for Law Enforcement Agencies across the country.
(h/t WBRC)