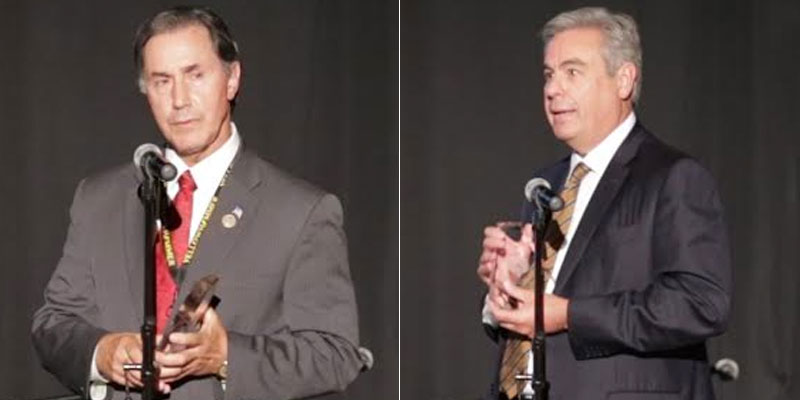 Yellowhammer's 3rd annual Power of Service reception was held last night at the Renaissance Birmingham Ross Bridge Golf Resort & Spa, and it was a tremendous success, as several hundred people packed the Grand Ballroom.
Yellowhammer's new owner and publisher, Allison Ross, presented Alabama Power CEO Mark Crosswhite with the Power of Service Award from the business community and Congressman Gary Palmer with the Power of Service Award from the political community.
A video tribute was given to both winners, with Protective Life CEO Johnny Johns and Great Southern Wood Preserving CEO Jimmy Rane extolling Mr. Crosswhite's virtues, as Senators Del Marsh and Jabo Waggoner did the same for Congressman Palmer. Both Palmer and Crosswhite were quick to deflect the credit to others, however—with Crosswhite thanking the Alabama Power employees for their service and Rep. Palmer crediting his staff, and most of all, his wife, Ann for his achievements.
Birmingham Business Alliance Trustee Dr. Sanjay Singh summarized the event well when he said:
"Last night was unique because the room was full of corporate executives, legislators, and lobbyists, all coming together not just to advance one agenda, but to promote the state of Alabama. As I said to Congressman Gary Palmer, his award and this entire evening was so important to me because it is absolutely incumbent on all of us to take time to say 'thank you', and that's what last night was all about. Expressing our heartfelt gratitude to one another is the least expensive and most meaningful thing we can do, and that's what Yellowhammer did—they joined us in saying thank you to Gary Palmer and Mark Crosswhite with the Power of Service awards. I think we need to do more of that every day if we want to move Alabama forward in a healthy and constructive way. That's why I am so glad I was there last night. It was more than just a social gathering, it was a time for Alabama's leaders to visit one another with a spirit of gratitude, and that's where we find the common ground to make Alabama the very best it can be."
Supreme Court Justice candidate Jay Mitchell added,  "It was a wonderful night celebrating so many great Alabamians. It was also a testament to Yellowhammer's influence that so many made being there last night a priority."
As Ross concluded, "Mr. Singh is correct, it was an evening to express our gratitude and we're thankful for the incredible turnout and for every single person who attended. We also look forward to using the influence Mr. Mitchell spoke of so that Yellowhammer will continue to provide the kind of trustworthy news and distinctive conservative commentary Alabama has come to rely on."