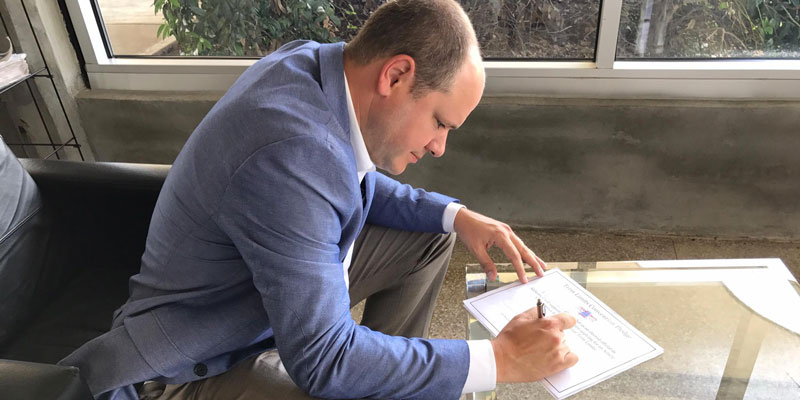 From the first day Birmingham business executive Josh Jones announced his candidacy for Governor, he had one overarching goal: reshaping a cultural consensus around the idea of statesmanship.
As Jones said when he announced his candidacy:
The people of Alabama are over career politicians. We're tired of being embarrassed, of waiting for the next scandal, and we're tired of people running as conservatives and governing as liberals. We need men of character and conviction who possess the ability to govern conservatively and unite legislators without being obligated to special interests."
Discussing his role in the gubernatorial race, he said:
Naturally, everyone in a political race would like to win an election, but that's not the only measure of a win, but my greatest burden entering this race is the dearth of trustworthy leadership in Alabama, the glaring absence of true statesmanship among career politicians. That's why I entered the race with the earnest hope of redefining what it means to be a statesman, and I believe we've done that, because now it's a word routinely used and explained by many of the candidates in this race. In my view, that's a tremendous win."
Elaborating on that idea, Jones explained:
As this campaign has progressed, the conversation has increasingly focused on the fact that, above all else, Alabama's next governor must restore credibility to the office. That starts by having the courage to take a stand against the status quo and the establishment when they've lost their way. Today, most every Republican candidate is at least talking about the need to do just that, and I believe that a few of those candidates truly embrace that concept."
With that said, Jones said that he believes his highest calling at this time is bowing out of the race. Expressing his appreciation to thousands of supporters, Jones said:
Jennifer and I are honored and humbled beyond words at the response to my candidacy from wonderful folks across this great state. From the wiregrass to the Tennessee Valley, and everywhere in between, good people have embraced our message, and responded to our call. You've pledged your support, wholeheartedly sharing our belief that Alabama can be great again. The very nature of those beliefs far supersedes any one person or candidate, and that's why I know you will continue to stand with us in fighting for those ideals, even though I'm withdrawing from the governor's race today."
For now, Jones will continue in business and caring for his family, but he stressed his heartfelt appreciation for his staff and his supporters alike.
"It's difficult to express my gratitude for everyone who's rallied to this cause to restore a sense of statesmanship and integrity to Alabama politics," Jones said. "I am so deeply grateful for everyone who has believed in this campaign, as well as every single person who has stood shoulder to shoulder with me on this campaign staff. This was about promoting a cause for the greater good and I want to extend my wholehearted gratitude to everyone who's been a part of this effort—you're greatly appreciated."