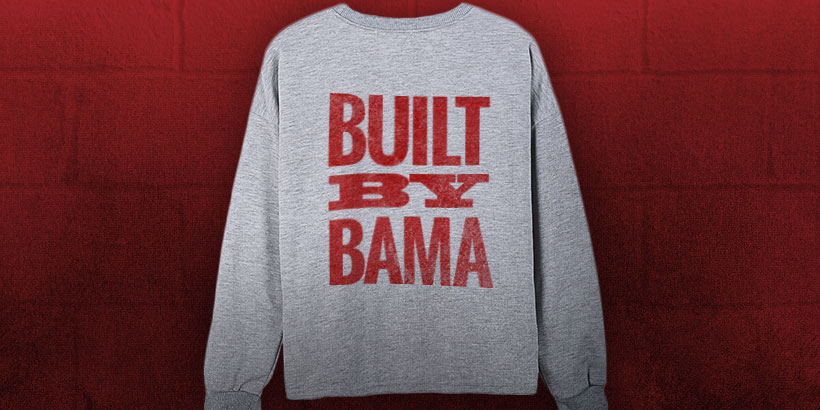 ALEXANDER CITY, Ala. — A recent feature in Esquire Magazine about the all-American sweatshirt highlights the role Alabama had in introducing the world to one of the world's coziest and most comfortable articles of clothing.
Most of us own sweatshirts, maybe bearing our university's mascot, or the emblem of a favorite vacationing spot, neatly stacked in the closet or dresser until an unexpected chill (maybe a cold snap in March?) causes us to reach for the cocooning comfort only a sweatshirt can provide.
But did you know that the sweatshirt was born in Alabama?
"A true voice of the wayback American sweatshirt comes through on a crackly telephone line from Alexander City, Alabama," the Esquire article begins. "It speaks in a southern drawl straight out of Big Fish and belongs to one Thomas Byron Saunders, an 80-year-old poet, farmer, and formerly the editor of The Russell Record, the now-defunct in-house newspaper of Russell Manufacturing Co."
The company, now known as Russell Athletics, is headquartered in Bowling Green, Kentucky after being bought by Fruit of the Loom in 2006, but Alabama is the undisputed birthplace of the sweatshirt—a garment that is seeing a sartorial revival.
The sweatshirt was born out of necessity in the late 1910s when a football team in the area of the original Alabama Russell Manufacturing Co. factory needed comfortable, warm, but breathable uniforms.
"…every aspect of the earliest sweatshirts was oriented toward sporty utility," the article says. "The now-fetishized ribbed-cotton V-insert at the neck—the so-called Dorito, or, less commonly, the whistle patch—allowed for the shirt to stretch over our heads. Side panels, an early refinement, flowed from armpit to inseam, offering greater mobility, just as the full-cut body allowed the arm to swing in its socket unimpeded. The short length of the sleeves and the snug ribbed wrist- and waistbands meant no flapping fabric could muff up the flow of play. The soft brushed-cotton interior was the most advanced wicking system of its day. And unlike the chafey woolen uniforms, the sweatshirt was above all comfortable. It was to its contemporaries what standing on two legs is to standing on one: immensely more pleasurable, immediately appealing, and eminently sensible."
The article goes on to talk about how the sweatshirt went through a punk phase in recent years, sacrificing its trademark simplicity for studs and zippers. Now, designer Todd Snyder, an Iowa native, is bringing the sweatshirt back to its roots by partnering Champion Athletics to produce a high-end but unpretentious new version of the sweatshirt.
"There's a ruggedness and authenticity about the sweatshirt that I wanted to recapture," Snyder said.
Russell is expected to release its own heritage line this year, so next time you need a warm and practical piece of clothing to beat back the chill of an unpredictable Alabama Spring, make sure to reach for one of the state's formerly unheralded creations, the sweatshirt.
---
Like this article? Hate it? Follow me and let me know how you feel on Twitter!

— Elizabeth BeShears (@LizEBeesh) January 21, 2015