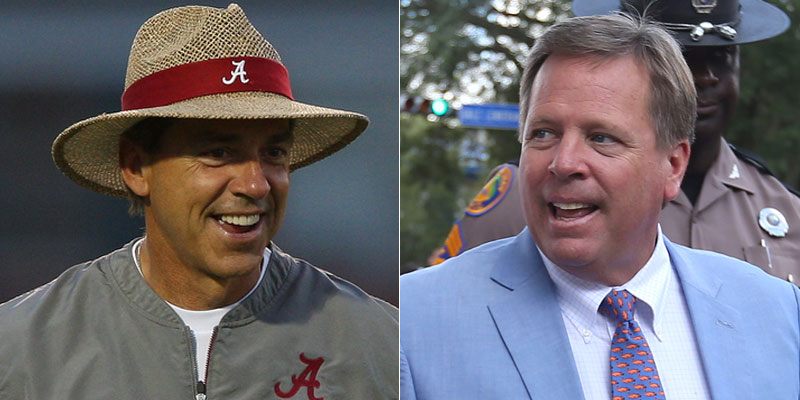 The Florida Gators announced the release of head football coach Jim McElwain over the weekend. With only five regular-season games remaining, the Gators have a losing record, and their offense is ranked 109th out of 130 FBS teams. If you're a Florida fan, then this is about as bad as things get. However, it doesn't appear the bleeding will suddenly stop with the release of McElwain.
With the loss of continuity in their coaching staff, SEC Country reports that the Gators might also lose some of their top recruits – most notably 4-star WR Jacob Copeland.
Alabama and Florida battled over Copeland's commitment for a considerable amount of time. The Tide felt fairly confident that they could swing the young recruit until he announced in early August that he would take his talents to the Swamp. But the new change in leadership at Florida has opened up the race again. "Always gotta leave your options open. You never know what could happen at any given moment," Copeland told reporters after learning of McElwain's release. "All I can do is wait out the season and go from there. I committed to UF because they were there first and stayed with me. But, at the same time, I got to do what's best for me at the end of the day. I haven't lost interest in 'Bama. That's why I made my way down there."
The damage caused by McElwain's doesn't stop there. 4-Star running back Dameon Pierce might be another Florida commitment the Tide try to pick up. Pierce was considering Alabama before he made the announcement to stick with the Gators, but now Alabama coaches see an opening to swing his allegiance.
Nick Saban is touted as one of the top recruiters in the game, and it's hard to beat him when a program is in great condition. Now that there is blood in the water, some consider it almost impossible to hold him off. If Alabama plays their cards right, then Florida's misfortune might mean Alabama's gain.