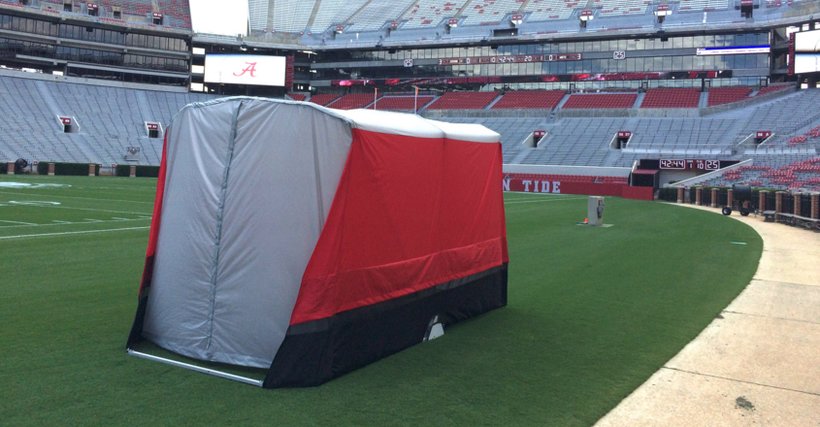 On October 10, 2015, Georgia running back Nick Chubb walked into Tennessee's Neyland Stadium seeking his fourteenth consecutive game with 100 yards rushing. In the first quarter, Chubb took a pitch and, seeing no openings up the middle, bounced the run outside to his left. A Tennessee defensive back lunged and hit him low about 5 yards from the sideline, causing Chubb to spin 360 degrees as he stumbled out of bounds.
It was the kind of play that happens numerous times in any given football game. But this one was different.
As Chubb planted his left foot, struggling to keep his balance, a second Tennessee defender hit him about waist level from his right, causing his left knee to hyperextend (bend the exact opposite way it's supposed to) in a manner so gruesome that the announcer referred to it as "scary."
For the next several minutes, every excruciating moment of Chubb's medical crisis — from the injury, to him passing out from the pain and regaining consciousness, to the trainers working on him, to his exit from the stadium — was examined by millions of viewers worldwide.
While Chubb's injury is an extreme example, many athletes — football players in particular — endure a lack of basic medical privacy that most people would never imagine putting up with. Camera crews routinely ignore what is happening on the field in favor of the closest shot they can get of an injured athlete being treated in the open air on the sideline.
At roughly the same time Georgia was squaring off against Tennessee in Knoxville, Alabama was hosting Arkansas in Tuscaloosa.
In the second quarter, Alabama's senior linebacker Reggie Ragland tried to break through the line of scrimmage, ramming an Arkansas lineman with his left shoulder before crumbling to the ground in pain. The famed Alabama training staff hustled Ragland off the field and disappeared into a tent on the sideline that seemed to appear out of nowhere.
The 100,000-plus fans inside the stadium and the millions watching on television had no idea what was going on, but behind a thin wall of synthetic fabric, Ragland was receiving world-class medical attention in relative privacy.
One person noted, "It almost seems too simple. You look at it and think, 'Why didn't we have this before?'"
But as simple as it may seem, the University of Alabama's popup medical tent is the first of its kind, and is already poised to revolutionize sports medicine at live events.
And the story behind how it came to be combines "If I told you, I'd have to kill you" secrecy with the kind of innovation and entrepreneurial drive that has made "Built By Bama" more than just a football program catchphrase.
THE SECRET PROJECT
A group of seniors in Alabama's engineering school walked into their design class last year and were told by the professor that they had the opportunity to work on a "secret project." If they signed up to participate, they could receive two extra credit hours, but that was the extent of the information that was given out.
Jared Cassity, of Tuscaloosa; Christian Parris, of Birmingham; Jared Porteous, of Tuscaloosa; and Patrick Powell, of Pelham signed up and planned to use the opportunity — whatever it was — as their senior project.
Not until later did they find out it was a clandestine assignment for the football program, a tidbit of information that probably would have compelled dozens more students to sign up, if they had known.
Jeff Allen, UA's director of sports medicine, had hatched the idea for the tent weeks before, and asked Dr. Charles Karr, dean of the UA College of Engineering, if he could help bring it to fruition, which led to the secret project offer to his students.
The students went to work on Allen's innovative design concept, which proved to be a challenge.
Most tents of this size, such as the commercially-available tailgating tents that dot the UA Quad on game days, take more than one person to raise, and setting up and taking down is a lengthy process, according to Powell, who served as the project leader. Commercially-available tents also require guy lines to secure them to the ground.
"The challenge was to deliver the most working space while maintaining a small footprint, develop a system that could be quickly deployed by a single person, and be portable enough to travel with the team for road games," said Powell. "Once in position, our tent can be raised in less than 10 seconds."
The tent developed by the students and Allen connects the structure of the tent to a central hub. When raised, the structure fans over the exam table. The exam table secures the structure to the ground and allows the tent be used on grass, artificial turf or concrete without the use of guy lines.
"This design allows the tent to fan out from a small footprint into a structure twice as long and fully enclosed," he said.
The material the students selected had to be light, but strong enough to support the structure and withstand the varying weather conditions. The synthetic fabrics chosen allow for ventilation, and the light-grey roof is transparent enough to conduct an exam without the need for lights.
Every part of the tent that touches the ground is covered with heavy-grade ballistic nylon to protect from wear and tear from the ground and players' footwear. The doors are sectioned and clasp together with magnets.
The prototype was made of donated components from Altec Industries and CAVCO, stitched together by a local seamstress named Elizabeth Powell, and it has now been used in every single Alabama football game this season, except the first.
Other teams have taken notice. From the college level all the way up to the NFL, Alabama's popup tent quickly became a hot topic.
CASH COW?
As the story goes, "in early summer of 1965, a University of Florida assistant coach sat down with a team of university physicians and asked them to determine why so many of his players were being affected by heat and heat related illnesses.
"The researchers — Dr. Robert Cade, Dr. Dana Shires, Dr. H. James Free and Dr. Alejandro de Quesada — soon discovered two key factors that were causing the Gator players to 'wilt': the fluids and electrolytes the players lost through sweat were not being replaced, and the large amounts of carbohydrates the players' bodies used for energy were not being replenished.
"The researchers then took their findings into the lab, and scientifically formulated a new, precisely balanced carbohydrate-electrolyte beverage that would adequately replace the key components lost by Gator players through sweating and exercise. They called their concoction 'Gatorade'."
Last year, royalties for the University of Florida's Gatorade inventors surpassed $1 billion.
A USA Today story on Alabama's popup tent predicted that "it could be to Alabama football what Gatorade was to Florida."
A provisional patent has been filed for the tent's design and the UA Vice President for Research and Economic Development is assisting in protecting and promoting the intellectual property covered in the pending patent.
"It's a really, really fertile ground to come up with neat projects the kids can work on and see them implement it, to go through the process of developing intellectual property, applying for a patent on it and do real, live design of something that is sitting in front of millions of people," said Dr. Karr, the engineering school's dean.
The team of inventors is working to expand their budding business, and the technology's applications seem to be endless.
In fact, Alabama tight end O.J. Howard told USA Today he's already found an alternate use.
"If you gotta use the restroom, you can go in there," he said. "Sometimes you might have to (urinate) in a bottle or something. I've heard of guys doing that before. I think it's cool how it pops up and then pops back down, but most of all it keeps you from having to go all the way to locker room. You can go in there, change, put on (a different piece of equipment) if you have to. It's very convenient."
From a University of Alabama classroom, to the Alabama football sideline and, perhaps, sidelines all over the world…