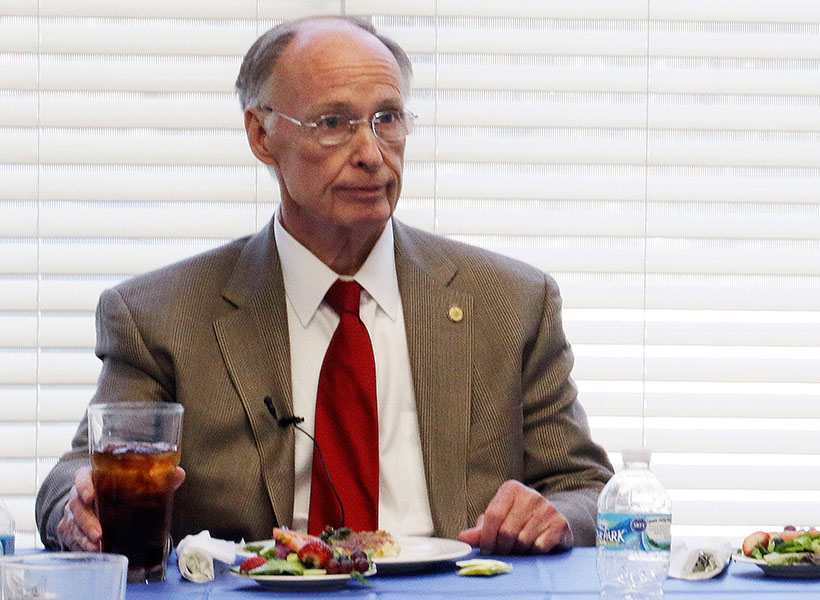 Alabama is, once again, making national news for all the wrong reasons. In the modern political era, our state has seen two governors face criminal convictions, one of whom remains in prison. Now, our governor has been caught on tape confirming year-long rumors that he was unfaithful to his wife of fifty years. One headline read, "Alabama's 'family values' governor mired in sex scandal." The Office of the Governor of Alabama has become a laughingstock to the rest of the country.
As yesterday's events unfolded, I was struck with acute disappointment. But that disappointment gave way to anger when I read the statement released by the governor's alleged mistress yesterday evening. She said: "There is no way that man [former law enforcement chief Spencer Collier] would have said what he did . . . about another man. He only said what he said about my professional abilities because I am a woman. His comments were clear, demonstrated gender bias." She concludes, "Unfortunately, there are still some people who are set on hindering the ability of women to work in the political arena."
As a woman working in the political arena, I found myself speechless.
Gender bias is defined by the Cambridge English Dictionary as the "unfair difference in the way women and men are treated" and by the Oxford Dictionary as "an inclination of prejudice against one gender." Gender bias has been blamed—with varying degrees of veracity— for Hillary Clinton's "shrillness," the wage gap between men and women, and the reason why there are so few female CEOs.
Is there gender bias in Montgomery? In some cases, but Mrs. Mason cannot claim it. Where true bias exists, people are treated in a certain way (usually negative) due to some preconceived notion about them, whether based on their age, appearance, or ethnicity—not based in reason.
Knowing the evidence that was now available to the public, Mrs. Mason did not deny anything, but in a desperate diversion, tried to claim that her gender was to blame for her present predicament.
Her statements are a disservice to women in politics, especially in Alabama politics where women face undeniable challenges. Currently, only 15% of Alabama's state-level elected officials are women. Though the environment for women in the State House has come a long way, it can be a seedy place, and it remains, in some quarters, a 'good ol' boys' club.' The affair culture requires professional women to carefully navigate their friendliness, their feminism, their tone, and, of course, their appearance. By making a false claim of gender bias in a world where gender bias does exist, Mrs. Mason has diluted this reality.
In his statements, Spencer Collier described the unprecedented influence that Mrs. Mason wielded over the governor. He never once said that she was unqualified for her senior-level role, nor did he question her professional abilities. Sadly, whatever went on between Mrs. Mason and the governor has made her professional abilities all but irrelevant. It will be impossible for the public to know what amount of her success should be attributed to her intellect versus her amorous relationship with the governor. A stereotype that still exists—that women can shortcut their way to the top—has been reinforced, a further setback to other women of influence in Montgomery.
The state's political science programs are filled with young women, as are our law schools. My alma mater, the University of Alabama School of Law, boasts a 54% female enrollment. Anytime I'm invited to speak to these groups, I tell them how badly Alabama needs more bright young women involved in state-level politics. But what kind of experience can they expect, should they take my advice? What message has this episode sent to the dozens of adorable middle-school girls who line the halls to page for their hometown representative or the college-aged female interns shadowing lawmakers?
We should be setting the bar high for these young women, reminding them that with strong character, hard work, and professionalism anything is possible. Above all, we should demonstrate the willingness to take responsibility for our actions.
The statement released yesterday will not be soon forgotten by women who have actually struggled with inequitable treatment in their professions. Rather than expressing remorse, which the public would likely sympathize with, Mrs. Mason chose to cry wolf and play the gender card. As a result, whatever gender bias previously existed in Montgomery has just been dialed up a notch.
Don't miss out!  Subscribe today to have Alabama's leading headlines delivered to your inbox.