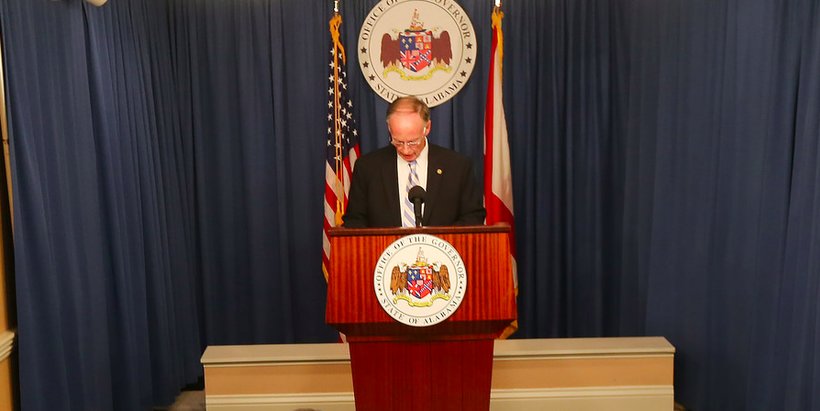 "I want everyone to know though that I have never had a physical affair with Mrs. Mason," Alabama Governor Robert Bentley said defiantly in response to allegations that he'd had an affair with his senior political advisor.
Bentley conceded that he had made "inappropriate comments" to Rebekah Mason, a married staffer with three children, but continuously denied that their intimate relationship went any further than that.
Unfortunately for Governor Bentley, that explanation does not appear to be supported by audio recordings of the two having a conversation.
"You know what," Bentley can be heard saying to Mrs. Mason, "when I stand behind you, and I put my arms around you and I put my hands on your breasts, and I put my head (inaudible), and pull you real close, hey, I love that, too — putting my hands under your shirt.
"I love you. I love to talk to you," he continues. "Baby, let me tell you what we're going to have to start doing, we're going to have to start locking the door. If we are going to do what we did the other day, we are going to have to start locking the door."
The affair is bad enough.
The lack of contrition, insincere apology and — according to the recordings — outright lies about the nature of their relationship is unconscionable.
On the back of the podium behind which the governor stood while making his "apology" is an inscription that seems particularly relevant.
The Governor probably would have done better to abandon his prepared remarks, read the words on his podium, and resign with some shred of dignity — however small — left intact.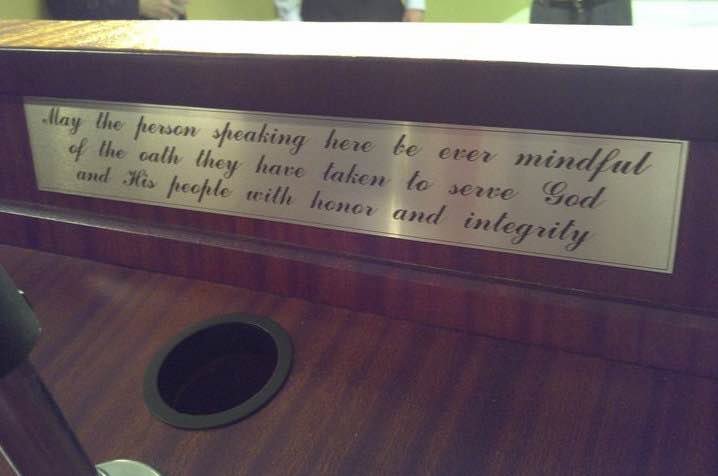 RELATED:
1. AUDIO: Listen in on Governor Bentley's romantic conversation with mistress
2. Bentley addresses affair allegations: 'I made a mistake'
3. CARTOON: Slick Willy backs Bentley
4. SOURCES: Lt. Gov has been preparing for possible Bentley resignation for months
5. Alabama's former top cop: Bentley mistress was 'de facto Governor'
Don't miss out!  Subscribe today to have Alabama's leading headlines delivered to your inbox.