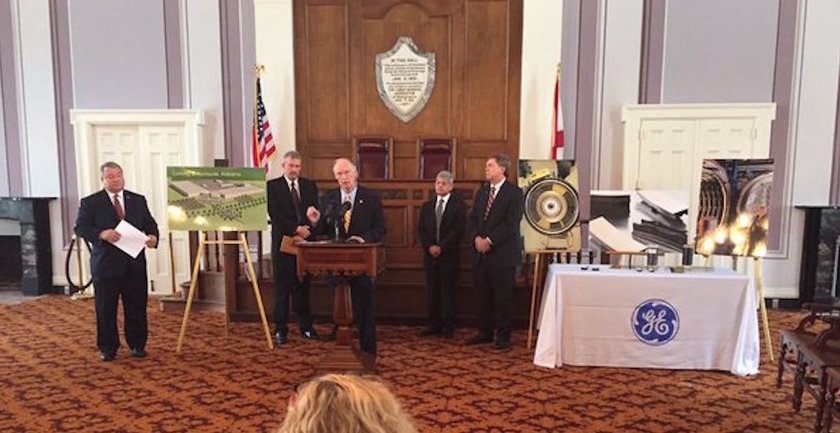 HUNTSVILLE, Ala. — Alabama officials announced Tuesday a significant investment in the Yellowhammer State by mega-corporation General Electric (GE) in building two state-of-the-art aviation manufacturing facilities in North Alabama.
The two factories will mass-produce silicon carbide (SiC) materials used to manufacture ceramic matrix composite components (CMCs) for jet engines and land-based gas turbines. The $200 million facilities are expected to employ 300 people once their construction is complete.
"We are honored that GE Aviation has chosen Huntsville for an advanced technology manufacturing operation to produce silicon carbide materials for commercial and military engines," said Alabama Governor Robert Bentley in a press release following the announcement. "Today's announcement is important because Alabama is expanding our partnership with a global aviation leader. We have prioritized advanced manufacturing in aerospace and aviation, and I appreciate the investment by GE Aviation in this new Huntsville operation."
The silicon carbide ceramic fiber plant will be the first of its kind in the United States, and will be a key component in GE's supply chain to make large amounts of CMCs. The only other two SiC plants in the world are located in Japan and France.
The adjacent GE factory will use the fiber to produce the "unidirectional CMC tape" necessary to fabricate CMC components.
Governor Bentley tweeted out the main reason he believes GE chose Alabama for this project.
I believe the main reason companies like @GEAviation invest in our state is because of the quality of the Alabama workforce.

— Gov. Robert Bentley (@GovernorBentley) October 27, 2015
There will be no greater partner with @GEAviation than the Alabama employees hired. They will make sure this investment is a success.

— Gov. Robert Bentley (@GovernorBentley) October 27, 2015
According to Decatur Daily reporter Mary Sell, the state incentivized GE with a job-creation credit of $3.5M and an Investment credit of $12.4M each to be paid over 10 years.
Construction is expected to begin in mid-2016, with completion projected for the first half of 2018. GE hourly workers will begin being hired in late 2016.
This is GE's second investment in Alabama. In 2010 the company built a partnership in Auburn to create a $100 million, 300,000-square-foot factory Alabama GE employees build jet engine components.
---
GE to build massive $200 million aviation manufacturing facilities, bringing 300 jobs to Huntsville https://t.co/DCHLFCEOzT

— Elizabeth BeShears (@LizTBeShears) October 27, 2015