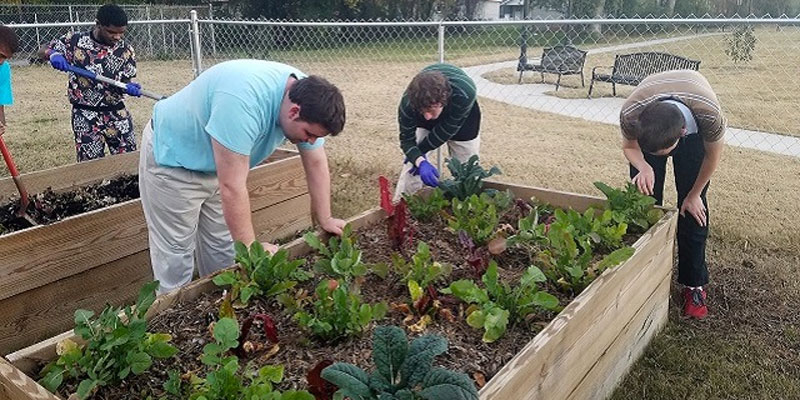 What started as an unconventional way to teach math and reading to special-education students has put them in the restaurant business.
You'll find them cooking using multiple-step recipies, taking orders, working the cash register, taking inventory, and ordering food and supplies at the Beautiful Rainbow Cafe, serving lunch and afternoon coffee from the confines of the Gadsden Public Library.
The program has given hope and a sense of worth and accomplishment to students who otherwise would most likely be stuck at home.
"All of them have significant cognitive impairment," says Chip Rowan, the Gadsden City High School special-education teacher who started the program. "Many are on the autism spectrum. All have significant disabilities related to learning, communication and socialization. Many begin the program as nonreaders."
That has made for an uphill climb for Rowan.
"The most difficult challenge is overcoming some people's low expectations or stereotypes about the abilities of students with significant special needs," he says. "This is why we have chosen to perform our work in an open kitchen so that the public can view how we work.  It is also the reason why we chose to serve an upscale menu. We wanted to make the point that people with significant disabilities can create beautiful and delicious food in a safe and efficient manner."
Beautiful Rainbow Cafe finds gold turning special-education students into top-notch cooks from Alabama NewsCenter on Vimeo.
A different way to teach
Rowan's journey began in 2013 at Litchfield Middle School.
"I started using gardening and cooking as vehicles for teaching reading, math and other functional academic and vocational objectives," Rowan explains. "Research shows these are effective and therapeutic methods for teaching students with special needs."
The class initially prepared baked goods and candy for sale at school, adding truffles and branching out to school events. In 2015, the state Department of Education provided a grant to the Gadsden school system to start a similar summer program for special-needs students.
The class became a formal "instructional laboratory" at Gadsden City High where culinary and horticultural tasks were used to teach a broad range of academic and functional skills.
When a café closed in the Gadsden Public Library, Director Amanda Jackson invited Rowan to occupy the vacancy with his class. That's when the community kicked in. The city of Gadsden, the Gadsden Rotary Club, Gadsden Library Foundation and the Community Foundation of Northeast Alabama funded renovation of the library space.
"It was the perfect chance to partner with the Gadsden City School System to provide more visibility to the Beautiful Rainbow, and offer library services to an often-underserved segment of our community," Jackson says.
Meanwhile, the city, the Alabama Power Foundation, Modern Woodmen of America, the Rotary Club and Gadsden Library Foundation donated money to transform a vacant lot across the street into a garden where the students grow vegetables for the restaurant.
Positive atmosphere, delicious food
The café opened in February, specializing in local garden-to-table gourmet vegetarian food and pastries, and has catered events for the Boys and Girls Club, Rotary, the Chamber of Gadsden & Etowah County and the Etowah Youth Orchestras.
Currently, 17 Gadsden City High students work at Beautiful Rainbow as part of co-op and after-school programs. Two are from the private Excel Institute for adults with intellectual disabilities.
The result has been nothing short of outstanding. Jackson says one of her employees labels the attitude of the students as "infectious."
"You can't come out of the café in a bad mood," Jackson says. "The atmosphere is positive and the delicious food doesn't hurt your feelings either."
It has made a huge difference for Gadsden City High senior David Hodges, 21, who has been in Rowan's program since its inception at Litchfield.
"His confidence and self-worth has grown by leaps and bounds through the many things he has learned," said Blake Champion, Hodges' adoptive father. "He has also shown major improvement in reading, spelling and mathematics from the different tasks he performs. The program has influenced him to pursue his goal, more intensely, of obtaining employment.
"He has also shown improvement at home with his daily chores, and just taking ownership of different tasks that need to be completed. Beautiful Rainbow is a wonderful program that has changed the life of David Hodges, and I am thankful for the opportunity he has been given."
'Truly amazing'
Sharon Maness, director of special education and elementary education for Gadsden City Schools, knew many of the kids when they were sixth-grade students.
"It's truly amazing to see these students with significant disabilities who had multiple needs, who were not independent and had unbecoming behavior now able to work independently, doing their assignments, with no behaviors; cordial, polite and serving people of this community," Maness says.
She was taken aback on a recent visit when several students used technical words she had never heard when discussing methods for slicing, dicing and cooking.
Maness credits Rowan for thinking outside the box to use cooking and gardening to teach basic academic skills.
"Chip is a very dedicated teacher who just has a gift with those kids," she says. "He has very high expectations of them and it shows in their everyday demeanor. He has built their self-esteem to the point they feel like, 'I'm important. I'm the pastry person. I'm good at lasagna.' We've received feedback from the parents who say in the past their kids would come home and do nothing, and now they want to prepare dinner."
The cafe is open for lunch Tuesday-Friday from 11 until 1:30, and on Tuesday, Wednesday and Thursday afternoons after 3 p.m. as a coffeehouse serving hot teas, coffees and pastries. More information is at www.gadsdenlibrary.org/beautiful-rainbow-cafe-in-the-gadsden-public-library/.
(By Gilbert Nicholson courtesy of Alabama News Center)
Don't miss out!  Subscribe today to have Alabama's leading headlines delivered to your inbox.