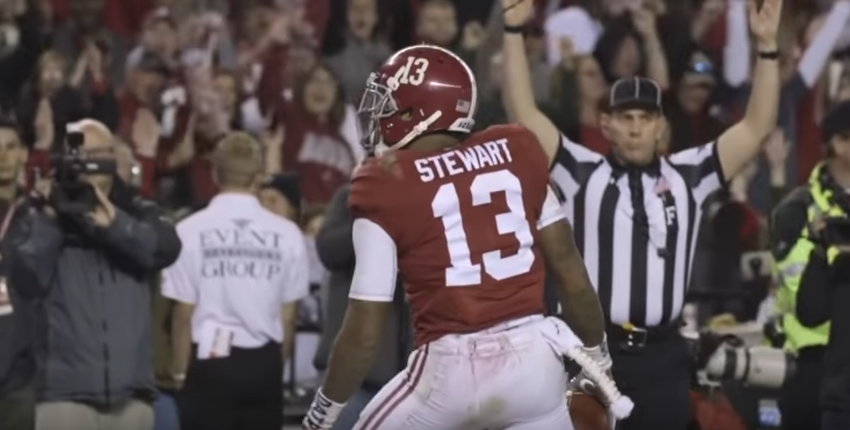 FULTONDALE, Ala. — Wide Receiver ArDarius Stewart made the jump to the NFL this offseason, and like many of his former Crimson Tide teammates, he cashed in a big paycheck. But instead of spending all of his newfound wealth on himself, Stewart used $15,000 to pay for new helmets for the Fultondale High School Football team.
Before suiting up for The University of Alabama, Stweart took the field for the Fultondale Wildcats as a quarterback, running back, and wide receiver. The currents players at FHS told ABC 33/40 just how grateful they were for the donation from one of the school's most successful alumni.
"Folks are going to be walking out there with helmets that nobody else in the state of Alabama has, period," linebacker Joshua Stanton told 33/40. "Like I said, it's a great gift from ArDarius."
Thanks to @neversleepon13 the Cats will have 2 helmets in 2017. @schuttsports @jefcoedathletic @AHSAAUpdates @ALFCA_ pic.twitter.com/iiViyHOIxI

— Fultondale Athletics (@CatsFultondale) July 18, 2017
Ardarius stressed to 33/40 the importance Fultondale has played in his life. Because of this impact, he was more than happy to pay it forward.
"You make time for things that are important to you. This school is very important to me," he said. "No one really does anything for Fultondale, but Fultondale–the Fultondale community. I'm a part of this community and I just wanted to show them that I'm standing strong with them."
During his time at Alabama, Stewart became notorious as a big-play threat, and he operated as a dynamic weapon in Lane Kiffin's spread attack. In his last season with the Tide, he had 54 receptions for 864 yards and nine touchdowns.
The New York Jets drafted Stewart in the third round with the seventy-ninth overall pick. His rookie deal will pay out $3.25 million over four years.