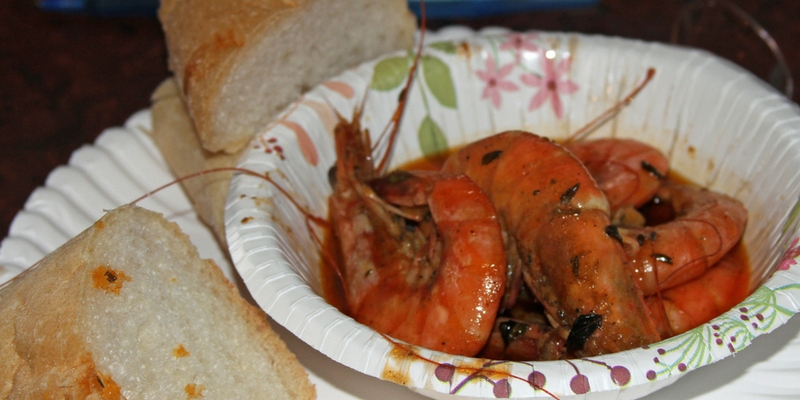 Despite Alabama's woods teeming with deer and deer hunters, many will take a Thanksgiving break to acknowledge the bountiful blessings of living in our great state.
Those blessings include food – lots of food – on Thursday through the weekend. The traditional turkey will likely be on the table, but many families who love the outdoors will enjoy wild game as well.
For you movie buffs, like Lloyd Bridges' character in the movie "Airplane," it looks like I picked the wrong time to try to lose weight.
Actually, I got a huge jump on the Thanksgiving season by being a judge for both the Alabama Wildlife Federation's (AWF) Gulf Coast Wild Game Cook-Off in Spanish Fort and the World Food Championships in Orange Beach.
First on the calendar was the AWF Cook-Off at the Blue Gill Restaurant on the Causeway, only a few miles from where the Cook-Offs started in 1996 in Mobile. Because of the success of that event, AWF expanded the Cook-Offs across the state with a total of 15 events in the Mobile area, Andalusia, Thomasville, Selma, Auburn, Montgomery, Birmingham, Tuscaloosa, Talladega, Guntersville, Huntsville, Tuscumbia, Decatur and Athens. The State Finals are held at AWF Headquarters in Millbrook.
While the Cook-Offs participants may not have the technical expertise or experience of the chefs competing in the World Food Championships, the wild game preparers spare no expense or effort to win those bragging rights.
In the 2017 version of the Gulf Coast event, the Mobile County Wildlife Association (MCWA) scored on all three of its dishes and took home the best overall prize, which qualifies the team of Wesley Williams, Tom Leatherbury, Sonny Kearley and Patrick Kelly for the State Finals.
The best overall dish and top finisher in Wild Game was a dish the MCWA team named Percy Sledge's Venison Balls. I'm not sure what the dish has to do with the late legendary soul singer from Alabama, but the dish was worthy of the title.
Percy Sledge's Venison Balls
Ingredients:
1 lb smoked link deer sausage
2 cups regular grits
2 sticks butter
2 blocks cream cheese
1 cup chopped green onions
Salt & pepper
Louisiana Shrimp Fry
Cut smoked sausage links into small cube-sized pieces. Place sausage pieces on cookie sheet and place in oven for 15 minutes at 350 degrees. While sausage is cooking, prepare pot of regular grits. For 6 servings of grits (25-30 venison balls) bring 10 cups of water and 1 teaspoon of salt to a boil. Stir in 2 cups of grits and let water return to a boil. Turn heat down to a simmer, cover and cook for 15 to 20 minutes stirring occasionally. After grits are cooked, turn off heat and stir in deer sausage, butter, cream cheese, green onions. Mix well until cream cheese and butter is dissolved. Salt and pepper to taste. Let grits mixture cool and place in refrigerator overnight in order for grits to become hardened. Once grits mixture is hardened and workable, spoon out grits mixture and make into large meatball-sized ball. Batter venison balls in Louisiana Shrimp Fry mix and drop in 375-degree deep fryer until done, about 4-5 minutes.
The MCWA team also took third place in the fish division with some delicious barbecued shrimp reminiscent of Pascal Manale's in New Orleans.
Coontainer Shrimp Surprise
1 ½ lbs large head-on shrimp (15-20 count size)
2 tbsp olive oil
1 stick butter
2 tbsp Dijon mustard
1 ½ tsp chili powder
¼ tsp basil
½ tsp oregano
1 ½ tsp ground pepper
2 tbsp Tony Chachere's
¼ tsp thyme
1 tsp hot sauce
2 cloves garlic, crushed or chopped
Juice of 1 lemon
Preheat oven to 375 degrees. In a skillet, heat oil over medium heat; add butter and all remaining ingredients except for the shrimp. Simmer over medium heat for 5-7 minutes, stirring occasionally. Place shrimp in a 9×13 baking dish. Pour sauce over shrimp and stir to coat shrimp with sauce. Bake uncovered for 20 minutes stirring after 10 minutes. Remove from oven, stir one more time and serve immediately. Serve with fresh sliced French bread.
The MCWA team also took third place in the fowl category with a grill-cooked pizza topped with wild game.
Uncle Tom's Causeway Slice of Spice
8-10 dove breasts or 4-5 small duck breasts
Olive oil
Flour
16 ounces fresh pizza dough (homemade or purchased fresh from bakery)
1 cup thick BBQ sauce
1 cup grated mozzarella cheese, divided
1 cup grated smoked Gouda cheese, divided
1 small red onion, sliced
Kosher salt
Black pepper
Basil
Cilantro
Yellow Cornmeal
Make sure you have a pizza stone and pizza peel before starting. Pre-heat oven or grill to 500 degrees. Put pizza stone in oven or grill while pre-heating to allow stone to come up to temperature. While pre-heating, cut each dove or duck breast into quarters and sauté in olive oil over medium-high heat for 5-7 minutes then set aside. Using flour, roll out pizza dough on a pizza peel into the shape of a pizza. Coat pizza dough with BBQ sauce and lay down one base layer of cheese. Use ½ cup of Mozzarella and ½ cup of Gouda for base layer. Evenly spread sautéed breast meat and sliced red onion over pizza. Add remaining ½ cup of mozzarella and ½ cup of Gouda evenly around pizza. Season with salt and pepper to taste. Garnish with fresh basil and cilantro. Sprinkle heated pizza stone with yellow cornmeal, and transfer pizza from pizza peel to pizza stone. Let pizza cook until the crust is golden brown, usually 12-14 minutes at 500 degrees. Cook slightly longer for crispier crust.
Unfortunately, the other first-place winners declined to share their recipes. The top fish dish went to the Salty Worm team with a delicious Wild Gulf Gumbo. The top fowl dish went to the High Ball team for its Duck Pastalaya.
Fast forward to the second weekend in November for the World Food Championships, which brought chefs from all over the world to offer their best dishes in Seafood, Steak, Barbecue, Burger, Sandwich, Dessert, Chili and Recipe (chicken) categories.
One of the WFC sponsors was Alabama Gulf Seafood, which was a perfectly good reason for me to request to judge a round in the seafood competition. I was selected for the seafood structured build, which requires chefs to execute a specific dish. This time it was Oysters Rockefeller. Man, am I lucky.
Because it was blind judging, all I can tell you is that all were really good and two were great. The team that had the Oysters Rockefeller topped with crab meat was my winner.
Two Alabama chefs were able to advance to the Top 10 in Seafood – Paul Kerr (Tuscaloosa) with Team Gulf Coast and Robert Entrekin (Birmingham) with Spices Smokehouse Catering. Unfortunately, I didn't get to try Entrekin's entry in the Seafood preliminaries. His "Southwestern Oysters Rockefeller topped with fresh pico and spinach and fresh oyster sauce" finished with a 98.7 score, the highest in the round. Kerr finished in 6th place overall and Entrekin took 9th.
Chef Brody Olive of Perdido Beach Resort finished in 11th place by less than a 10th of a point. However, in a subsequent Super Qualifier, he earned a Golden Ticket to next year's competition with a dish that included fresh Gulf seafood – scallops and snapper.
During the four days of the WFC competition, I got to judge Structured Seafood, Signature Burgers and Structured Chili. During the final round that judged the Top 10, I was at the judging table for the Recipe competition, which featured chicken, and Sandwich.
It was a difficult proposition to determine the winners in the finals. The dishes were outstanding. It was a tough job, but somebody had to do it.
Like I said, I really picked the wrong time to try to lose weight.