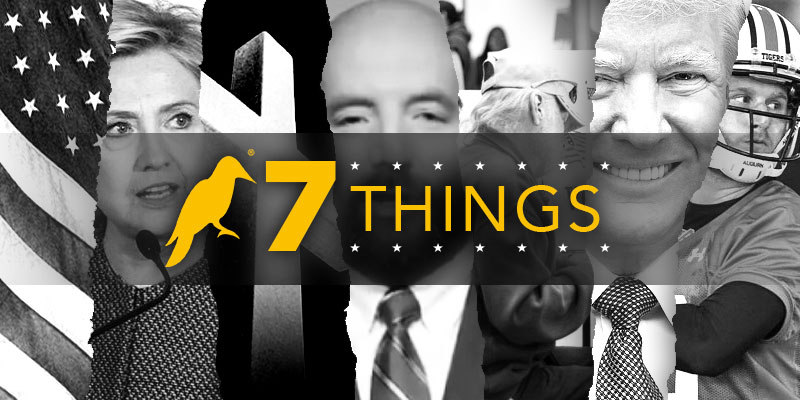 The 7 Things You Should Be Talking About Today
1. Large parts of Alabama are shutting down government functions tomorrow
— Schools from Florence to Montgomery and all over the state are closed or are closing early.
— The National Weather service expects snowfall with "higher than normal impacts" across north Alabama.
— Alabama Governor Kay Ivey has proclaimed a State of Emergency.
2. Democrats are intent on killing the DACA deal and causing a government shutdown
— Funding for the government runs out on Friday at midnight, Republicans seem to be scrambling to avoid that happening.
— While this has nothing to do with "Dreamers", Democrats do not want to provide the funding for the government without a deal that allows 800,000 illegal immigrants to stay and work in the country.
— Republicans, for their part, have the majority in the House and Senate and could pass a short-term fix on their own.
3. Like President Trump's inauguration, some lawmakers plan on boycotting his State of the Union
— Congresswoman Fredrica Wilson becomes the latest Democrat to say she will not come to the event.
— She joins Rep. Maxine Waters, D-Calif.; Rep. John Lewis, D-Ga.; and Rep. Earl Blumenauer, D-Ore.
— Other protests are planned, some plan to wear black in order to stand in solidarity with victims of sexual harassment, others plan on inviting victims of sexual assault to attend the president's first State of the Union address.
4. Senator Doug Jones uses MLK Day to attack Trump
— Senator Doug Jones spoke in Birmingham and ripped the president in his first major speech since being elected.
— Jones said Trump's "s***hole" comments are  "not only beneath his office but is the very antithesis of the very values we hold so dear as Americans."
— Representative Terri Sewell has already called Trump's remarks "racist" and demanded an apology.
5. Bradley Manning is running for Senate for some reason
— Manning is running against Democrat Ben Cardin in Maryland.
— President Obama commuted the remainder of Manning's sentence after he served 7 of 35 years in prison for releasing confidential military and State Department documents.
— Unlike when controversial Republicans run for office, the media has not asked elected Democrats what it means that a convicted felon is running for office as a Democrat.
6. Economic development hinges on our ability to create a friendly economic climate, not our already held political beliefs
— Members of the media have claimed Doug Jones' election to the U.S. Senate was the clincher for a massive Toyota-Mazda announcement last week.
— The Business Council of Alabama's Bill Canary has given credit to Senator Richard Shelby for his stand against Roy Moore.
— The more obvious reason Toyota-Mazda came to Alabama is the business friendly environment and our leaders should focus on that success.
7. We are still debating whether Trump said "s***hole", "s***house", or nothing
— The White House is publicly denying the president said any variation of the derogatory phrase reported.
— Senators Dick Durbin and Lindsey Graham continue to back the original reporting on the story while Senators Tom Cotton and David Perdue have vacillated on the issue, from not recalling, to not hearing, and now they say he didn't say it.
— Now some are claiming the term was "s***house", which seems like a semantic but insignificant difference.
Don't miss out!  Subscribe today to have Alabama's leading headlines delivered to your inbox.