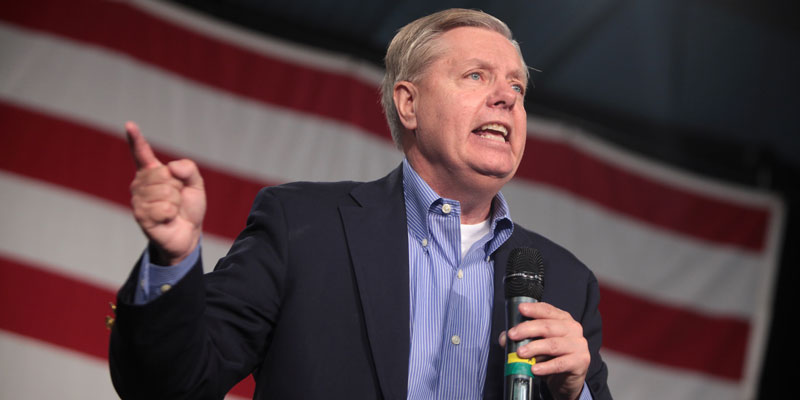 The 7 Things You Should Be Talking About Today
1. Alabama newspaper editor spanked female employees for decades, other journalists stayed silent
— Former Anniston Star Publisher H. Brandt Ayers spanked some of his women employees over the years.
— This was apparently known by multiple journalists, including former Huntsville Times' reporter Bob Lowry and the Alabama Political Reporter's Joey Kennedy.
— A former Star reporter, Eddie Burkhalter, wrote a story about the issue recently but quit when the newspaper refused to publish it.
2. Democrats continue to demand a "clean" DACA bill, won't budge on the wall
— Rep. Debbie Dingell appeared on CBS' "Face the Nation" and stated that DACA recipients are "desperate", Rep. Joe Crowley referred to DACA recipients as "cultural Americans".
— Republican Senator Lindsey Graham says there is a "deal to be had" but it needs to include border security.
— Trump remains defiant, tweeting last Friday, "The Democrats have been told, and fully understand, that there can be no DACA without the desperately needed WALL at the Southern Border and an END to the horrible Chain Migration & ridiculous Lottery System of Immigration etc. We must protect our Country at all cost!"
3. At least 20 dead in Iran as the media tries to figure out what is going on
— Protests in Iran have been going on for over a week and there are reports of up to 20 dead.
— Protesters have attempted to take over police and security positions leading to more violence.
— The American media seems to think the protests are over inflation and unemployment in spite of the words of the protesters in the street.
4. Marijuana may be legal in more places, that doesn't mean that there aren't real risks associated with it
— Marijuana laws continue to relax around the country, California now allows recreational pot use.
— Adults can grow up to 6 plants and possess 1 ounce of marijuana legally.
— But as we accept the drug as a legal intoxicant, marijuana use has increased among pregnant women of all ages in a study, and the younger a woman is the more likely she is to use the drug while pregnant.
5. 2017 starts with plenty of foreign policy problems for President Donald Trump
— Trump's New Year's tweets included shots at North Korea, Iran and Pakistan.
— North Korea and Iran have been at the center of Trump's foreign policy concerns for his entire first year.
— His recent focus on Pakistan follows reports that the U.S. may withhold $255 million in foreign aid over Pakistan's handling of terrorists.
6. An all SEC Championship game, again
— Alabama and Georgia won their College Football Playoff games, knocking out Clemson and Oklahoma.
— The last all SEC championship game was the Alabama/LSU BCS Championship game from 2012.
— This game guarantees the college football champion will come from the SEC for the 9th time in the last 12 years.
7. YouTube star sparks outrage by making video in Japan's "Suicide Forest"
— Paul Logan filmed a video at a site in a Japense forest that is a popular location for suicide.
— During the filming he came upon a dead man hanging from a tree and filmed the body and posted it online.
— Logan has since taken the video down and issued a public apology, this has not silenced the uproar.
Don't miss out!  Subscribe today to have Alabama's leading headlines delivered to your inbox.