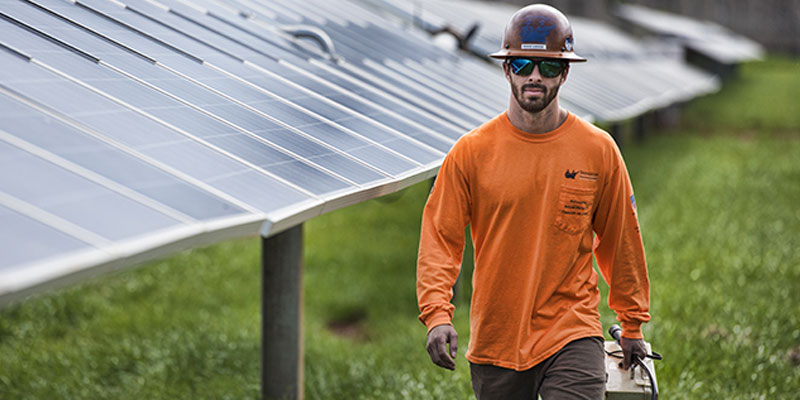 After months of construction, one of the state's largest solar energy facilities, built in partnership with Alabama Power, is up and running in Chambers County.
The 72-megawatt Alabama Solar A project sits on 1,400 rolling acres, just south of LaFayette. Seventy-two megawatts is an amount of energy equivalent to what is typically needed to power about 18,000 homes.
Most of the renewable energy attributes from Alabama Solar A are going to serve Walmart through a long-term contract, to help the retailer meet its renewable energy goals. Alabama Power is marketing the remaining energy and renewable energy attributes from the project to other customers interested in supporting new renewable generation in the state.
The project is operated by Boise, Idaho-based Clenera and was built by Swinerton Renewable Energy, based in San Diego. Alabama Power has a long-term power-purchase agreement with the primary owner of the facility, Houston-based Centaurus Renewable Energy, to receive all the energy and environmental attributes from the solar farm, which it can then use for its own customers or resell to others – as in the contract with Walmart.
The long-term agreements make the project cost-effective for Alabama Power customers, while also supporting Walmart, one of the state's most important retailers and employers.
"This project is great for Alabama Power customers because it puts downward pressure on rates. It also helps our partner, Walmart, meet its sustainability goals. And it supports the local economy in Chambers County. It's a win-win-win," said John Kelley, Alabama Power's director of Forecasting and Resource Planning.
Work began in February on the $140 million project, which began generating electricity a few days ago. More than 450 people were employed at the site during peak construction, many of them local workers. The facility's permanent employees also are being hired locally.
The site, which stretches across gentle, rolling hills, uses more than 338,000 solar panels that automatically track the sun for optimum efficiency. About 57,000 pilings were installed in 4,000 rows to create the solar energy facility.
The project was built with sensitivity to the environment. Detention ponds capture rainwater, helping prevent erosion and protecting water quality. Tree stumps removed during construction were ground into mulch and used across the site to also prevent erosion, until grass planted throughout the facility had a chance to sprout and grow.
"It's been a great partnership, all around," said Vince Longo, project engineer for Swinerton, who hails from Sacramento, Calif. It was the first time Longo was involved in constructing a solar facility in the deep South. He said local officials were helpful throughout the build-out, and treated him and other out-of-towners warmly. "Southern hospitality is real," he said.
"It really has been a good relationship, with all the partners," said Kevin Winchell, field service manager for Clenera. "Everyone has worked well together, to get this project done."
Alabama Solar A is the third solar project connected to Alabama Power to begin operating in 2017. Earlier this year, Alabama Power unveiled company-owned solar facilities on two of the state's military bases, Anniston Army Depot and Fort Rucker. The company also has rights to the generation from two wind farms in the Midwest and markets the renewable energy attributes from all these projects to interested parties. Alabama Power also produces clean, renewable hydro power at 14 hydroelectric facilities on the Coosa, Tallapoosa and Black Warrior rivers.
"Alabama Power was founded on renewable energy, and we support new renewable energy projects where they make sense for our customers," Kelley said. He said the company is looking for other opportunities to expand its use of renewable energy for the benefit of customers and the state.
Alabama Solar A – Fun Facts
— $140 million investment
— 1,400 acres
— More than 450 workers at peak construction
— 338,662 solar panels
— 89 miles of direct-current, underground conductors
— 26 miles of medium voltage underground conductor
— 9 miles of fiber cable
— 34 detention basins for protection of water quality
(By Michael Sznajderman, courtesy of Alabama NewsCenter)