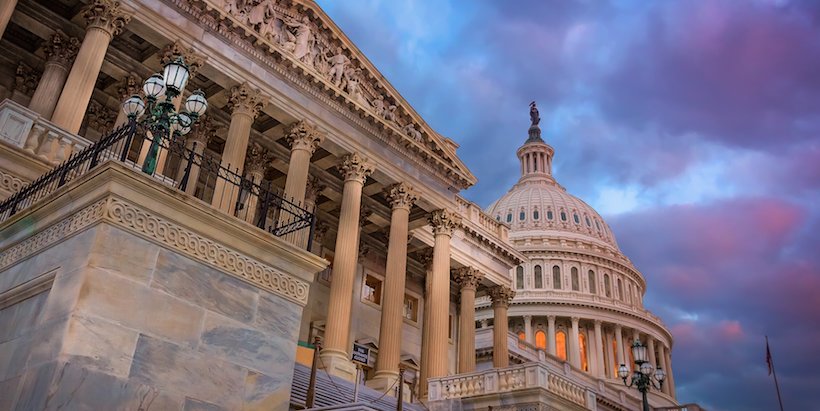 In what has proven to be an extraordinarily rare occurrence in the 227 year existence of the U.S. federal government, a major government construction project is poised to be completed both on time and under budget.
The Dome of the United States Capitol is "8,909,200 pounds of ironwork bolted together in a masterpiece of American will and ingenuity," according to the Architect of the Capitol, but the famed symbol of the American republic had fallen into disrepair in recent years. Although it was impossible to see from the ground, roughly 12,000 inches of cracks had developed in the cast-iron dome, underneath ten layers of paint.
In 2014, Congress set aside $60 million to repair "1,000 or so cracks, leaks and patches of corrosion dotting the cast-iron dome that has stood atop the U.S. Capitol since the Civil War."
The two-year process went something like this:
Ten layers of paint were removed using blasting equipment. Because cast-iron can "flash rust" within just hours of exposure, sections were primed with a rust inhibitor immediately after being uncovered. The cracks were identified by an army of workers examining the bare metal and "using magnetic powder and magnets to reveal the edges." The cracks were then filled and sealed. Then the dome was repainted using over 1,200 gallons of paint.
And thanks to an Alabama company, all of that happened on time and under budget.
Allen Architectural Metals, Inc. out of Talladega, Alabama, won the bid to repair the cracks in the Dome at a pace of approximately one inch per hour — tedious work to say the least.
The company's president said he went into the process knowing it was a demanding job, but he was confident his Alabama crew was up to the task.
"They are typical Alabamians who work with their hands, and I'm proud of them," he told al.com. "I tell them you will have a job in this country as long as you can work with your hands. And you will."
Mr. Allen's work caught the attention of Congressman Gary Palmer in January of 2015, on his first day in Washington, D.C., after being elected.
"Look over at the Capitol," Palmer said, looking out of the window during an election celebration. "People say they're 'repairing' the dome, but I say they're 'restoring' it. And that's exactly what our country needs. While the restoration continues on the outside, we need to be praying for restoration to take place on the inside."
House Speaker Paul Ryan released a video on Wednesday praising the Dome repair team for their work. Check it out below.