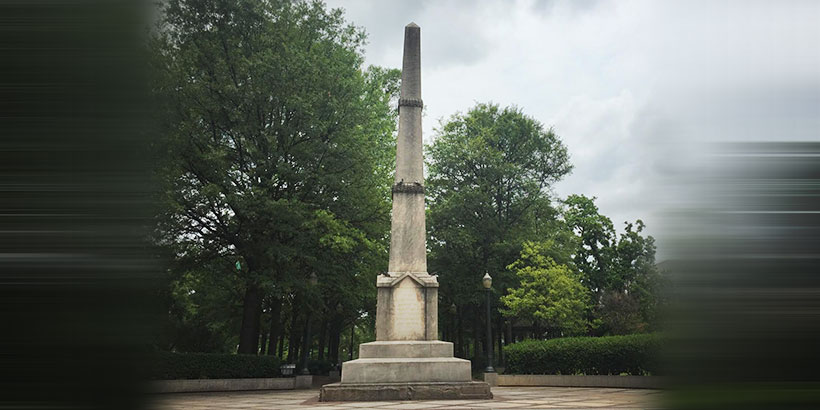 BIRMINGHAM, Ala. — Birmingham's Parks and Recreation board voted unanimously Wednesday morning to take the first steps in removing a Confederate monument in Linn Park, directly across the street from Birmingham's city hall and the Jefferson County Courthouse.
The board moved to have the city's lawyers conduct research to find if there is any legal impediment to having the monument taken down.
According to Birmingham's Fox 6, board member and former Birmingham mayor Benard Kincaid said he wants to be respectful of history, but in light of the church shootings in Charleston, South Carolina he does not believe a Confederate monument should be in a city park.
Funded and erected by the Pelham chapter of the Daughters of the Confederacy on April 26, 1905, the monument has remained in place through the Jim Crow era, the Civil Rights movement, and in the 50 years since the Voting Rights Act.
In the fallout of the Charleston Shootings, when a white supremacist who waved the Confederate battle flag and burned the American flag in photos found after his arrest shot and killed 9 African Americans in a South Carolina church, vestiges of honor or remembrance of the Confederacy are being threatened with removal from public property.
Last week Governor Robert Bentley (R-AL) ordered the several flags of the Confederacy be removed from a monument on the State Capitol's grounds, but has mad no moves to remove the monument itself.
Leadership in Birmingham, however, says the monuments themselves have no place on city land.
"My personal opinion is any monument that commemorates the tradition of slavery , the tradition of suppression of a race should be removed," Birmingham Mayor William Bell told reporters last week.
---
RELATED: 8 Things you probably missed while busy arguing about the Confederate Battle Flag
---
The city's Parks and Recreation department is reportedly not calling for the monument to be destroyed, but for it to be moved to private property elsewhere.
Attempts to remove such monuments has received significant backlash from many Southerners, who worry it is akin to "whitewashing" history.
The Pelham chapter of the Daughters of the Confederacy no longer exists, but there are currently 53 active chapters in Alabama—including five in Birmingham alone.
It is unclear whether another chapter of the Daughters of the Confederacy will step forward to move the monument to another location.
This story may be updated as details emerge.
---
Like this article? Hate it? Follow me and let me know how you feel on Twitter!

— Elizabeth BeShears (@LizEBeesh) January 21, 2015