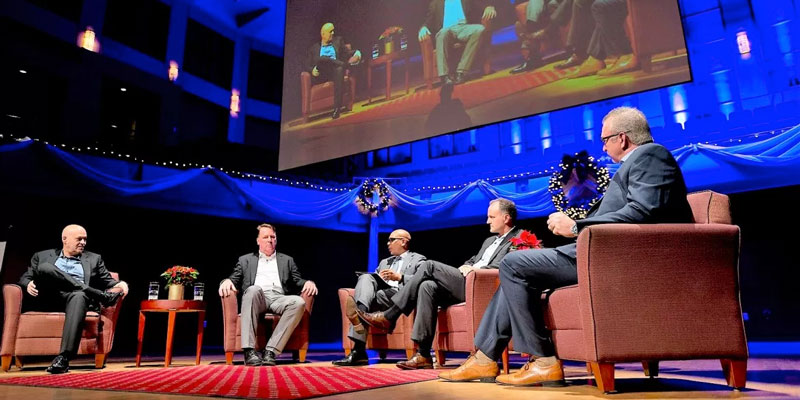 The head of the Birmingham Business Alliance said the metro area is coming off a very successful year for economic development, but the prospects for even more growth in 2018 are "at an all-time high."
BBA CEO Brian Hilson said at the organization's annual Chairman's Meeting Tuesday that economic development in the seven-county metro area was very strong in 2017.
"So far in 2017, we've seen 2,957 jobs and over $560 million in investment announced by 25 different new and expanding companies within our core business sectors," Hilson said.
This year continues a string of successful years for attracting new and expanding industry to the state, Hilson said.
"Between 2011 and 2017, we have seen 19,394 jobs and over $3.9 billion in capital investment committed within our seven-county metro area," he said.
That has caused the BBA to be ambitious with its current five-year plan.
"At the BBA, we have a goal of 19,000 jobs and $3.5 billion of investment being announced between 2016 and 2020," Hilson said. "So we're at the halfway point as we approach the year 2018 and as we continue to execute our five-year strategic plan, which we call Blueprint 2020."
With the current pipeline of potential projects, those numbers could be well within reach.
"Our level of project activity is at an all-time high, at least for the six and a half years that I've been in Birmingham," Hilson said in an interview with Alabama NewsCenter. "But probably more important, the quality of those projects and the diversity of skills that they would require of the workforce – it's not all automotive and it's not all something else – that's very encouraging."
Automotive projects dominated the headlines in the metro area in 2017.
Commercial truck producer Autocar opened a $120 million plant in Pinson Valley, not far from where auto supplier Kamtek opened a $60 million expansion.
Mercedes-Benz announced a $1 billion expansion of its Alabama operations that includes a new $248.2 million campus in Bibb County.
Representatives of those three companies as well as Honda's plant in Lincoln made up a panel discussion of the auto industry and the metro area's business climate. John Hudson, senior vice president of Marketing and Business Development for Alabama Power, moderated the panel.
A shared concern among the panel is that the metro area may become a victim of its own success – namely in a dwindling available workforce.
Hilson said the BBA's Blueprint 2020 calls for at least a 5 percent growth in overall workforce between 2016 and 2020.
"What we really want to see, though, is much faster growth than that and for that to happen we will need a higher and better rate of workforce participation, more connectivity between employers and workforces as well as educators and trainers, and, of course, we will need to see our community image continue to get better," he said.
(By Michael Tomberlin, courtesy of the Alabama News Center)