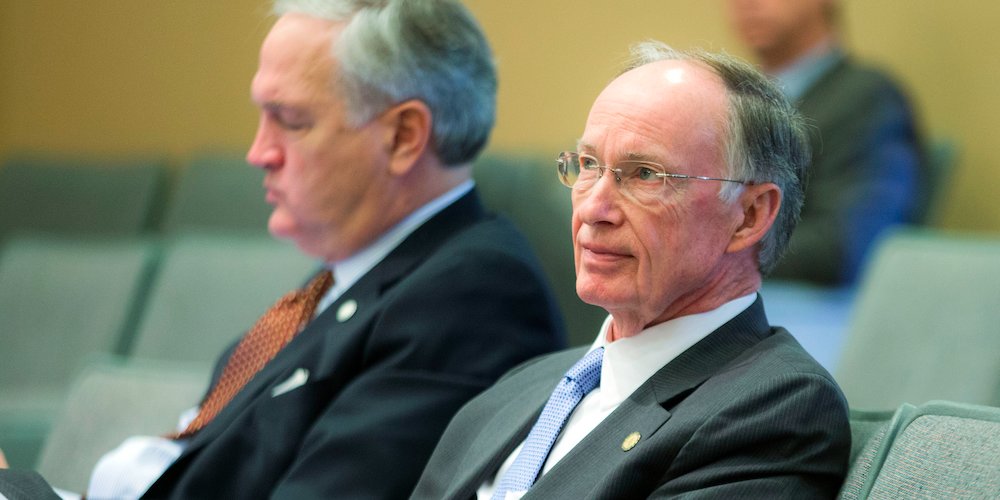 RUSSELLVILLE, Ala. — In his first one-on-one interview since becoming embroiled in scandal last week, Alabama Governor Robert Bentley told the New York Times his conduct in office has not been "all that egregious," and pledged to bypass the "errors and misconceptions and opinions" of the press and social media by taking his message straight to the people.
"I still feel that, in time, all of this will come out, and everything will be exposed," Bentley told the Times, insisting that adding more context to the racy phone conversations with his then-senior advisor Rebekah Mason would put them in a better light.
In an effort to set the record straight, Bentley said he plans to release a video in which he will speak directly to the voters who twice elected him to the state's highest office.
"I want them to hear from my lips because when I was in the press conference the other day, that's kind of a shock thing," he told the Time's Alan Binder. "I can't answer everything, and in fact, I couldn't answer everything that day because I didn't know what was coming out. I really didn't. I had never heard any of this stuff. I didn't know."
In that press conference, Bentley denied having a "physical relationship" with Mrs. Mason, but at the time may not have realized that he had been caught on tape discussing past physical encounters with her.
"You know what?" Bentley can be heard saying in one clip. "When I stand behind you and I put my arms around you, and I put my hands on your breasts, and I put my hands on you and pull you in real close… I love touching you. I do."
"But, baby, let me tell you what we're gonna have to do," he continued later in the recordings. "We're gon' have to start locking the door. If we're gonna do what we did the other day we're gonna have to start locking the door."
Bentley told the Times he understands that the recordings were "a shock to people," but continued to insist that he has no plans to resign from office.
Mrs. Mason, however, was compelled to resign from her post as senior advisor on Wednesday, exactly one week after news of the sexually-charged recordings broke.
State Rep. Ed Henry (R-Hartselle) also told Yellowhammer he plans to bring articles of impeachment against the governor when the legislature returns from spring break next week.
The full New York Times interview can be found here.
---
RELATED:
1. IMPEACHMENT: Alabama lawmakers angling to remove disgraced governor from office
2. UNCOVERED: Bentley and Mason co-own secret safe deposit box together
3. DEVELOPING: State, Feds launch criminal investigations into Bentley-Mason relationship
4. Governor Bentley isn't going anywhere and here's why
5. EXCLUSIVE: The complete Bentley-Mason affair audio recordings and transcripts
6. These four audio clips suggest Bentley is lying when he denies having a 'physical affair'
7. 'Bentley was framed!' — Rick & Bubba producer performs hilarious original song
8. 'Gender bias' cries from Bentley's alleged mistress are a desperate diversion (opinion)
9. WOW: This is what's engraved on the podium Bentley stood behind to discuss affair
10. CARTOON: Slick Willy backs Bentley
11. SOURCES: Lt. Gov has been preparing for possible Bentley resignation for months
12. Bentley addresses affair allegations: 'I made a mistake'
13. Alabama's former top cop: Bentley mistress was 'de facto Governor'
14. Bentley staffer lashes out, says sources exposing secrets are 'the public's worst enemy'
15. Was Bentley booted out of his church? Here's what really happened.
Don't miss out!  Subscribe today to have Alabama's leading headlines delivered to your inbox.