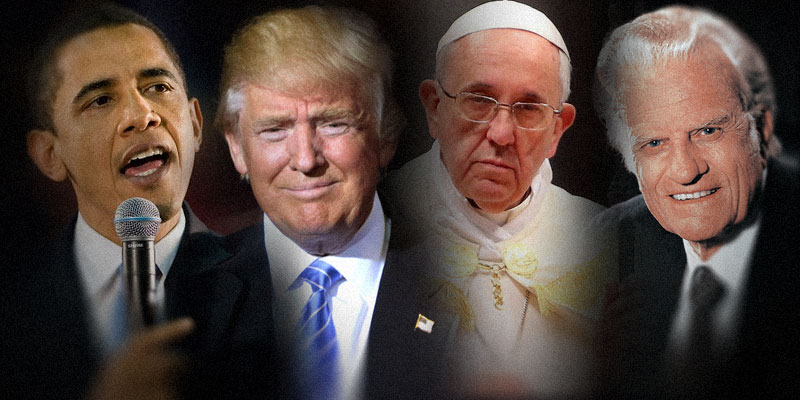 Americans are more likely to say that President Donald Trump is the man they admire most as opposed to Pope Francis or the Rev. Billy Graham, according to a Gallup poll released Wednesday.
But former President Barack Obama beat all three.
On the women's side, Americans were most likely to name Hillary Clinton as the woman they admired most—even though her favorability rating is at an all-time low.
Clinton beat out Michelle Obama and Oprah Winfrey—as well as Queen Elizabeth II and Duchess of Cambridge Kate Middleton.
In a survey of 1,049 adults living in the United States, conducted Dec. 4-11, Gallup asked this question: "What man that you have heard or read about, living today in any part of the world, do you admire most? And who is your second choice?"
It then combined the first and second choices and ranked people by the percentage of respondents who named them. (See the full survey results and historical trends by clicking here.)
The top men were: 1) Barack Obama, 17 percent; 2) Donald Trump, 14 percent; 3) Pope Francis, 2 percent; 4) Rev. Billy Graham, 2 percent; 5) John McCain, 2 percent; 6) Elon Musk, 2 percent; 7) Bernie Sanders, 1 percent; 9) Benjamin Netanyahu, 1 percent.
Three tied for No. 10: The Dalai Lama, 1 percent; Mike Pence, 1 percent; Jeff Bezos, 1 percent.
Gallup asked the same question about women.
The top women were: 1) Hillary Clinton, 9 percent; 2) Michelle Obama, 7 percent; 3) Oprah Winfrey, 4 percent; 4) Elizabeth Warren, 3 percent; 5) Angela Merkel, 2 percent; 6) Queen Elizabeth, 2 percent; 7) Condoleeza Rice, 1 percent; 7) Melania Trump, 1 percent; 9) Nikki Haley, 1 percent; 10) Princess Kate, 1 percent; and 10) Beyonce Knowles, 1 percent.
While Barack Obama and Hillary Clinton finished first this year, the percentages citing them as one of their two most admired people has been declining. As Gallup explained:
"The 2017 survey marks the 16th consecutive year Clinton has been the most admired woman. She has held the title 22 times in total, more than anyone else. Eleanor Roosevelt is second with 13 wins. Obama has now been named the most admired man 10 times, trailing only Dwight Eisenhower, who earned the distinction 12 times. Obama won all eight years he was president, plus 2008 — the year he was first elected — and this year, his first as a former president.
"But Clinton's and Obama's standings this year are more tenuous than in the past. The 9% who name Clinton is the lowest percentage she has received since 2002, when 7% named her in another close first-place finish. Clinton won the title this year in the same poll she registered a personal low favorable rating. This indicates she remains top of mind for enough people who like her to be named more than any other woman in response to the open-ended question, finishing ahead of some women who may be better liked overall but are not as prominent in people's minds.
"The percentage of adults naming Obama as the most admired man is down from 22% last year, but he has been at or near 17% in several other years.
More Americans—25 percent–could not name a single man or woman they admired most than named Obama and Clinton.
See the historical list of most admired men and women in the Gallup survey going back to 1946 by clicking here.
(Courtesy CNSNews.com)