Alabama GOP Chairman Lathan: U.S. Senate defeat a 'one-and-done,' 'Infrastructure of the party is strong in 67 counties'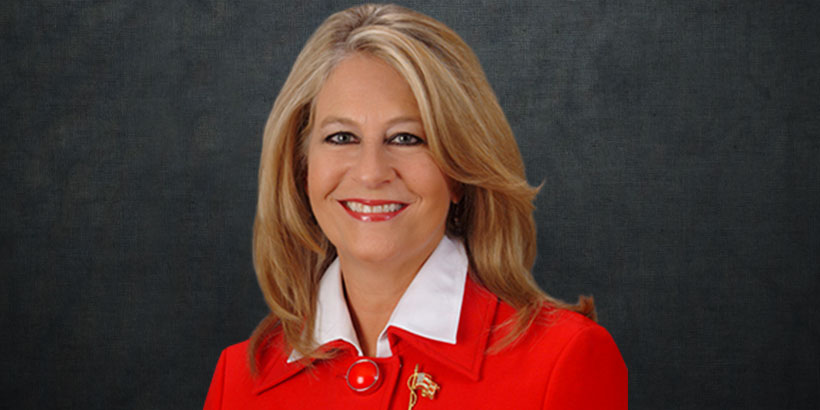 MONTGOMERY — Friday night after a packed room watched Fox News Channel's Pete Hegseth rally attendees at the Alabama Republican Party's Winter Dinner, party chairman Terry Lathan said there was cause for optimism for the party.
A lot of new faces were in attendance at the annual gathering, which was likely a product of many seats opening up in the Alabama legislature and a soon-approaching 2018 campaign season.
Lathan argued those new faces were the sign of a healthy party.
"You had over 600 people here tonight," she said an interview with Yellowhammer News. "That's pretty strong messaging for the party. And they have actually come from almost every county in Alabama. So that's really great. We had so many elected officials here, so many candidates here. In the legislature, yeah there's going to be some turnover. We are fully convinced they are going to be Republican faces as well. We let the people pick in the primary. As long as our candidates, and then become elected officials, stand on conservative policies and principles."
This event was the first major for the ALGOP coming out of the 2017 U.S. Senate special election that was a stunning defeat for Republicans with the election of Doug Jones. Lathan shrugged it off as an anomaly and insisted the state of the party was strong.
"We're a solid Republican state," she said. "I call that a one-and-done. I even have some Democrat friends that said, 'Yeah, that was probably the best we're going to get in a long time.' The fact of the matter is the infrastructure of the party is strong in 67 counties for the Alabama Republican Party. And also, it's the messaging. People are not liberals in this state. They're still conservatives."
"That was an election that had some very harsh circumstances surrounding it," she added. "You can see by this sold out, packed out room of over 600 people tonight that we're as strong as we've ever been."
She dismissed the efforts of Democrats trying to capitalize on Jones' win by suggesting there was a momentum shift within Alabama in favor of the Democratic Party.
"I can understand if some of them feel like they do," she added. "The reality is if you don't change your policy, you're not going to win in this state overall. You're just not. If you're going to embrace the Democratic Party and try to act like you're a conservative, that's not going to fly with us here. You cannot say 'my leaders are Nancy Pelosi, Chuck Schumer, Bernie Sanders, Hillary Clinton and Barack Obama, but I really don't think like they do.' Well, if that's the case you need to come look at the Republican Party and get that straight."
Jeff Poor is a graduate of Auburn University and works as the editor of Breitbart TV. Follow Jeff on Twitter @jeff_poor.