The Alabama Department of Labor (ADOL) on Friday announced that the state's preliminary, seasonally adjusted unemployment rate of 3.1% remained unchanged from November to December.
According to the department, 68,710 individuals were unemployed in November. That number rose to 69,854 in December. The December 2021 unemployment rate sat 1.6% lower than that of the same time in 2020, which was 4.7%.
ADOL Secretary Fitzgerald Washington applauded the newly-released unemployment statistics as over 7,000 individuals transitioned into employment from November to December.
"For five months now, our unemployment rate has held steady at 3.1%. We all know of the challenges facing today's workforce, most of which are still pandemic related, and we're grateful that Alabama is weathering these challenges," stated Washington. "Since last year, more than 36,000 people are no longer counted as unemployed, and we saw more than 7,000 additional people shift to the employed column since last month."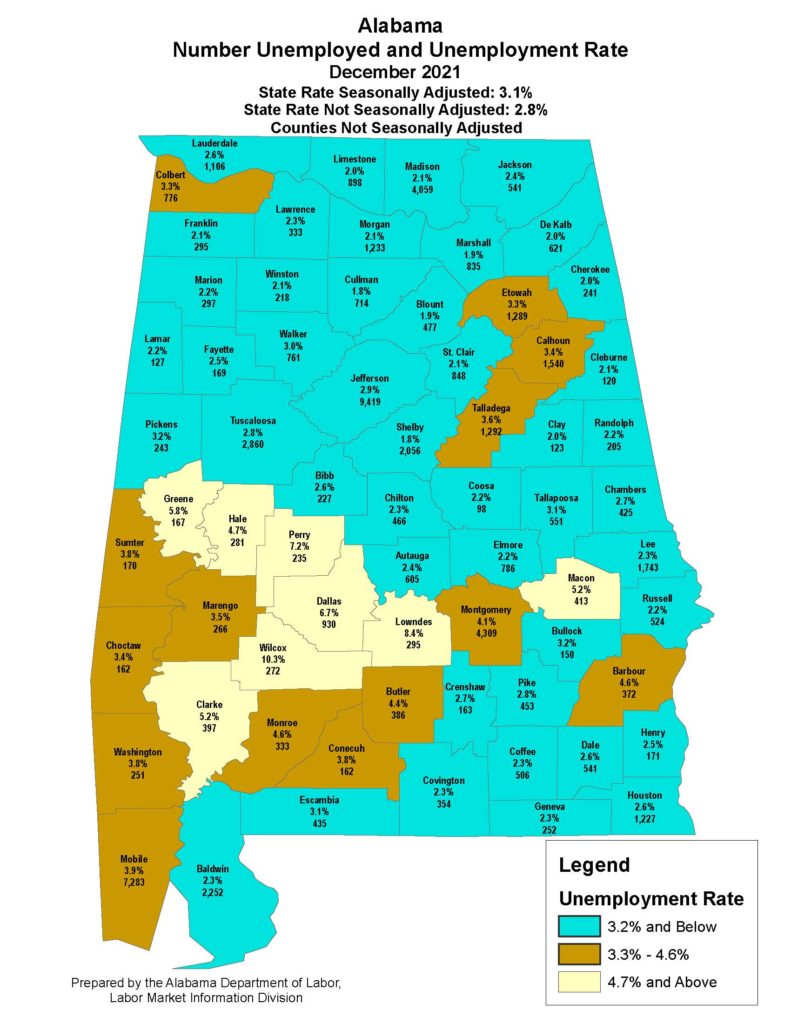 The counties with the lowest unemployment rates are as follows:
Shelby County 1.8%
Cullman County 1.8%
Marshall County 1.9%
Blount County 1.9%
Limestone County 2.0%
DeKalb County 2.0%
Clay County 2.0%
Cherokee County 2.0%
Leading the charge in wage and salary employment increases was the trade, transportation and utilities sector, followed by the hospitality and manufacturing sectors.
Washington added, "We continue to see improvement in our wages as well. Total private weekly wages are up $26.65 over the year, manufacturing weekly wages are up $85.17 over the year, and the Professional & Business Services and Leisure & Hospitality sectors both saw new record high weekly wages in December."
According to ADOL, total private weekly wages were $973.41 in December, which represented a $26.65 yearly increase.
The professional and business services sector recorded a new record high weekly wage at $1,245.05. Also seeing a new record high weekly wage was the leisure and hospitality sector at $412.25.
ADOL advised that unemployment rates in 65 of the state's 67 counties decreased or remained the same in December. Every county enjoyed unemployment rate decreases over the course of 2021.
Dylan Smith is a staff writer for Yellowhammer News. You can follow him on Twitter @DylanSmithAL