Alabama mom asks college girls to dress more modestly, gets accused of 'slut shaming'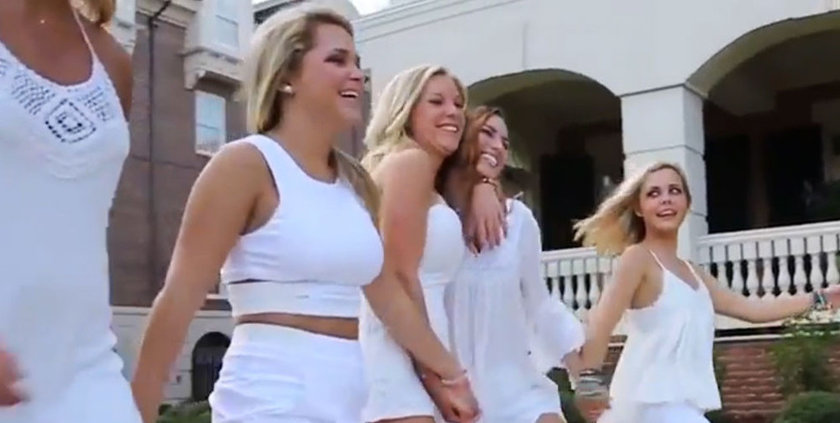 An Alabama mom caused quite a stir online with a blog post asking college girls at football games to "cover up," prompting a response from one University of Alabama student who accused her of "slut shaming" and perpetuating "rape culture."
"An Alabama student myself not 20 years ago, I remember what fun it was to dress up for football games," wrote Rebecca Walden, after attending Alabama's blowout victor over USC in Week 1 of the season. "My friends and I would scour the racks of Banana Republic and other favorite stores for anything and everything crimson. We'd swap favorite pieces, share accessories and pull together our 'best look' week after week, not only for those cute fraternity boys, but also to cheer on the mighty Tide.
"What we didn't want, and what we never did," she continued, "was to show up for a college football game looking like we belonged in a Victoria's Secret fashion show. More than once at that last ballgame, I wished I could have wrapped my elephant scarf around one of you, teetering around on stilettos with your bra straps exposed and operating under the misguided notion that you looked irresistible. I wondered if your mother knew what you were wearing.
"Families attend these games. Little eyes are watching you," Mrs. Walden concluded. "On behalf of them, and the rest of us who feel embarrassed for you as you walk by, stop baring almost all in the name of game day fashion."
The post was shared tens of thousands of times on social media, but became so controversial that the Huffington Post decided to delete it from their site.
In its place, they posted a blog by current University of Alabama student Alejandra Tenorio titled "Dear Rebecca Walden And Every Woman Who Is Still 'Slut-Shaming.'" Needless to say, Ms. Tenorio is not a believer in the old saying, "modest is hottest."
"Slut-shaming is real, we see it every day and this blog post is one of the countless examples roaming the cyber world today," she wrote. "We, as young women, have grown up in a world where we have been taught our shoulders distract boys from learning. We've been threatened to get sent home from school if our knees show. Little by little, comment to comment, it adds up. Older generations have raised a generation so ashamed of their bodies that they would rather stay home than bear putting up with such derogatory comments ― especially by women themselves.
"According to Bustle.com, 'Slut-shaming is disparaging and harmful, has psychological repercussions, and sadly can lead to tragic outcomes,'" she continued. "Young women already deal with so much pressure in all areas of life, with insecurities still at an all time high. It's important to cheer each other on, to support one another, and to understand that the more we bash on one another for dressing too revealing, the more we are perpetuating the rape culture so many have been victims of…
"Her tasteless and bashful opinion isn't going to make girls want to dress 'classier' and 'cover up' more. It's going to make that one girl who finally grew the courage to flaunt her body in a new dress she had been too intimidated to wear before regret ever going to the game in the first place."
Ms. Tenorio concluded by offering advice to future college girls: "Wear what you want and flaunt the curves you were born with. And, if anyone out there is bothered by this ― well, they can always watch the game at home."
The online debate on the subject continues to rage.