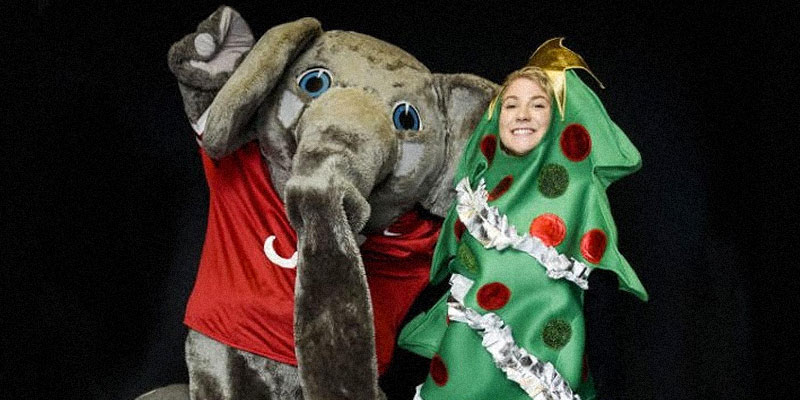 Forgive Kelsey Hall if she isn't smiling for pictures – sometimes, celebrities get burned out.
Hall, a University of Alabama sophomore majoring in chemistry, has a festive lineup of Christmas-themed clothes. But, thanks to an unexpected gift from her mother and a not-so-serious tweet, Hall has worn a Christmas tree costume across campus this week.
On Dec. 2, Hall tweeted a picture of herself wearing the costume with the message, "1,000 retweets and I'll wear this to all my classes for the rest of the semester."
The tweet has since been retweeted nearly 19,000 times, and students have shared dozens of pictures and videos of Hall on social media. Hall has since been interviewed by state and national media outlets.
"I'm sure a lot of people on campus have wondered, 'Why is she dressed like a Christmas tree?'" Hall said. "I never thought it would take off like this."
University of Alabama: Why did your mother send you a Christmas tree costume?
Kelsey Hall: There's a video on the Internet of a guy wearing this costume and dancing to Drake's "Jumpman." I love dressing up, and I love Drake, and it reminded her of me. So, she bought it for me to recreate the video.
UA: So, do you plan to shoot the Drake dance video? And how optimistic, given how the first tweet and photo went viral, are you that he'll see it and respond to it?
Hall: I'd pass out if that happened. That's the goal – meet Drake. I still have to learn the dance, though.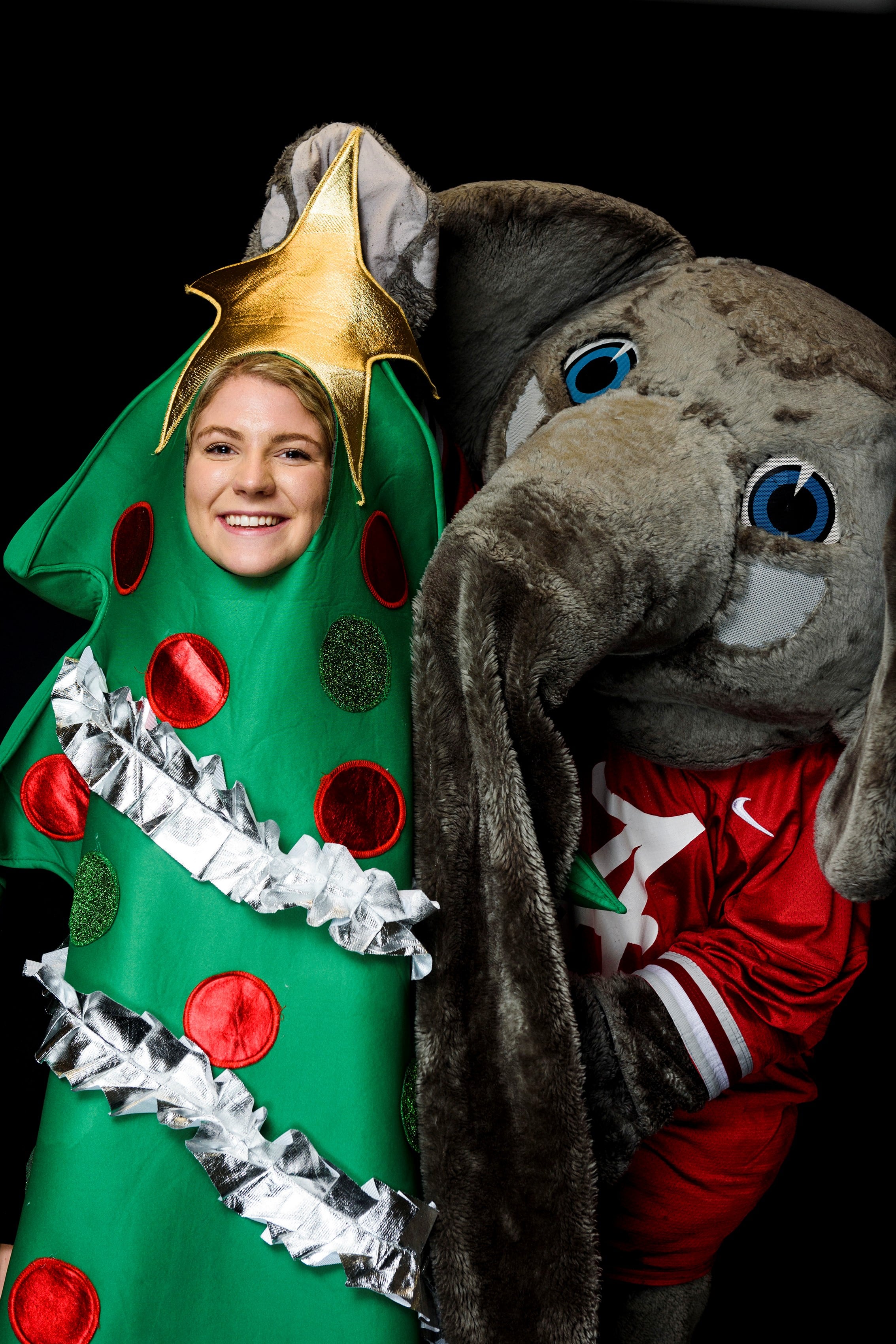 UA: Is the tree costume comfortable?
Hall: It's not very comfortable. The face-hole falls down a lot, and I have to keep readjusting it, especially with my backpack on. It's very hot, and it's getting a lot of water in it. But it's light and airy.
UA: Why so serious in all of the social media pictures?
Hall: In the first picture, I just looked dead inside, and I've been trying to keep the same face to keep it going. But I hope people are laughing and having fun with it.
UA: Any regrets about the initial tweet?
Hall: I'm glad I didn't post it the day I got it; there were still three weeks of class left. But yeah, there's a little regret. It's overwhelming with people contacting me and asking me for interviews when I have to study for finals. But as long as people are loving it and laughing at it, it's fine.
UA: Have you thought about adding flair to it? It has some bulbs, but no personalized ornaments or lights.
Hall: I've thought about, as the days go on, adding some stuff so I don't get completely bored of it and people start wondering, "Why is she still doing this?" It was a little hard today because it was raining. I'm thinking about it, though.
UA: How festive is your family during Christmas? Is this the wackiest of your Christmas activities?
Hall: We usually do the normal Christmas things. We exchange gifts, bake cookies, go look at lights – but nothing too crazy. But anyone who knows me knows I would do something like this.
UA: How tough is it balancing instant celebrity and classwork, especially at the end of the semester?
Hall: I've been sleeping a lot, so that hasn't been affected. But I've had to turn off notifications so I can focus on work. I try to respond to people asking for interviews, but it's kind of hard to balance with tests coming up. I haven't had time to study, and I'm a little stressed about that.
UA: Do you plan to retire the costume after this week, or are you open to passing it down to another student?
Hall: I've thought about bringing it back next year. If anyone wants to join me and get a costume, I'd very much appreciate it. I've been getting a lot of weird looks being the only person dressed like this. And if someone wants to take over, I'd definitely pass it on.
UA: Please, tell me your favorite Christmas song is "O Christmas Tree"!
Hall: (laughs) It's not. My favorite is "Baby Please Come Home for Christmas." I like Michael Buble's version.
UA: What do you want for Christmas?
Hall: Not sure yet. I've been thinking about school.
This story originally appeared on the University of Alabama's website.
Don't miss out!  Subscribe today to have Alabama's leading headlines delivered to your inbox.