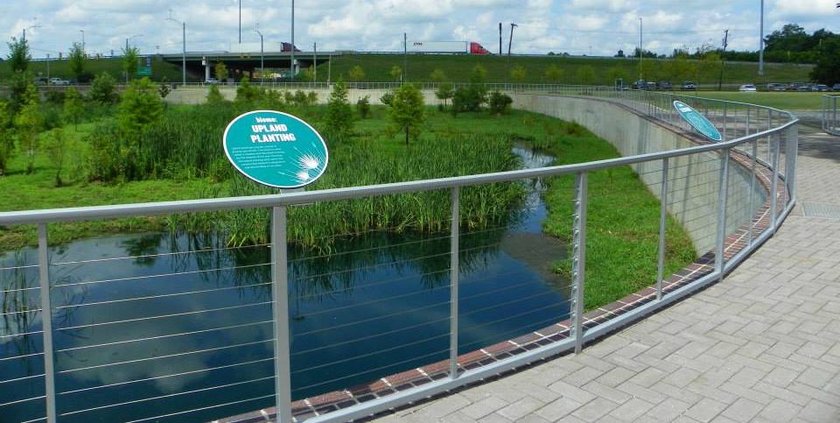 By: Emily Kearley
What was once an eyesore and an environmental concern in a historic Montgomery neighborhood has been transformed into a community attraction and resource that will also help improve water quality.
Montgomery Mayor Todd Strange and other city officials recently joined community members and representatives from county, state and federal agencies to celebrate the new Fairview Environmental Park. The 4-acre facility is both a component in the city's clean water efforts, and a significant asset in the city's efforts to improve the Fairview Avenue district.
"I don't know how many of you remember this area two years ago – wasn't much," said Strange.
"While this is a nice, attractive park and hopefully utilized to the fullest, the real reason is cleaning Genetta Ditch," Strange said.
Gennetta Ditch is the name of the small stream that runs through the park site. In the 1970s, a concrete culvert system was built through the area, near Interstate 65, to channel stormwater runoff.
Over the years, however, the site also became a gathering place for urban pollutants. Tainted water flowed from the ditch toward Catoma Creek, eventually making its way to the Alabama River.
After concluding the site was not just unattractive but a threat to the environment and the community's water supply, the city proposed a redesign in 2009.
In 2010, Auburn-based 2D Studio was hired to craft a solution that would not only help solve the pollution issue, but improve the aesthetics of the site. Multiple partners provided support for the project, including the National Fish and Wildlife Foundation (NFWF) and Southern Company, parent company of Alabama Power, through NFWF's Five Star and Urban Waters Restoration Grant Program.
Fairview Park is now an environmentally friendly space that also serves as a recreational and educational asset for the community. In addition to walking paths and interpretive signage, the park features a constructed wetland that will help filter stormwater runoff from a wide area of the neighborhood and help prevent urban pollutants from flowing downstream.
"By restoring the stream's natural functions and processes, hopefully local citizens and stakeholders will soon refer to the ditch as a stream again," said Judd Langham, founder of 2D Studio.
The park will not only help educate the community about water protection. It also serves as a pleasing gateway to the Fairview district, and offers signage describing nearby, important civil rights sites. The park on Fairview Avenue is just east of the route of the historic, 1965 Selma-to-Montgomery civil rights march, which is now a National Historic Trail. It is also on the route of the proposed Montgomery Greenway.
Don't miss out!  Subscribe today to have Alabama's leading headlines delivered to your inbox.