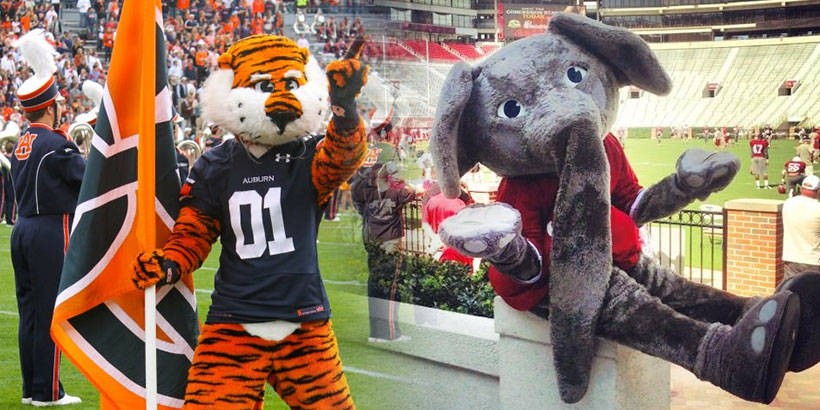 Saturdays in the fall are practically religious holidays in Alabama. Thousands of fans make weekly journeys to Tuscaloosa or Auburn to cheer on their favorite team. Many fans will even follow their teams around the country as they travel to other stadiums. All those trips to Auburn and Tuscaloosa, along with the national exposure both teams receive, generate lots of money both programs. In fact, Alabama and Auburn are two of the richest football programs in the SEC.
Based on filings with the U.S. Department of Education, the Alabama Crimson Tide are worth $97.02 million, making it the wealthiest program in the SEC. The Auburn Tigers ranked third with $86.74 million.
The University of Tennessee stands in between Auburn and Alabama at number 2. With one of the nation's largest stadiums, the Volunteers still bring thousands of fans to Knoxville, despite a lackluster performance in recent years.
Vanderbilt has the "poorest" program in the SEC with $27.4 million. The only private institution in the league, the Commodores also have the smallest stadium and string of disappointing records. The program only made $3 million in profit in 2014.
Here's the complete ranking of SEC schools from richest to poorest:
1. Alabama — $97.02 million
2. Tennessee — $94.37 million
3. Auburn — $86.74 million
4. Georgia — $86.71 million
5. LSU — $86.31 million
6. Florida — $74.72 million
7. Arkansas — $66.17 million
8. Texas A&M — $62.19 million
9. South Carolina — $59.76 million
10. Ole Miss — $53.39 million
11. Missouri — $37.89 million
12. Kentucky — $31.49 million
13. Mississippi State — $31.3 million
14. Vanderbilt — $27.4 million
Forbes releases an annual list of the 20 most valuable college football teams, but they use data beyond the schools' filings with the Department of Education. They study university value, athletic department value, conference value, and impact on local economies. On Forbes' list, Alabama ranks number 8, and Auburn comes in at number 10. The Texas Longhorns took the top spot. The way the data is analyzed, Tennessee, LSU, and Georgia are all ranked above Alabama on Forbes' list. Nine SEC teams were included on the list released by Forbes. Alabama and Auburn have consistently been included on Forbes' yearly list.
Regardless of where they land on a list, it's undeniable that Auburn and Alabama are two of the most profitable college football programs in the country. Both teams receive national coverage every weekend in the fall, and the Iron Bowl is constantly touted as the greatest rivalry in college football. The passionate fan bases of both teams ensure that the Tide and the Tigers will remain profitable for decades to come.