Looks like I have a new and improved excuse to stand firm as the only non-Crimson Tide fan in my family:
Nick Saban is my trigger.
I've been having some strange reactions to sports news lately but I couldn't think why …
— First, SEC commissioner Greg Sankey announced that SEC Media Days will no longer be held exclusively at the Wynfrey Hotel in Hoover.
Thinking about SEC Media Days made my eyes start to twitch.
— Then, Phillip Fulmer was named Tennessee's acting athletic director after John Currie was fired.
My hands began to shake.
— Next, Saban's defensive coordinator signed on as head football coach for the Volunteers.
SEC Media Days … Phillip Fulmer … Nick Saban … Tennessee … Alabama …
Something about it all made me break out in hives.
And then the memory came back, washing over me in one big wave.
Remember back in the early 2000s when Coach Fulmer was Tennessee's head coach and he secretly told the SEC and NCAA about a University of Alabama booster who cheated to recruit players? All that led to an NCAA investigation, the booster's conviction and probation for the Crimson Tide.
I was a news and sports intern at Birmingham's WBRC in 2003 when Coach Fulmer was one controversial guy in Alabama.
I can't remember the exact details (and calls and emails to WBRC did not receive a response), but someone in the sports department sent me — unsuspecting, no-clue-me — into SEC Media Days with one question for all the football coaches, along the lines of: "What do you think of what Coach Fulmer did by telling on Alabama?"
Can you even imagine how then-LSU Coach Saban reacted when he realized I was asking him to gossip?
Oh. My. Word.
Whatever he said sent me into a terrified stupor.
In my mind's eye, he went from looking something like this: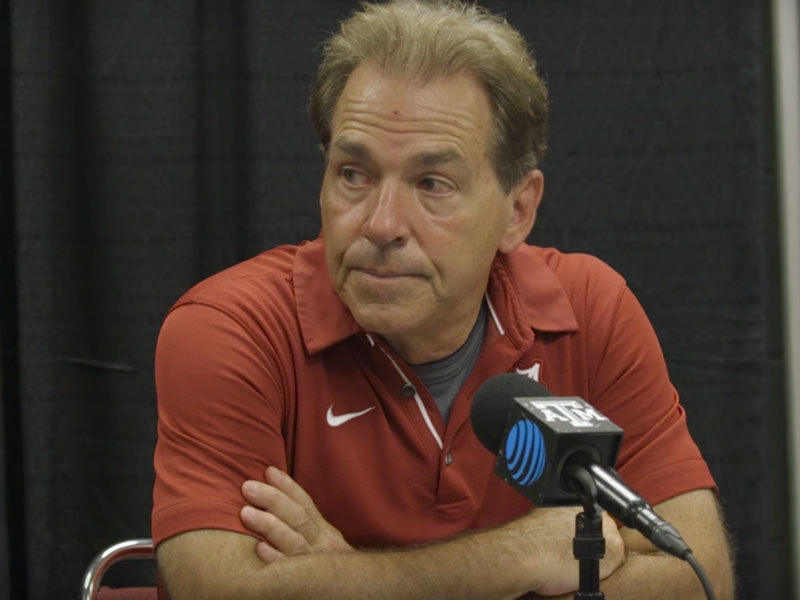 To something like this but worse: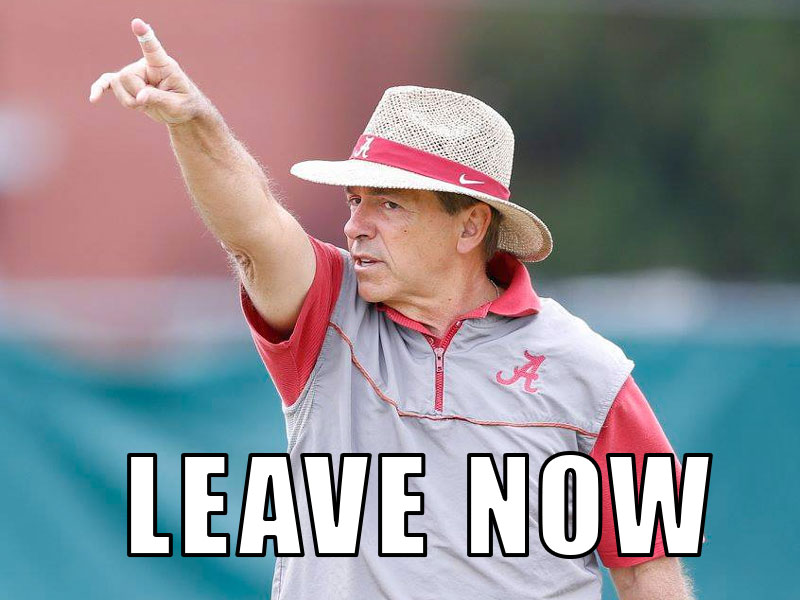 So, that's right: If people can claim that Donald Trump and spiders are legitimate triggers, then I'm claiming Nick Saban as my trigger and that's why I can't cheer for Alabama to get to the National Championship (okay, okay I do respect the guy and won't cry if they win).
Maybe a Saban chewing is a rite of passage? This AL.com YouTube video from Josh Snead says it all (I feel ya, Josh):
Rachel Blackmon Bryars is managing editor of Yellowhammernews.com.
(Are you scared of Coach Saban? What would you ask him at a press conference?)