Alabama aerospace engineering students might just bring another championship to Tuscaloosa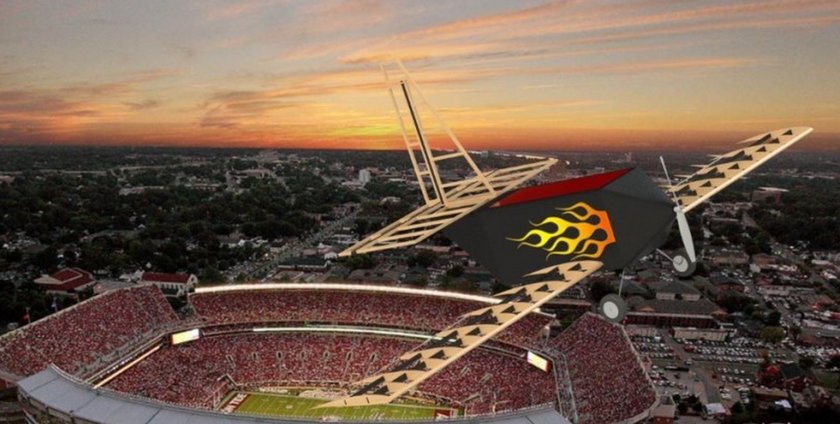 TUSCALOOSA, Ala. — A group of aerospace engineering students at the University of Alabama is hoping to attend a "Design, Build, Fly" competition in Tucson, Arizona this Spring, but they need a little help getting there.
The six seniors on the team established a "GoFundMe" campaign, hoping to use the "crowd funding" website to raise the $2,500 needed for the trip in April.
"This project is the culmination of our undergraduate education," the members of the team said on the GoFundMe page, "and seeing it come to fruition would make the team, the faculty, and the department proud. The funding we are requesting would be used to travel to Tuscon, Arizona and stay for the four day competition. We have been fortunate to receive funding for the design and manufacturing of the aircraft, but we will not be able to showcase our design without your help."
The team's operations manager, Shelby Cochran (who also just so happens to be a beauty queen), said she and the other team members have put in around 200 hours each over the last year into designing and building the aircraft for this competition.
The plane was designed to complete three missions, Ms. Cochran told Yellowhammer Friday, "a ferry mission consisting of flying as many laps as possible, a heavy payload mission carrying 5-lbs. worth of wooden blocks inside the plane, and a bomber mission dropping wiffle balls in a designated drop zone. Our plane's wing and tail structures are made of balsa wood covered in a plastic coating called monokote, while our fuselage (the body of the plane) is made of a hand-built carbon fiber shell."
Ms. Cochran said that the members of the team are looking all over the country for jobs in aerospace engineering at companies like Lockheed Martin, Boeing, Airbus, United Launch Alliance, NASA, and various other military contractors.
Aerospace engineering is an in-demand field right now, particularly in Alabama. A study by the personal economics and finance website NerdWallet named two Alabama cities to the top 10 places for engineers in the nation. Huntsville topped the list as far and away the best city for engineering jobs, due in no small part to the many aerospace engineering positions at the NASA Marshall Space Flight Center and the city's multiple defense contractors.
The following UA seniors are leading the team:
Malory McLemore-Project Manager
Olon Pierce-Chief Engineer
Shelby Cochran-Operations Manager
Nick Wackel-Computer-Aided Design Lead
Matt Chapin-Structures Lead
Jackson White-Propulsion Lead
The team also includes underclassmen representatives Dylan Jackish and Kyle Chism.
---
Like this article? Hate it? Follow me and let me know how you feel on Twitter!

— Elizabeth BeShears (@LizEBeesh) January 21, 2015