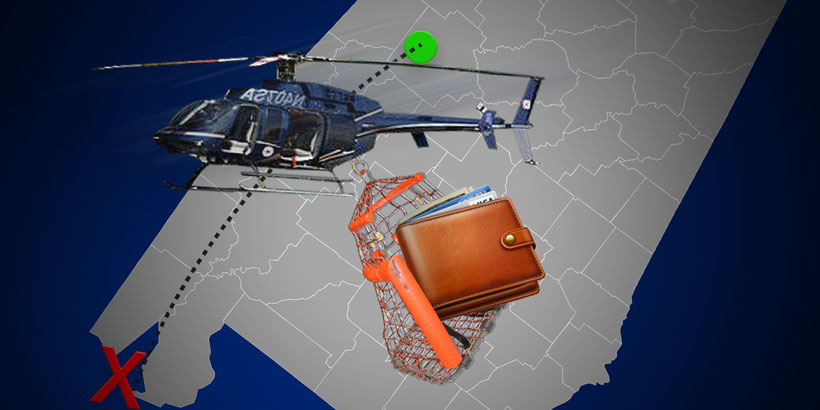 MONTGOMERY, Ala. — Multiple confidential sources inside of state government came forward to Yellowhammer this week with accusations that Alabama Governor Robert Bentley ordered a state helicopter to fly his wallet to him at the beach, after he accidentally left it behind in the wake of an argument with his then-wife. If true, the allegations call into question Gov. Bentley's assertion that he did not misuse state resources during his affair with his then-senior advisor Rebekah Mason.
The whistleblowers requested anonymity for fear of retribution, but each said they decided to come forward this week as the push to impeach the governor began to lose steam.
The whistleblowers' allegations are as follows:
In the summer of 2015, Gov. Bentley and his then-wife Dianne had an argument at the couple's private residence in Tuscaloosa over Gov. Bentley's refusal to sever ties with Mrs. Mason, his top political advisor-turned-mistress.
As a result of the argument, Gov. Bentley left the residence in his pickup truck and drove toward the couple's beach house in Ft. Morgan, Alabama. According to the sources, this happened on multiple occasions, leaving the governor's security detail to decide whether to chase after him, or let him go.
When the governor arrived at his beach house, he realized that in his rush to leave, he had forgotten his wallet.
At that point, he ordered one of the Alabama Law Enforcement Agency (ALEA) helicopters to deliver it to him, which it did.
The sources each said that current ALEA head Stan Stabler was involved in facilitating the delivery.
Stabler succeeded Spencer Collier as head of ALEA after Bentley fired Collier, his longtime friend, last month.
Collier has said he and other members of state law enforcement were fired for cooperating with an investigation by the attorney general's office.
"Unfortunately Governor Robert Bentley… made the decision to terminate four law enforcement employees whose only crime was doing their job," Collier alleged. "Another four were transferred for this same reason."
Collier alleges Stabler, who was at the time the head of Bentley's security detail, inadvertently saw a sexually explicit text from Mrs. Mason to Governor Bentley and brought it to the attention of his superior. As the information worked its way up the chain of command, Collier was alerted and made the decision to confront the governor.
Mr. Stabler replied, saying, "the allegation and implication from Mr. Collier is completely false and without merit."
The Bentley administration did not immediately respond to Yellowhammer's request for comment on the helicopter accusations.
One of the whistleblowers summed up the sentiment of their group by saying they had "chosen to come forward now because they are hurting people to keep their power. They fired several people at ALEA who were just trying to do their jobs, and now they don't have a way to pay their bills and they don't have health insurance. At least one of the families has a sick child who is now suffering as a result. It has been hard enough to work in the administration with all of this going on these last two years, but I cannot sit quietly anymore."
Don't miss out!  Subscribe today to have Alabama's leading headlines delivered to your inbox.