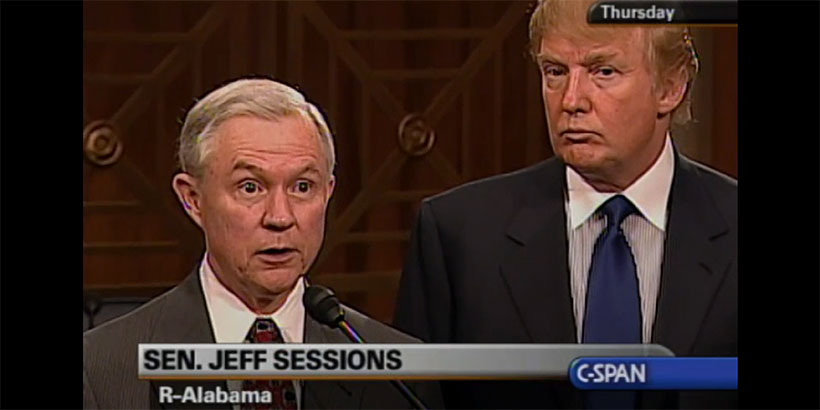 In late February U.S. Senator Jeff Sessions raised eyebrows when he came out and endorsed Donald Trump for President of the United States.
"This isn't a campaign, this is a movement," Sessions said to a roaring crowd in north Alabama. "Look at what's happened. The American people are not happy with their government… There is an opportunity Tuesday — it may be the last opportunity we have — for the people's voice to be heard… Politicians have promised for 30 years to fix illegal immigration… Donald Trump will do it."
Before the official endorsement, Sessions had been hinting at his support for months. Appearing on Fox Business Network's "Mornings with Maria" last week, Sessions said Trump is well positioned to win the General Election because he is garnering support from "working Americans," including some Democrats.
But the relationship between the two populist icons goes back much farther than this election cycle.
The first time the two met face to face was at a Senate Subcommittee hearing back in 2005. Renovations to the United Nations building in New York City were being plagued by cost overruns, missed deadlines and incompetence, and Trump had decided to come to the United States Senate to offer his services free of charge to help get the project back on track.
The U.N. wanted to renovate its headquarters in New York City and estimated the cost at $1.5 billion. Trump estimated that the cost of fixing the U.N. building would be "$700 million, tops."
"Anyone who says renovation is more expensive than building a new one doesn't know the business," said the New York Real Estate developer. "It only costs a fool more."
Sessions, who sat smiling throughout Trump's testimony, called him a "breath of fresh air."
During an interview on Yellowhammer Radio, Sessions recalled the story, calling Trump's remarks "the most impressive Congressional testimony I've ever heard."
The entire interview with Senator Sessions from Yellowhammer Radio can be heard in the video below. Search "Yellowhammer Radio" on iTunes to listen on podcast.
(Video below: Senator Sessions interviewed by Cliff Sims on Yellowhammer Radio)

Don't miss out!  Subscribe today to have Alabama's leading headlines delivered to your inbox.