With just under a month to go until the May 24 primary election, the first attack ad has been launched in the race for Alabama's open fifth congressional district seat.
The ad, prepared by House Freedom Action, a super PAC aligned with the House Freedom Caucus, takes aim at Republican congressional hopeful and Madison County Commission chairman Dale Strong. The House Freedom Fund last week announced its endorsement of Strong's GOP primary rival, former Huntsville City Schools superintendent Casey Wardynski.
The 30-second spot is backed by a $192,000 television ad buy and will run through May 11. The PAC also placed an $83,000 purchase for digital ads, bringing its total investment in the race to $275,000.
The Washington, D.C.-based PAC alleges Strong's past support for tax and fee increases while serving as county commissioner.
An additional point of contention in the ad is the issue of a historic monument that the Madison County Commission relocated to a Confederate cemetery during the height of the 2020 summer riots, which Strong maintains was done to shield it from structural damage.
The super PAC also calls into question the candidate's support of former President George W. Bush's campaign in his battle for reelection against then-Democratic nominee John Kerry in 2004. House Freedom Action also hits Strong for backing then-Republican nominee Mitt Romney's bid to unseat former President Barack Obama in the 2012 presidential general election.
"You don't have to look far for the D.C. swamp with Dale Strong here in our backyard," says the ad's voice-over. "Dale Strong voted to put tax increases on the ballot and raised fees on taxpayers. And he stood with the radical woke left and supported relocating an historic Civil War statue in Madison County. So it's no surprise Dale Strong supported Bush and Romney with contributions, but gave Trump nothing. Now he wants to go to Washington? Vote no on Dale Strong."
Watch:
In response to the attack ad, Strong campaign manager Colin Sudduth declared that the Wardynski-aligned PAC was "falsely attacking" Strong's record.
"This ad is just ridiculous. If Dale Strong voting to charge a $2.00 fee for trash pickup eighteen years ago is the worst they can find they wasted $200,000 attacking the wrong guy," proclaimed Sudduth in a statement to Yellowhammer News.
"To make it worse they are falsely attacking Dale for things their own endorsed candidate Wardynski really did do," he added. "Dale Strong voted against every tax increase period. He and Freedom Caucus member Mo Brooks put a non-binding referendum on the ballot fourteen years ago to show the tax raising liberals that the sales tax increase Dale and Mo already voted down twice had no support."
Strong's campaign manager continued, "But Wardynski personally campaigned FOR the approval of a property tax that was set to expire in 2012. Casey Wardynski held press conferences and sent mailers to keep taxing Alabama families. I think the Freedom Caucus might not have done a lot of research before they made their endorsement."
Sudduth made mention of Strong's efforts to organize then-candidate Donald Trump's rally in Huntsville during Alabama's 2016 presidential primary election.
"The attack about Trump support is the worst. Dale Strong organized Donald Trump's rally in February 2016 during the Alabama primary and 30,000 people showed up. Wardynski and Trump? We can't find that he even voted in the 2016 Republican Primary at all," he noted. "There is no record of him supporting ANY Republican candidate or attending Republican meetings until he decided to run for office."
The Strong campaign slammed former U.S. Rep. Justin Amash (R-Mich.), a founding member of the Freedom Caucus, for his vote in favor of Trump's impeachment in 2019.
"And if you look further, none of the leaders of the Freedom Caucus who paid for this ad ever gave money to Donald Trump," advised Sudduth. "Freedom Caucus Founder Justin Amash actually supported Trump's impeachment – but they attack Dale Strong for not giving Trump money? So basically, this group is spending $200,000 attacking Dale Strong with false charges on the very things they and their endorsed candidate actually DID do."
He concluded, "But if you are looking for political meetings Casey Wardynski did attend – here he is at an ADC [Alabama Democratic Conference] meeting, the most liberal Democratic group in Alabama controlled by Joe Reed."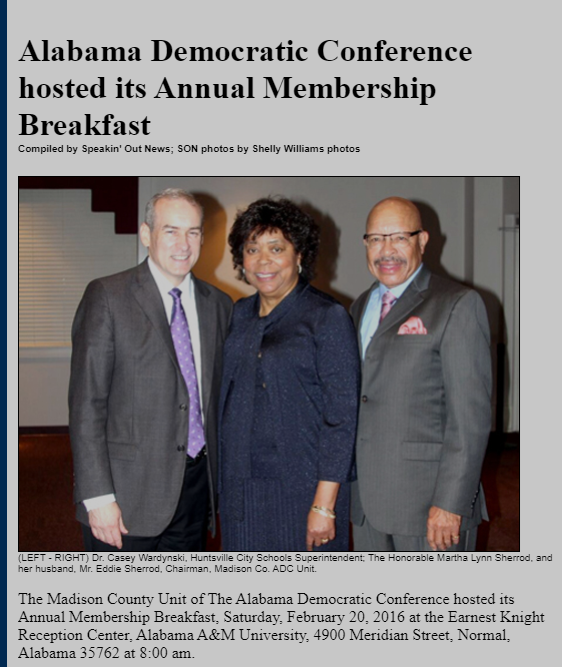 The primary election will take place May 24, 2022. If no candidate gains a plurality of the vote, a runoff election will occur June 21, 2022.
Dylan Smith is a staff writer for Yellowhammer News. You can follow him on Twitter @DylanSmithAL
Don't miss out!  Subscribe today to have Alabama's leading headlines delivered to your inbox.