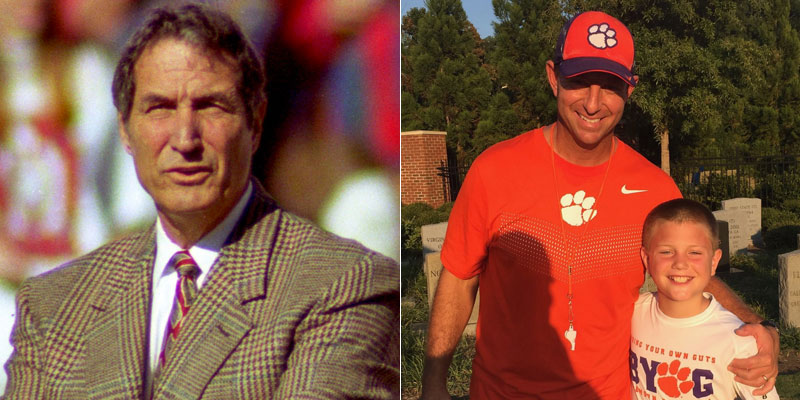 When Dabo Swinney was in Alabama for the Rane Foundation Charity Banquet last May, a small group of journalists gathered in a room to interview Mr. Rane and the Clemson coach. While Swinney was clear on his tremendous respect for Nick Saban and spoke about the good-natured jousting the two enjoy, it didn't take long for someone to ask him about Gene Stallings, the man Swinney simply calls "Coach."
"It's great to be around Coach," Swinney said talking about their time together at the Banquet…"And I always feel like I'm 20 again when I'm with him. It's 'Yes Sir and No Sir,' " Swinney quipped, as Jimmy Rane added with a chuckle, "We all say 'Sir' to Coach Stallings!"
When asked what his May trip to Alabama meant to him, Swinney continued:
"I try to always remember where I came from and I'm not any different now than I was years ago as a G.A. (graduate assistant) working for Coach back then. It's just the light's a little brighter now, but I don't do it any different. I think the key to coaching is to love my players. I'm relationship driven and it's hard to have a relationship with someone unless you know them and care about them. The whole philosophy of our team is to love, serve, and care for our players. If we do that, we will empower young men to go out in life and do the same thing. They'll love others, serve their families, and their communities, and I think that's been the key for our success at Clemson. If there's a secret sauce, that's it. Nobody's perfect, but we truly try to love our guys. That's the culture we've built at Clemson and I think it's the key to most anything, just love your neighbor."
Clearly, Dabo Swinney didn't just decide to approach coaching that way out of the blue. Gene Stallings played no small part in imparting this vision to Swinney, not only with words but with deeds.
William Christopher Swinney showed up at Alabama with a huge hole in his heart from his father's struggles of losing a business and (during those years) succumbing to the bottle. But Dabo Swinney possessed a passion that equaled his pain. What he lacked in physical prowess, he more than made up for with an indomitable spirit. Though no one had asked him to come, Gene Stallings embraced the walk-on from Pelham, Alabama and treated him like a son.
Just as Swinney strives to do with his own players today, Stallings loved Swinney, invested in him, cared about him beyond his performance on the field, and played a big part in empowering him to be the man he is today. As Swinney put it: "It's simple; I'm not sitting right here right now if it weren't for people like Coach caring about me."
Following Clemson's surprising loss to Syracuse in the Carrier Dome last Friday night, Swinney spoke to TigerNet.com's, David Hood about his decision to come to Tuscaloosa Saturday to take part in celebrating the Tide's 1992 National Championship team, which he played on under Stallings. "The last thing I wanted to do is get on a plane Saturday morning and go anywhere, but I'm glad I did. It was a very special day. My senior year in 1992…I have such great relationships with so many of my teammates to this day, 25 years later."
Continuing to reflect on his trip to Alabama Saturday, Swinney said:
"First of all, it was just great perspective for me. It was just what the doctor ordered. Just seeing my teammates and spending time with them. They did a great job of how they organized it…With the way God worked it out, we had a game on Friday night. For me to have a Saturday is a rare thing. It's probably the last time we'll be together with Coach (Stallings). Coach just had a heart attack last week. When he said he was going, I really didn't have any excuse…They were so helpful. They took us straight from the airport over to the stadium. We had about an hour and a half with just the team in the big letterman room with nobody in there. It was just the team—us and Coach. It was really a special time. I saw guys I hadn't seen since 1992. We've had a couple of reunions but not even close to the turnout. It was pretty much just about everybody. It was a special time. Everybody was just so complimentary of Clemson and what we've been able to do here."
Turning his focus back to Coach Stallings, Swinney added:
"It was great just being able to be with Coach and have that special time. He was fussing at me. He was still being Coach and he said he didn't sleep all night. He said he got up at 3 a.m. eating grapes and still mad about the game (Clemson's loss Friday night). He was walking with a cane. It was tough to see him like that, but it meant that much to him to get there. I was really thankful that I was able to go and be a part of that. They did all of the stuff in the pregame and then once they cleared the field they announced the team, it was great to be a part of that moment."
Dabo Swinney's trip to Alabama on Saturday is a great reminder that regardless of the color of one's skin or jersey; and no matter what games one may win or lose; the lifelong bonds that often come from sports can be lasting and powerful. This is all the more true when a coach decides to truly invest in a kid—especially in a kid nobody recruited—a kid that's asking for nothing more than a chance.
Most folks would write that kid off, or at best just ignore him. But most folks aren't Gene Stallings. Today, untold numbers of young men (and their families) benefit from the fact that Coach was wise enough to know that life is far bigger than football and that every person matters and deserves to be treated with love and respect. Because Coach knew that only God knows who those kids may one day become.
As Swinney told Yellowhammer last May, "Being home reminds me that I was a kid who didn't have much of a chance that God gave a chance." And there's little doubt that God chose Gene Stallings to give Dabo Swinney that chance.