UAB sees record high enrollment for third straight year
The University of Alabama at Birmingham (UAB) has achieved a record enrollment for the third consecutive year, growing its student body to 21,923 — an increase of 1,021 students from last year's record of 20,902.
Per a university press release, UAB's Office of Enrollment Management reports growth in the honors, out-of-state and dual-enrollment programs for the Fall 2018 Semester.
"It says a lot about the attractiveness of our institution when we can continue to increase our enrollment numbers in a climate where many colleges and universities are experiencing declines," Bradley Barnes, vice provost for Enrollment Management, said in a statement.
"To be able to continue to increase overall student enrollment — and see the caliber of ACT and GPA scores our incoming freshmen attain — really signifies that students and families recognize the world-class education and research programs we offer here at UAB. And the best news of all is that they want to be a part of it," Barnes added.
In addition to the boost in total enrollment, undergraduate enrollment added 702 students from 2017 — an impressive 5.34 percent jump. Honors admission enrollment grew 8 percent to 620 total students, and honors students posted a 30.4 ACT score on average and boasted a 4.11 high school GPA. Out-of-state enrollment also rose from 14.4 percent to 15.4 percent.
UAB, as part of the larger feat, recorded its highest ever freshmen enrollment at 2,299 for the 2018 academic term. This first-year group arrives academically prepared, with average ACT and GPA scores of 25.2 and 3.73, respectively — both higher than the previous year.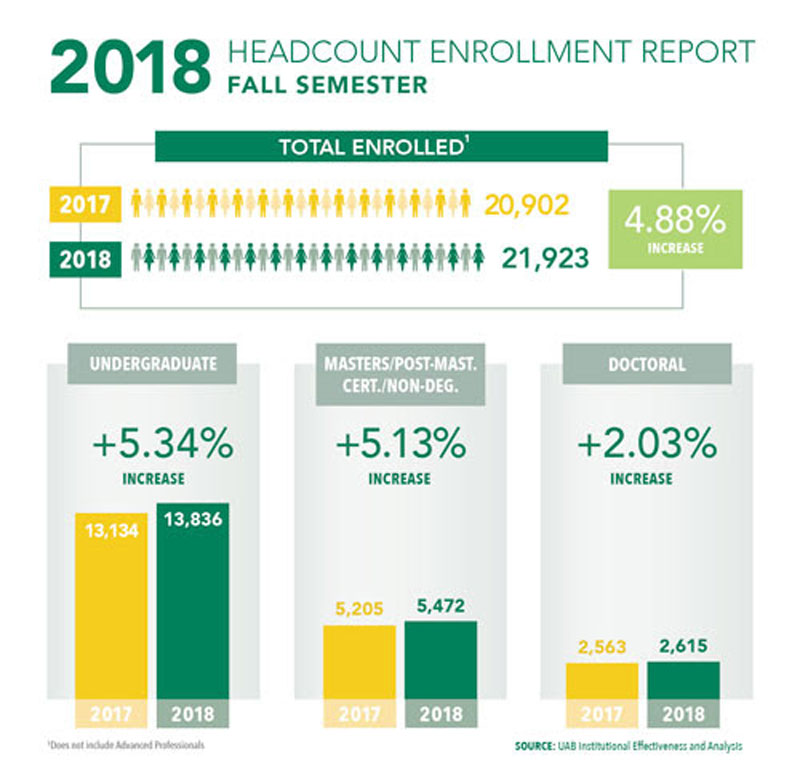 University President Ray L. Watts established enrollment as a strategic priority upon becoming UAB's president in 2013, with a set goal of having 20,000 students enrolled by 2018 — a goal initially exceeded in 2017 and now surpassed by 1,923.
"We are telling our story better than ever before, and the students who come to our institution are fueling the growing energy and excitement on campus. They are writing the next chapter of our bright future," Watts said.
He continued, "Many people at UAB work every day with a strategic focus on high standards of excellence in education, research, community service, health care and economic development. The consistent enrollment growth in recent years is a result of, and a testament to, the dedication of all UAB students, faculty and staff, as well as our many supporters in Birmingham and beyond."
While UAB's growth at the undergraduate level is exciting, the institution is still best known as an internationally renowned research university and academic medical center, as well as Alabama's largest employer – with some 23,000 employees and an annual economic impact exceeding $7 billion on the state. The pillars of UAB's mission include "education, research, innovation and economic development, community engagement, and patient care."
Sean Ross is a staff writer for Yellowhammer News. You can follow him on Twitter @sean_yhn