UAB, football legend Tony Dorsett partner in creating sports helmets that prevent concussion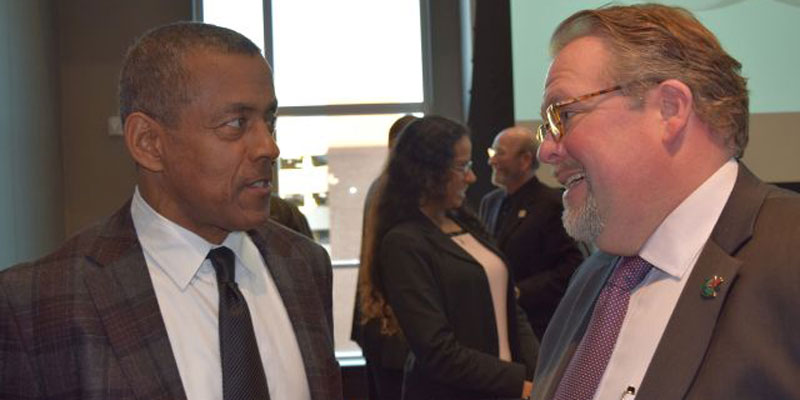 Former NFL star and Heisman Trophy winner Tony Dorsett graduated from the school of hard knocks.
Years later, he's paying the price for his determination to excel on the football field with memory loss and other physical ailments.
Dorsett talks openly about sustaining numerous concussions and the resulting brain injury he suffered as a result of the sport. Dorsett's new life's mission is to protect today's football players from the serious injuries he sustained.
"I've been involved in quite a few concussions, mostly from the NFL," Dorsett said. "I've taken a lot of hits. But look at the helmets I was wearing."
"I wouldn't wish on anyone what I go through every day," he said. "I have good days, I have bad days. Thank God for GPS. If not for GPS, I'd have a tough time. I think new helmets from VICIS will keep athletes from experiencing what I experienced."
That's why Dorsett visited the University of Alabama at Birmingham campus on Jan. 24. He and Dave Marver, CEO of the helmet manufacturer VICIS, met to announce the creation of a football helmet that will revolutionize the sport in terms of safety.
Several neurosurgeons, along with Dorsett, Roger Staubach and other sportsmen, partnered with VICIS to develop ZERO1, a state-of-the-art helmet that promises to make head injuries a thing of the past.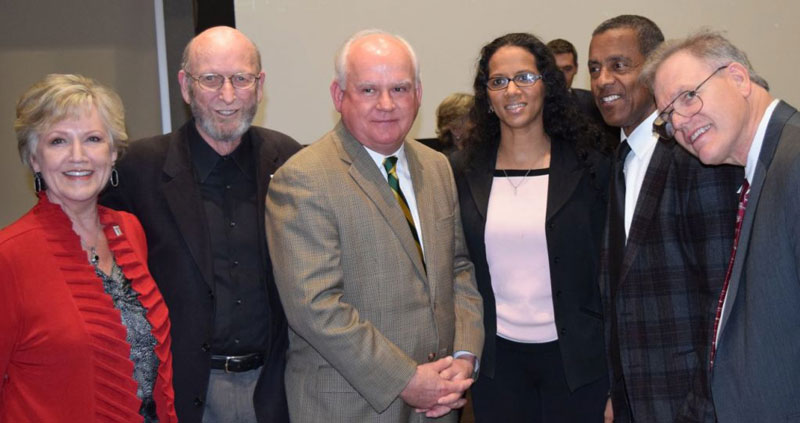 VICIS has reduced the impact of forces on the helmet. The VICIS design aligns with the technology coming out of a UAB Engineering lab. UAB's Dean Sicking, Ph.D., and his team of researchers designed technology based on physics principles that inspired much of the work he has accomplished during 30 years as a world leader in impact reduction in sports.
President Ray Watts said he is extremely proud of UAB researchers who are working to improve helmet safety, based on science and engineering, to help prevent injury and concussion.
"We've identified the markers of concussion," Watts said. "The core of this project is to keep the athlete safe. We have formed the ideal partner in VICIS."
The ZERO1 features "omnidirectional layers" that absorb the impacts of hits from any direction, Marver said. "It's a multilayered, highly engineered solution, and it will make a difference. We are so pleased to have forged a relationship with UAB.
"Four million kids play football," Marver said. "That's one reason we're doing this with UAB, to make a difference in children's lives."
Marver said that VICIS plans to launch the helmets to the NFL, the Canadian Football League and major college football leagues in April.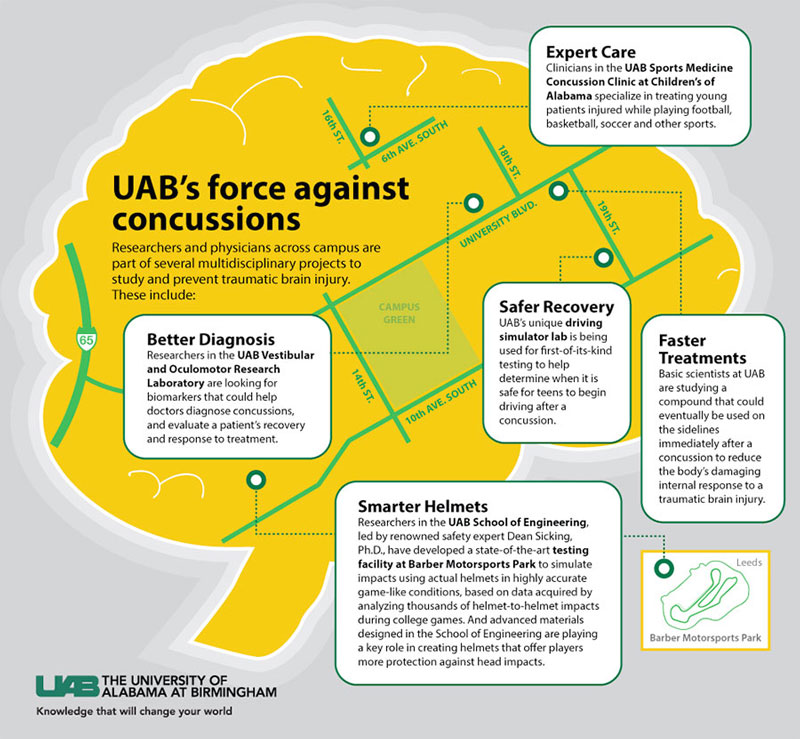 "It's a damn good padded helmet," Dorsett said. "It looks like it's got all the protection you'd need. I think we'll see a lot less head injuries because of this. I'm impressed with this helmet."
As one of football's best-known players, Dorsett's mission was to gain yards as a running back. He was the first college running back to gain 1,000 yards all four years in college, and the first to total 6,000 yards.
It was an unlikely achievement for someone who remembers himself as a "very introverted, very shy kid" while growing up in Pittsburgh. The fifth of five brothers, Dorsett played pee-wee football.
"I had four older brothers I wanted to be like," he said. "My brothers were my role models, they were outstanding athletes and they also pushed me hard in the classroom. My dad always said, 'Get yourself a quality education' because he knew education was the way out of the steel mills.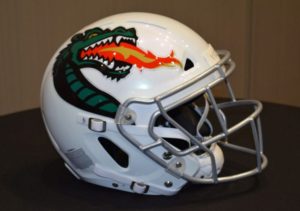 "I put rocks in my pockets to make the weight requirement so I could play football," Dorsett said.
When Dorsett went to play football at the University of Pittsburgh, then-Notre Dame Coach Ara Parseghian motivated Dorsett to take down the Fighting Irish.
"They put out a story that Dorsett was a skinny little kid who'd never make it in college football," Dorsett said, cracking a smile. "The grass was 6 to 7 inches deep. They were trying to slow down the rushing game of the Pittsburgh Panthers and Tony Dorsett."
Dorsett's football career is the stuff of legends. He led the Panthers to the national title as a senior in 1976 and won the Heisman Trophy. He was the first-round draft choice of the Cowboys in 1977, the second overall selection. Dorsett was the NFL Offensive Rookie of the Year and played for the team for 11 seasons, through 1987. He played for Denver the following year, then retired because of injuries. He is a member of the Pro Football Hall of Fame and the College Football Hall of Fame.
Football helmets get a major safety design upgrade from VICIS, thanks in part to UAB research from Alabama NewsCenter on Vimeo.
Dorsett is proud of his "glory days" and wants others to have their own glory, without suffering the traumatic brain injuries resulting from concussions.
"I've played a small part in the development of this helmet by VICIS," he said. "In my opinion, it's probably going to be considered one of the best helmets on the market. From what I've seen so far, it seems to be a very safe helmet. It's going to reduce concussions, something that I experienced a lot as a ball player.
"I am sure that, over the years, it's probably going to get better and better," Dorsett said. "It's probably going to be, "quote, unquote" the best helmet of football.
"I wouldn't be surprised," he said.