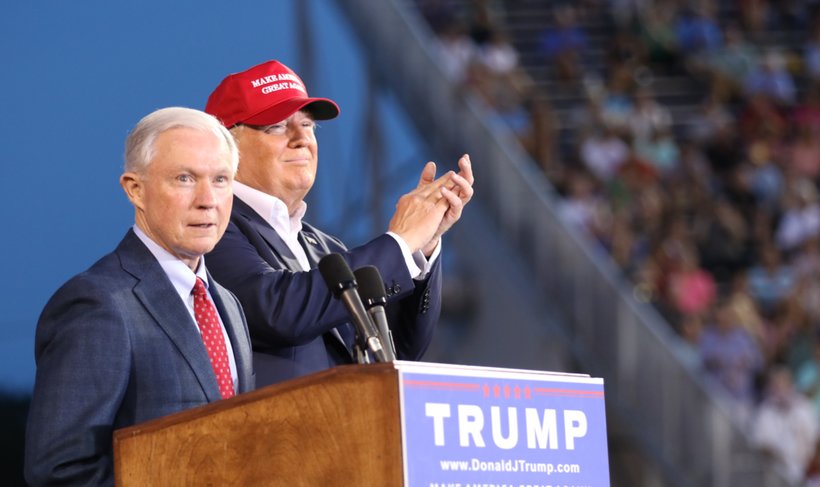 U.S. Attorney General Jeff Sessions has taken a lot of heat from liberal special interests and members of the mainstream media for his effort to roll back soft-on-crime policies put forth by the Obama Administration. Now, one key advocacy group representing federal prosecutors is fighting back against the attacks.
On May 10, Sessions released a memo instructing U.S. Attorneys to once again uphold certain sentencing laws related to drug crimes. The directive cancelled out a 2013 order issued by Obama's Attorney General, Eric Holder, which prohibited federal prosecutors from pursuing charges that would prompt mandatory minimum prison sentences. The move has been met with hostility from groups like the American Civil Liberties Union (ACLU) that argue the policy unfairly penalizes low-level, non-violent offenders.
Amid attacks against the action, the National Association of Assistant United States Attorneys (NAAUSA) instead says that Sessions' opponents are spreading misinformation. On Monday, Breitbart reported that the organization hosted a press call in hopes of clearing up inaccuracies reported by the media.
"For years we kind of sat on the sideline and let other organizations like Families Against Mandatory Minimums [FAMM] and the ACLU get a story out there that was just not factually accurate," said NAAUSA President Lawrence Leiser.
NAAUSA Treasurer Steve Wasserman said that Sessions' order is "keeping with the laws of the country." He also defended the federal sentencing rules, which he says have been inaccurately portrayed.
"The people who have been in favor of sentencing reform have done their best to conflate the state and federal criminal justice systems and leave people with the impression that we are prosecuting, at the federal level, street corner dealers that have a small bag of cocaine or marijuana on them or some kid that's smoking a joint in his college dorm room," Wasserman said.
"We at the federal level don't prosecute 'low-level drug offenders,'" he went on to explain. "We don't prosecute users. Less than one percent of the federal prison population consists of inmates who are serving sentences for simple possession, and in almost every one of those cases, those individuals are couriers that plead down to a simple possession charge from a trafficking offense."
NAAUSA has long stood behind the former Alabama Senator, and were among the first to endorse his nomination for U.S. Attorney General. In November, the organization released a statement praising Sessions as having "unquestionable integrity" and "an unwavering commitment to the rule of law, fairness, and equal justice for all."