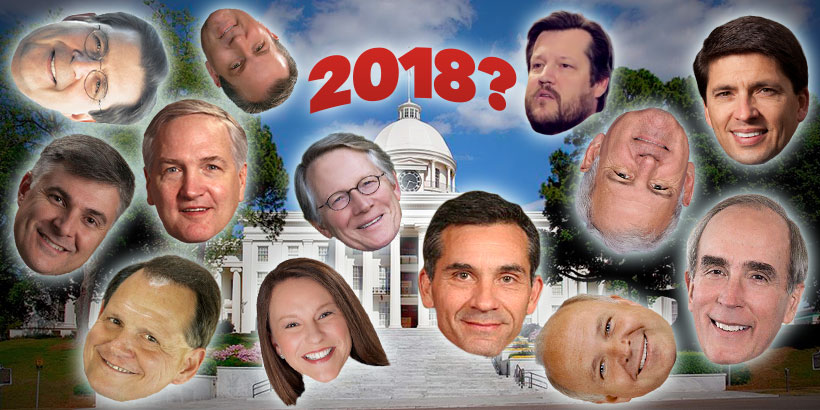 The 2016 presidential race will be the next big battle on the national political scene, but Alabama's 2018 gubernatorial contest looms just over the horizon.
Here is Yellowhammer's way-too-early list of potential 2018 contenders, presented in alphabetical order.
Tommy Battle
The Huntsville mayor has made it abundantly clear that he's interested in the big job. Battle openly said in 2013 he was considering challenging Bentley. He ultimately decided to pass, but not before testing the fundraising waters by forming a political action committee called "Moving Alabama Forward."
Strength: People in North Alabama know who he is.
Weakness: No one outside of North Alabama has a clue who he is, and he's a Democrat, whether he runs as one or not.
Scott Beason
The tea party firebrand most well known for sponsoring Alabama's toughest-in-the-nation immigration law decided last year to leave the legislature after two terms in the house and two more in the senate, but he's indicated he plans to stay engaged in the political debate.
"There are three primary issues I'm going to be focusing on: gun rights, school choice and energy," Beason told Yellowhammer in a recent interview announcing he's hitting the statewide speaking circuit.
After coming up short twice attempting to run for Congress, the question is whether Beason's brand of conservatism can translate outside of his Gardendale legislative district.
Strength: Unquestioned conservative street cred.
Weakness: Has not shown an ability to raise the money needed to be a viable statewide candidate.
Slade Blackwell
The Mountain Brook state senator stayed mostly below the radar during his first term in the legislature, but recently made waves by being one of the first lawmakers to openly criticize Gov. Bentley for floating the idea of raising taxes.
Strength: Successful businessman from a wealthy family with a proven ability to raise big bucks. Money won't be a problem.
Weakness: Low name recognition and uncertainty about how his Over the Mountain appeal will translate in rural areas.
Jo Bonner
The former south Alabama congressman is now running the University of Alabama System's governmental affairs operation, but those close to him say he may not be done scratching his political itch. He decided not to run for governor in 2010, and after watching Bentley come out of nowhere, he may now regret it. Bonner has become a regular on the rotary and chamber of commerce speaking circuit.
Strength: His skills as a retail politician are borderline legendary, even Clinton-esque.
Weakness: By 2018, he will have been out of office and out of the minds of voters for over five years.
Young Boozer
The low-key, but well-liked state treasurer has the best accidental rapper's name in Alabama political history. He raised some eyebrows at this year's inauguration festivities by rattling off the names of all 67 Alabama counties in alphabetical order — by memory.
Strength: His name is unforgettable and he could self-finance his campaign.
Weakness: May have trouble connecting to average voters.
Will Brooke
The wildly successful Harbert executive ran a spirited but ultimately ill-fated campaign for Congress last year, and those close to him say the loss was particularly difficult because Brooke isn't accustomed to losing at, well, anything. Don't be surprised if the former Business Council of Alabama chairman returns for a statewide run in 2018.
Strength: Money, money, money.
Weakness: Congressional campaign was dogged by personal donations he made to Democrats in the past. That will be an issue in any GOP primary.
Rick Burgess
Burgess of Rick & Bubba fame has built an unparalleled level of trust with his army of loyal listeners over the years. He got more politically active in 2014 and was undefeated in the handful of races in which he made an endorsement. Most notably, Burgess is widely credited with playing a major role in Gary Palmer's unexpected congressional victory. He hasn't publicly indicated an interest in running for office, but has been a vocal advocate for Christians stepping up and getting more involved.
Strength: Huge trust among evangelicals, which make up a major chunk of Alabama voters.
Weakness: Completely unknown quantity as a candidate.
Bradley Byrne
The south Alabama congressman made a name for himself on the state level as the teachers' union's public enemy number one. It might have cost him the governorship, considering the AEA spent big in 2010 to take him out and usher Bentley in. He's quickly proven himself to be an able lawmaker in D.C., and with recent revelations that Bentley plans to propose tax hikes, Byrne's probably sitting down in south Alabama thinking, "I told you so."
Strength: Been there, done that.
Weakness: There may be some lingering effects after he was massacred by negative ads in 2010.
David Carrington
The Jefferson County Commissioner and former Commission chairman would likely make the case to voters that he led Alabama's most populous county out of bankruptcy and onto more stable financial footing.
Strength: Likable guy with a compelling personal, business and political story.
Weakness: It's a long, long way from the Jefferson County Courthouse to the governor's mansion.
Mike Hubbard
The State House Speaker has arguably been the most powerful politician in the state over the past four years, but recent legal troubles have at least temporarily sidetracked what was an almost certain 2018 gubernatorial run. If he beats the charges, he'll be stronger than ever in Montgomery. If not, ballgame.
Strength: Unmatched ability to raise money.
Weakness: Even if he beats the charges against him, it's too early to tell how the flow of negative press will effect him in in 2018.
Walt Maddox
Democrats' bench is so shallow that Maddox, the mayor of Tuscaloosa, is about the only potential statewide candidate that regularly comes up in conversations about 2018.
Strength: By 2018 he'll be a four-term mayor of Alabama's fifth largest city.
Weakness: He'd have a "D" beside his name.
Del Marsh
The unquestioned leader of the Alabama Senate made the most daring state house maneuver in recent memory by pushing through Alabama's first school choice bill in 2013. Since then he's grown the Republican majority in the senate to an unprecedented level. He's now arguably the state's most powerful lawmaker. Those close to him say this is almost certainly his last term in the senate. The question is, does he want to exit the political scene, or just move on to a new challenge in the executive branch?
Strength: Staunchly anti-tax and can raise big bucks out of the business community.
Weakness: Lack of name recognition in the southern part of the state.
Roy Moore
Moore's back on the national scene, getting name-dropped by the president, attacked by liberals and cheered on by social conservatives. He surprised a lot of political prognosticators by winning his current job without a runoff, but previous runs for governor suggest he may be bumping up against his ceiling in his role as Chief Justice.
Strength: Name recognition and intense support among the state's most ardent social conservatives.
Weakness: Extremely polarizing, even among Republicans.
John Merrill
No one who's spent more than five minutes with Alabama's new secretary of state would deny that he is probably the most ambitious politician in the state. He recently tried to get out ahead of a quasi-sex scandal that has been rumored for months. The story hasn't gained much traction outside of Montgomery, but would get a lot more scrutiny if he tries to climb up the next rung of the political ladder.
Strength: Relentless campaigner. He put hundreds of thousands of miles on his car in 2014.
Weakness: Personal integrity questions will be tough to shake with Alabama's wide swath of values voters.
Arthur Orr
It looks like the Alabama Senate General Fund Budget Chairman is more likely to move up to Senate President Pro Tem than run statewide, but if he did take a crack at governor, he'd be able to raise a lot of money out of north Alabama.
Strength: Savvy political operator with serious governing experience.
Weakness: Totally unknown by most people outside of his Decatur-area state senate district.
Trip Pittman
The Senate Education Budget Chairman is a larger-than-life presence, both physically and as a political operator in the senate. He considered not running for re-election in 2014 so he could spend more time running his business, so it's a reasonable bet that by 2018 he'll be ready to move up or get out.
Strength: Libertarian streak (he was a Ron Paul delegate) would make him somewhat unique in the potential field.
Weakness: His refusal to take PAC money would make it more difficult to round up the cash needed for a statewide run.
Rob Riley
The Birmingham trial lawyer has taken a pass on every potential run for office since his dad left the governor's mansion in 2011, but that doesn't mean he's not interested. He remains a player behind the scenes, and would immediately have the name recognition and network to be a contender.
Strength: Network of donors remains intact thanks to the Rileys' continued involvement in legislative races even after the governor left office.
Weakness: Having a former governor for a dad comes with both advantages and baggage.
Martha Roby
In a crowded 2018 primary full of men, simply being a credible female candidate would instantly give Roby a big leg up, maybe even securing her place in an almost guaranteed runoff. It is unclear at this point if she'd be willing to give up her safe seat in congress to take a shot at governor, but she hasn't actively shot down rumors that she's considered it.
Strength: The only credible female candidate whose name frequently comes up in conversations about 2018.
Weakness: Lacks name recognition and fundraising ability outside of the 2nd Congressional District.
Sandy Stimpson
Mobile's popular mayor ran an impressive campaign in 2013, culminating with an improbable victory over a two-term incumbent. Stimpson's been a staple in the Alabama political scene for years, sitting on a number of influential boards. He's frequently said he is focused on Mobile and has no desire to run for higher office, but if he changed his mind, he'd have the money to be a contender.
Strength: Serious personal wealth, unrivaled network in the business community.
Weakness: Totally unknown to voters outside of Mobile.
Luther Strange
It has long been assumed that Strange would run for U.S. Senate someday, but with Sessions in office until at least 2020 and Shelby running for another six-year term in 2016, he will have to either head to the sidelines for a couple of years or take a shot at governor.
Strength: The most statewide name recognition right out of the gate.
Weakness: The way his office has handled recent investigations has significantly damaged him with key members of the business community and major donors, and there has been some grumbling in the grassroots that he hasn't been active enough in the gay marriage fight. It's too early to tell if those issues will linger until 2018.
---
Like this article? Follow me on Twitter and let me know what you think.

— Cliff Sims (@Cliff_Sims) December 3, 2014
Don't miss out!  Subscribe today to have Alabama's leading headlines delivered to your inbox.