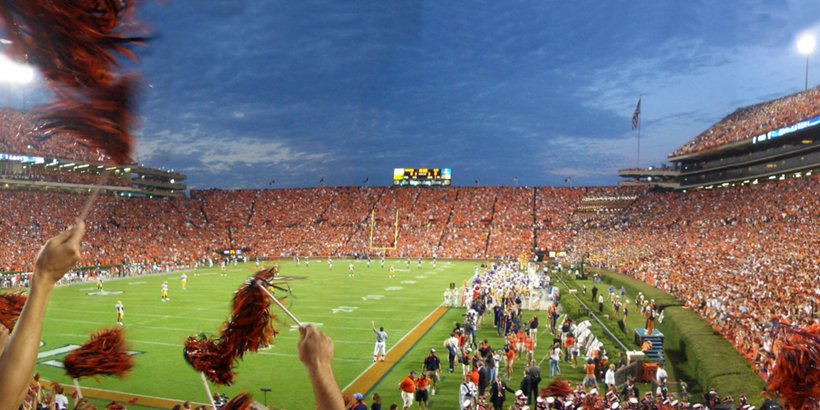 When Auburn announced that they were going to spend $14 million to build the largest video board in college football at Jordan-Hare Stadium, most people were excited, but others just wondered "why?"
Well now it looks like the largest video board in college football has worked its magic.
An independent survey of all SEC football fans was conducted this past fall, and Auburn placed number one in all video and audio quality categories. Auburn did not place in the top five of any of these categories just one year ago.
The specific categories that were measured included:
• Clarity of announcer
• Quality of picture
• Overall sound
• Overall announcer
• Overall video board content
• Overall ribbon board content
• Clarity of music
• Music selection
• Volume level of music
• Highlights of other games
• Display of other football scores
• Display of team stats
The new video board has been a huge success for Auburn. Chief Operating Officer David Benedict gives full credit for the board to Athletic Director Jay Jacobs, saying "he really focuses on data from our fans on an annual basis after the season to look at how we're going to invest and how we're going to make the game-day experience better for our fans."
Some people originally questioned Auburn's commitment to spend so much money on such a huge video board, but Benedict says the extra cost was worth it. "We probably spent a little more than others would have spent, but the results speak for themselves. It's amazing how much people like seeing themselves up on the big board and what we've been able to do from a replay standpoint."
Now the only worry is whether or not fans are watching the video board more than what's happening on the field. Auburn releases a survey to fans at the end of every football season to see what areas of the gameday experience need improvement. Jacobs has put a strong emphasis on improvements in the past few years, with the video board, concessions, and parking being top priorities.
Don't miss out!  Subscribe today to have Alabama's leading headlines delivered to your inbox.